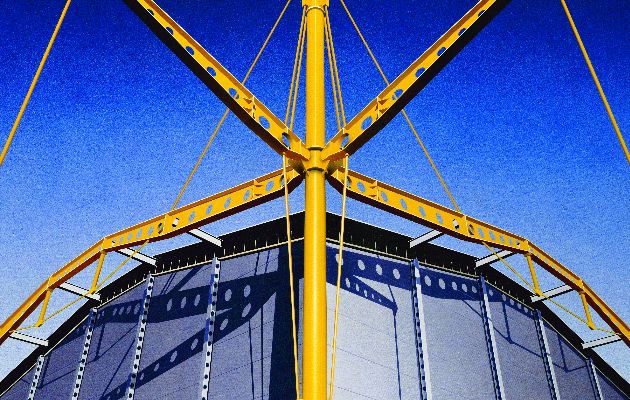 High tech superstructures are re-examined in a new exhibition.
Edwin Heathcote

examines a movement full of contradictions.

Superstructures is a cute title for an exhibition. It makes the structures sound super while completely eliding the big issue. And that issue is the high-tech comeback. But just as almost none of the original practitioners ever really admitted to being postmodernists, architects are oddly loath to identify with the label.

So 'Superstructures' it is. Its big reveal is that it will be inside a super structure, Foster's Sainsbury Building, the great industrial art hangar of the Fens. The show will bring together the four big British cheeses of high-tech, Foster, Rogers, Grimshaw and Hopkins, along with their influences.
INMOS Microprocessor Factory – Rogers Stirk Harbour + Partners. Images © Ben Johnson. All rights reserved DACS
In a way, the digital and tech culture we are seeped in today, that odd mix of hypercapitalism, geeky engineering, Californian libertarianism, high-tech, generic data and distribution centres in huge sheds and a nagging apocalyptic existential crisis, makes this the perfect time for a re-examination of this architectural moment.
Listed buildings and high tech classics
The listing of the Lloyd's building, the transformation of the Pompidou Centre into a historic icon and the celebration of this moment in the great hangar of the Sainsbury Centre is the perfect illustration of the conflicted heart of an architecture that emerged from industrial decline and an acceptance of Britain's diminished global status.
British Museum Great Court, Foster and Partners. Images © Ben Johnson. All rights reserved DACS
This British tribute act to the industrial revolution has proved remarkably enduring and if we think of the silvery sheds of data centres or the Freeports, the deification of Cedric Price or the football stadiums or the car showrooms on the Sheikh Zayed Road, we might realise that it is still very much here. Superstructures is not so much a retrospective as a backstory. The monuments are just the froth, the infrastructure of everyday life has been its ultimate success.
Subscribe to Icon for the full article on Superstructures.
---