Design lever handle Las Vegas ER87 in satin stainless steel on 3-piece rose.
100% Design is a trade fair for contemporary interior design which takes place once a year in London. Since its foundation in 1995, it has developed into the largest trade event of its kind in Great Britain and makes a decisive contribution to establishing London as the design capital of the world. That is why we as a company, are proud to be represented as an exhibitor at 100% Design.
Karcher Design is a German multi-generational family business that works to develop and distribute high-quality lever handles and accessories in stainless steel. Founded by Ulrich and Irmgard Karcher, the company is now run by Jan and Isabel Karcher as well as a team of talented engineers, representatives and office staff.
Seattle ER46Q in cosmos black on 3-piece rose.
At the 100% Design you will discover the following: Our finish cosmos black, applied electrostatically as a powder coating is scratch-proof as well as highly resistant to corrosion. Their powder coating has a unique and pleasant depth to it while the surface itself feels smooth and warm, not unlike that of a palm stone. Our black products also impressed the jury of the French MIAW Award 2018 and they chose them as the winner. We will also present our inlay door handle Torino R53. The door handle was created in cooperation with designer Itamar Harari. Its shape represents the character of modern architecture. Due to its round neck connected to a cuboid-shaped handle it perfectly matches round as well as square escutcheons. The handle itself was cast with a slight recess to create space for inserting individual inlays in all kinds of colors and many different materials. This makes it possible for R53 "Torino" to adapt to any room design imaginable.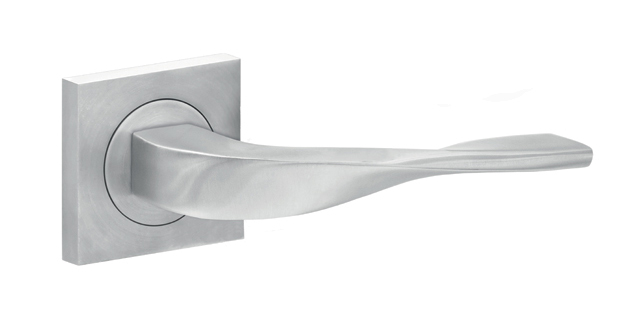 Design lever handle Nevada ER88 in satin stainless steel on 3-piece rose.
Let yourself be inspired by our new models ER87 Las Vegas, designed by Itamar Harari and nominee for the German Design Award and it's perfect match ER88 Nevada. The handle Las Vegas is defined by its rounded and curved shape. It is available in satin and also in polished stainless steel. The handle runs flat to the end and looks very futuristic. The special feeling when pressing this high quality handle was the main idea behind the design. The lever handle Las Vegas is the fourth project in which Karcher Design cooperates with the designer Itamar Harari, who is specialized on architectural and industrial design. The door handle Nevada represents the perfect match to the handle Las Vegas. It looks like the handle is spinning around its own axis. In addition the end of the handle is curved downwards and becomes flatter. Just like Las Vegas the door handle Nevada is defined by its rounded and curved shape. The hand of the customer nestles to the design of the door handle. This is why the shape seems alive and complete.
Come see us at our 100% Design stand D440.
For more information on our products visit our website karcher-design.co.uk

This is an advertorial feature
---