The oval sandstone building sits in the rural Thar Desert in Rajasthan and will form part of a larger complex to support women and girls
New York-based Diana Kellogg, of Diana Kellogg Architects, has completed The Rajkumari Ratnavati Girls' School, an oval sandstone building within the Thar Desert in Rajasthan, India. The school forms part of a larger complex Kellogg is designing called the GYAAN Center, which will also include an exhibition space, library and a women's cooperative.
Due to open in July, the new school will accommodate more than 400 girls, many of whom live below the poverty line in a region where female literacy averages 36%. The school thus plays a key role in seeking to benefit the lives of the local community in the desert city of Jaisalmer and surrounding area.
The school building was constructed by local craftsmen using hand-carved Jaisalmer sandstone. The oval structure comprises a ring of classrooms around a paved courtyard; stairways lead to a roof terrace which supports play. A lattice stone parapet crowns the building, referencing Indo-Islamic jali screen walls. Inside,  furniture is made out of rosewood with Charpai woven seating.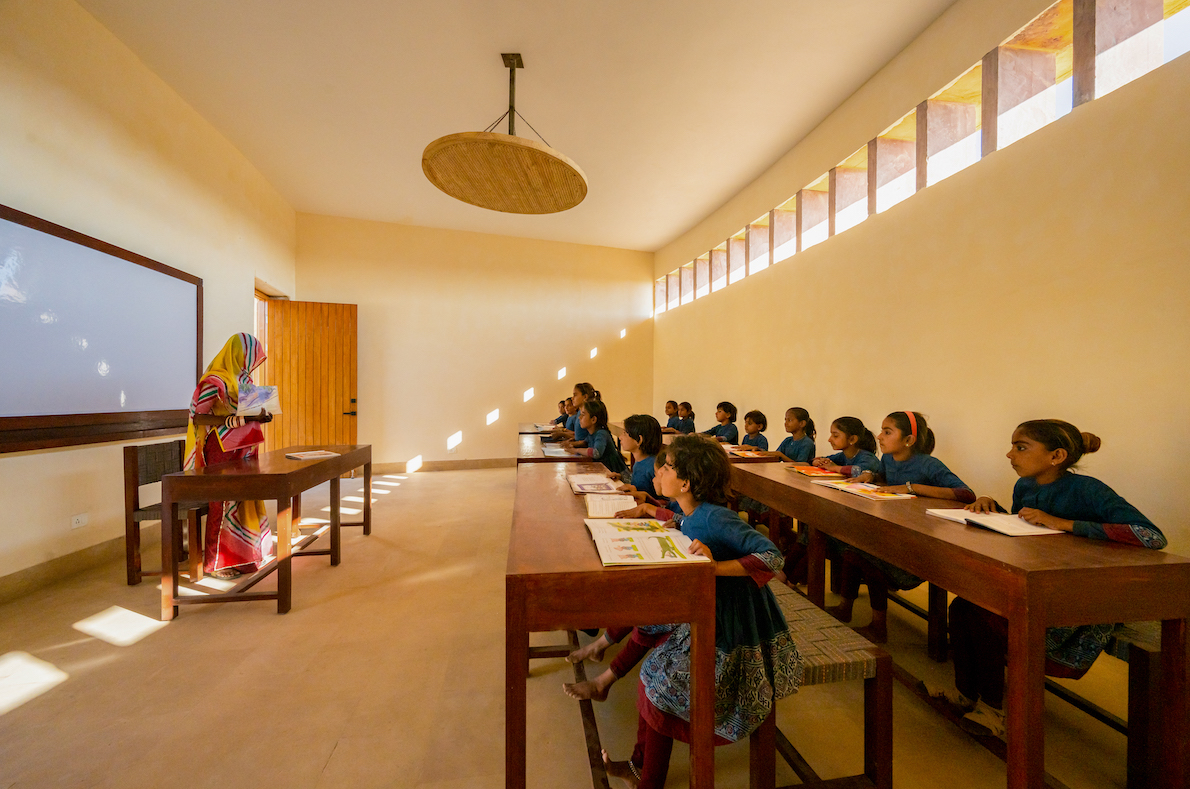 'I wanted to create a building about light and community,' says Kellogg, 'a structure that resonates with the soul of its people and enforces the natural energies to nurture and heal the women and girls.'
The design team drew on local traditional water harvesting techniques to capture rainwater and recycle grey water in the school. The building is oriented to maximise breezes from the prevailing wind and minimise direct sunlight. A solar canopy on the roof powers the school's lighting and fans.
The whole GYAAN Center project was commissioned by CITTA, a non-profit organisation that supports development in economically challenged, geographically remote or marginalised communities across the world. Kellogg and her team has designed the complex pro bono.
Soon, two more structures will be erected: The Medha – a performance and art exhibition space with a library and museum; and The Women's Cooperative where local artisans will teach other women weaving and embroidery techniques. The GYAAN Center will invite female artists, designers and education advocates to create artwork, host events and present installations, all focused on the importance of women's empowerment.
Photographry by Vinay Panjwani
Get a curated collection of architecture and design news like this in your inbox by signing up to our ICON Weekly newsletter
---