Chipperfield's IMPACT Centre in Edinburgh. All Images: David Chipperfield Architects/IMPACT Scotland
David Chipperfield has released first images of IMPACT Centre, Edinbrgh's first new dedicated performance venue in 100 years
Proposed plans for a 1,000 seat performance centre in Edinburgh have been released by David Chipperfield Architects. The upcoming IMPACT Centre music venue will house the Scottish Chamber Orchestra, and will be the first dedicated new space for music and performing arts in over a century.
'We are very excited to be working on the new music venue in a city renowned around the world for its arts and culture. The setting, within the context of Edinburgh's historic New Town, is also both stimulating and challenging,' said Chipperfield.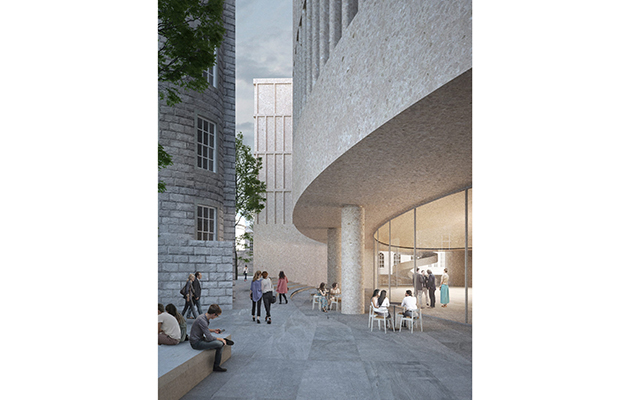 'The new music venue will not only provide a modern performance space for Edinburgh but also create a new public place in this somewhat hidden corner of the city.'
As well as housing the Scottish Chamber Orchestra, the centre will be used for music performances, talks, conferences and as a venue for the Edinburgh Festival during August.
Chipperfield's design will house the main performance space – designed in partnership with Nagata Acoustics to ensure world-class acoustics – plus a 200-seat rehearsal space, cafe, bar and dedicated educational spaces.
'This is a building being designed from the inside out, with at its heart, a hall offering world-class acoustics for performers and audiences,' said IMPACT Scotland's chairman Ewan Brown.
'The design team have concentrated on getting this right, and we are now developing the look of this truly exceptional building and how it will sympathetically enhance its hidden location.'
The building will be adjacent to the 1774 home of Sir Lawrence Dundas, which is now part of the Royal Bank of Scotland. A bridge will link the historic banking hall with the new performance centre, physically bringing together Edinburgh's historic past and innovative future.
---