K architectures has designed the Domaine de Bayssan Theatre complex in an evolving cultural quarter of one of France's oldest cities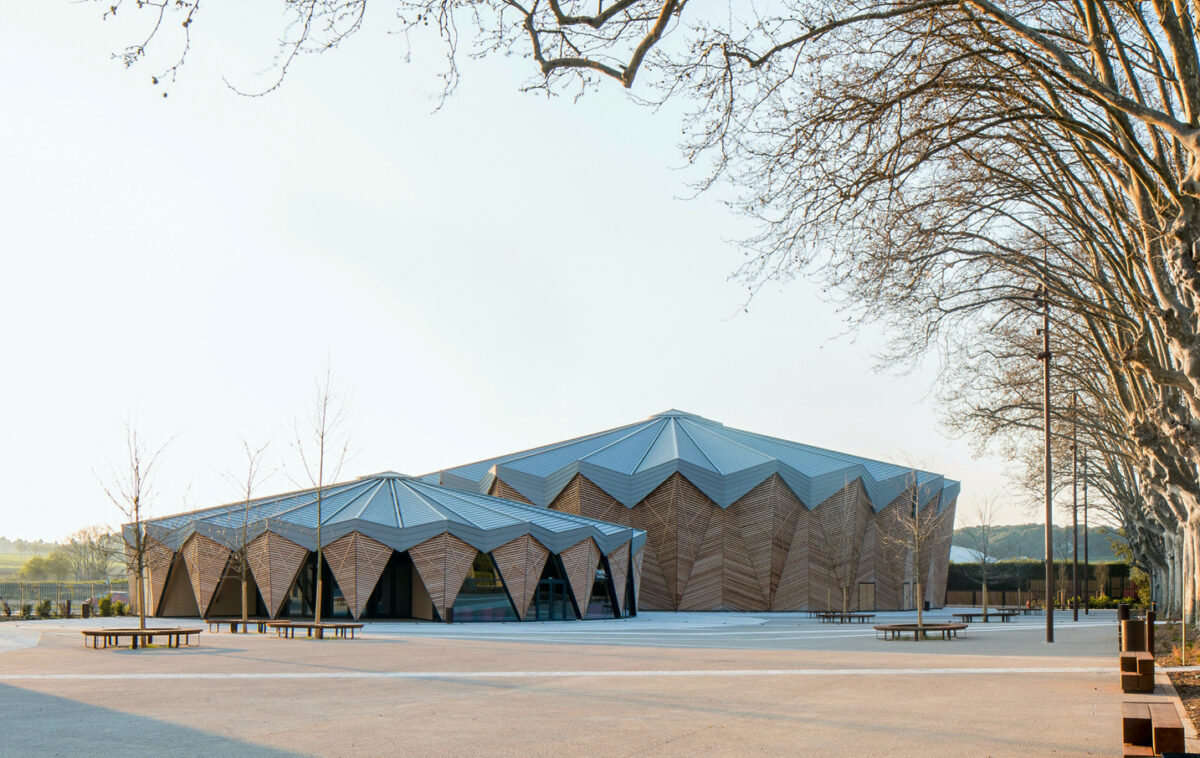 Words by Lois Innes
The historic city of Béziers, in the south of France, is home to the new Domaine de Bayssan Theatre, designed by Paris-based practice K architectures. The 4500 sq m theatre complex is the most recent addition to the wider cultural quarter of Bayssan, nestled within a tranquil agricultural setting on the city's outskirts. Comprised of three independent volumes – which draw inspiration from circus architecture – the theatre houses a performance and rehearsal auditorium, a restaurant and a 1440-spectator amphitheatre. 
Commissioned by the regional authority, the project brief was to build upon the legacy and success of the Sortie Ouest theatre, which previously occupied the site in a 10-year residency with three festival-esque canvas tents. Similar to a circus camp, the Domaine de Bayssan aims to support a diverse and shifting cultural programme of events, interweaving spectator and performance activity alike via a series of loosely connected structures.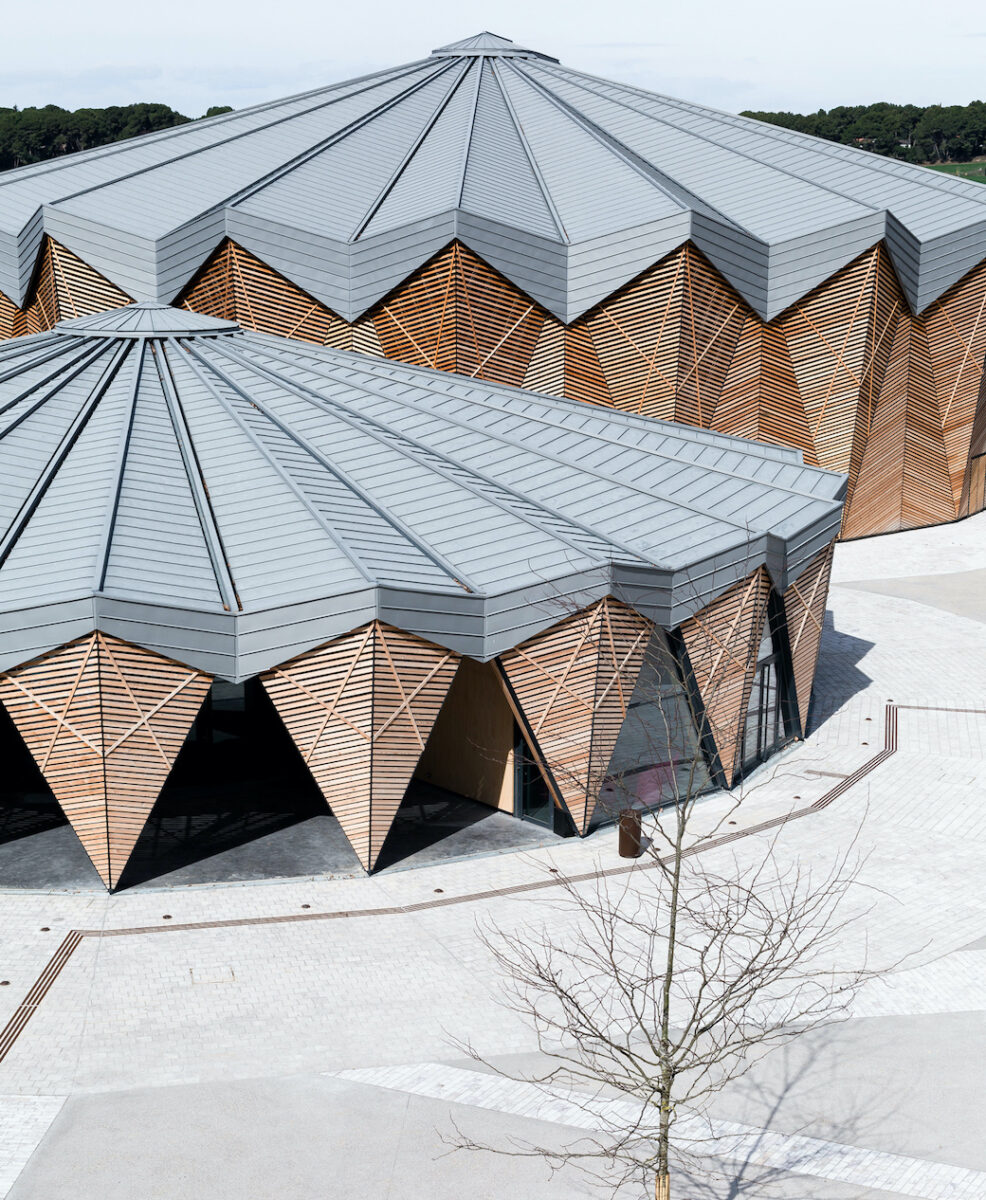 Collectively, the building's modular envelopes evoke the cultural and collective image of the circus: both the 'big' and 'small' tents adopt a fanning corolla pattern roof in shimmering natural zinc, reminiscent of the rising central mast. Meanwhile, the triangular pleated facades seen throughout – arranged in slender, origami-like timber slats – emphasise the canvas stitching of circus tents and have a dancing quality over the sweeping public esplanade. 
The 2,300 sq m auditorium complex is spread over two adjoining buildings – a small marquee and large marquee. The smaller structure houses the ticket hall, bookshop, kitchen, dining terrace and public toilets, arranged concentrically around a 235-seat dining hall. The spectacle of this central space owes largely to its plunging triple-height volume, and so is carefully balanced with an almost complete interior of warm, unadorned wood panelling to create an intimate atmosphere.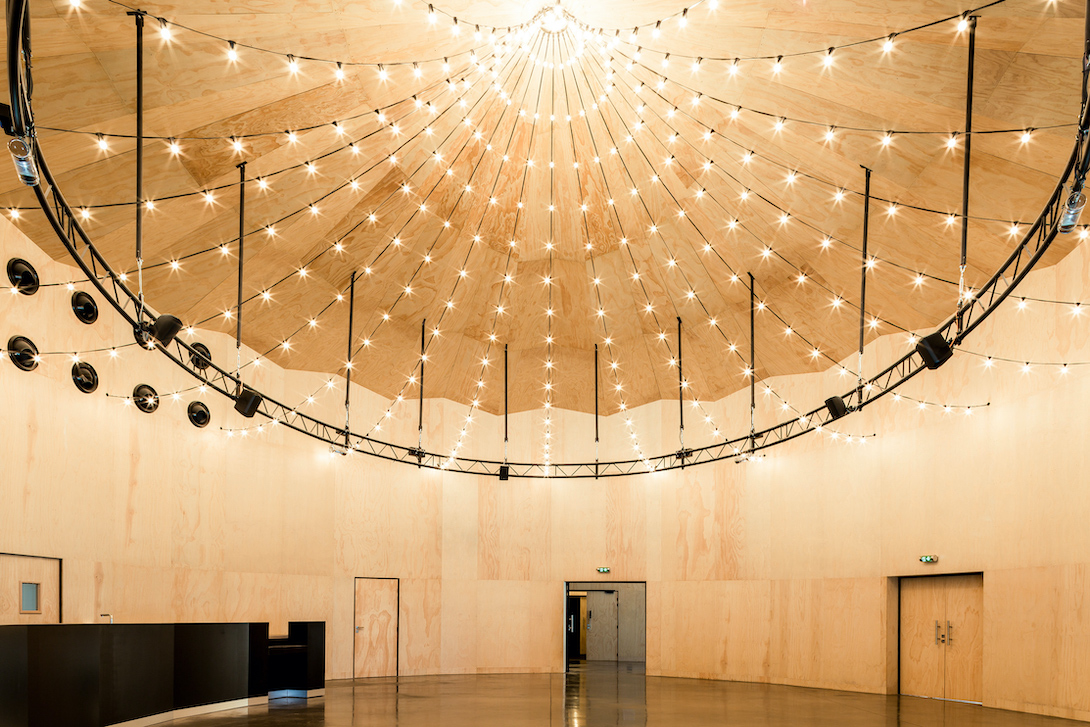 The curvilinear ticket hall – reflecting the morphology of the two structures – draws spectators into the larger marquee that houses the performance hall and back-of-house facilities. The theme of concertina interior wood panelling is continued, bowing over the 423-seat audience and colliding abruptly with the comparatively pared-down theatre stage. However, this deep matte, all-black finish provides both a clarity and beguiling sense of depth. 
The 2,200 sq m amphitheatre – hosting a generous 1440 spectator audience (965 of which are able to be seated) beneath an elegantly hovering steel-pleated awning – is perhaps the most unique, yet experientially detached building of the trio. Unlike the amphitheatres of Ancient Greece, its tiered seating is not inclined into the natural topography; the industrial concrete parapet of this volume offers few glimpses out and feels somewhat less inspired than the source of its inspiration. 
That said, the theatre responds well to its flexible requirements. Both the stage and three-sided tiered rows of the auditorium can retract to accommodate a variety of configurations, the amphitheatre, meanwhile, is equipped with a mobile proscenium to adapt to a range of performances. 
Photography by Sophie Oddo
Get a curated collection of architecture and design news like this in your inbox by signing up to our ICON Weekly newsletter
---