A canal barge has become an innovative mobile church in east London with help from architecture practice Denizen Works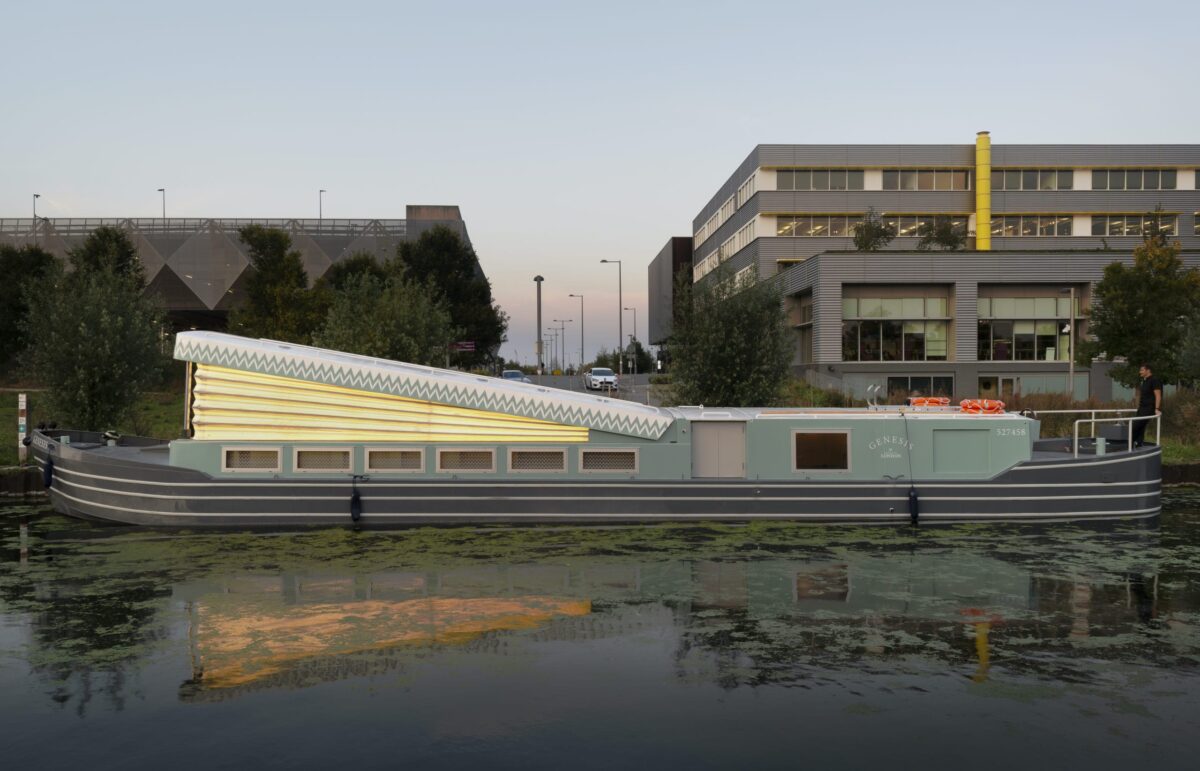 Words by Francesca Perry
You don't hear about many new churches popping up these days – and certainly not on a boat. But the Genesis Floating Church, on a canal barge in east London, is a new mobile community space for local residents designed by London-based architecture practice Denizen Works, in collaboration with Turks Shipyard and naval architect Tony Tucker.
Commissioned by The Diocese of London, the 45 sq m floating church is moored on the River Lee Navigation, adjacent to the Queen Elizabeth Olympic Park, where it will remain for three to five years. Genesis will initially serve the two existing local parishes of St Paul Old Ford and St Mary of Eton, with the ambition to reach new communities in nearby areas undergoing urban growth or change. Together, this new community is named St Columba East.
Denizen Works' design for the boat features an innovative kinetic roof inspired by church organ bellows, made from concertinaed, translucent sailcloth, lined with LED lights and powered by hydraulic rams. The pop-up roof allows the barge to alternate between a compact form able to pass beneath bridges, to an expanded assembly space that can accommodate church and community events while simultaneously acting as an illuminated landmark-beacon locally.
Inside, the elevated roof creates the kind of lofty space not usually experienced on canal boats, enhanced by a circular rooflight which illuminates the Denizen Works-designed altar below. The interior fit-out is characterised by a simple and calming design of light plywood walls and green linoleum floor. The furniture, by local design company Plyco, includes custom-designed plywood stools and foldable tables for use at events and services.
The zigzag stitching used on the concertinaed sailcloth has been carried throughout the project as a design motif, including on the aluminium window screens – which reference rood screens – as well as the exterior paint detailing on the roof.
In addition to the main assembly space, which can accommodate 40 people seated and 60 people standing, the boat also includes a kitchen, office and toilet. Its flexibility was designed so that it can be used for a range of community events, in addition to functioning as a church space.
Activities such as parent and toddler groups, pilates classes, art classes, interfaith celebrations, lunch and supper clubs, live music, employment training, support workshops and counselling are all thought to take place on Genesis as soon as Covid-19 restrictions allow.
'As a mixed-use faith and community project, we feel the boat could be a first step in our thinking about how communities can continue to be served as they grow and move away from traditional locations and building types,' says Murray Kerr, Denizen Works founder. 'Most of all, the project demonstrates what can be achieved when a brave client with an exciting brief believes in an ambitious design team.'
Photography by Gilbert McCarragher
The Genesis Floating Church is explored alongside other projects in an in-depth feature on floating architecture by Joe Lloyd in ICON Issue 201, available to read online now for free
---