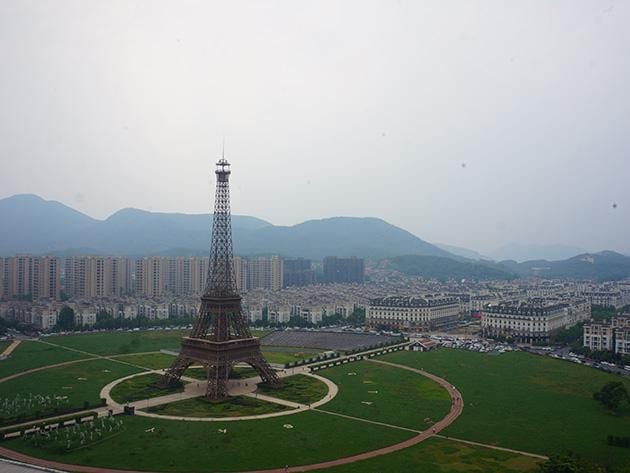 Tianducheng, in the suburbs of Hangzhou, is nicknamed Paris II, duping the European city's architectural style, centred around a replica of the Eiffel Tower. Image: MNXANL, Wikimedia
China's infamous copycat cities are to be banned, paving the way for the country to develop confidence in its own architectural talent. 
Tower Bridge, the Eiffel Tower, the Sydney Opera House – each iconic pieces of architecture that, in other times, draw huge crowds of tourists. But what these landmarks also have in common is that copycat versions of them also exist in cities across China. 
Now, however, the Ministry of Housing and Urban-Rural Development has introduced new laws aimed squarely at preventing the creation of these uncanny pastiches. The rules, introduced in late April in a joint release with the National Development and Reform Commission, prohibit plagiarising, imitating, and copycatting designs of other buildings according to Chinese state media the Global Times. 
Stories of these incidents of architectural piracy have made many headlines over the years – Egyptian authorities envoked UNESCO when a replica of the Great Sphinx of Giza was built in the north of China, for example. Chinese architects are also not afraid to plagiarise its own country's buildings – a 2.5 mile version Great Wall of China was build in Nanchang, fooling tourists who visited the site that they were walking the real thing; while when Zaha Hadid unveiled plans for a new Wangjing Soho building in Beijing, 'pirate architects' copied the design for a new megacity in Chongqing, with the project even to be completed before Hadid's. 
The copycats are not always met with derision, however – especially in the aspect of Hallstatt, an Austrian mountain village faithfully recreated in Luoyang, Boluo County. After some resistance from residents, the mayor of Hallstatt bolstered its links with its Chinese namesake, creating a cultural exchange between the two – something no doubt helped along by the fact that tourism to the Austrian Hallstatt from China increased 1,000 percent after its creation. 
In spite of the legal disputes and contraversies, it's perhaps mostt troubling for Chinese authorities what this propensity to retreat to the language of western architecture says about its own cultural capital. Speaking to the Global Times, Han Feng, head of Department of Landscape Architecture at Tongji University, described a 'cultural unconfidence' in Chinese architecture. "Rather than simply imitating and copying foreign buildings, it is urgent for architects and the public to know about and learn from our own profound architectural art," she elaborated. 
The new policy has been introduced alongside a raft of others that look to shape the future of architecture in China. Skyscrapers over 500 metres tall have been prohibited, with more severe restrictions on 250 metre tall buildings and guidance on creating a more coherent urban design that excludes 'strange' architecture. 
---