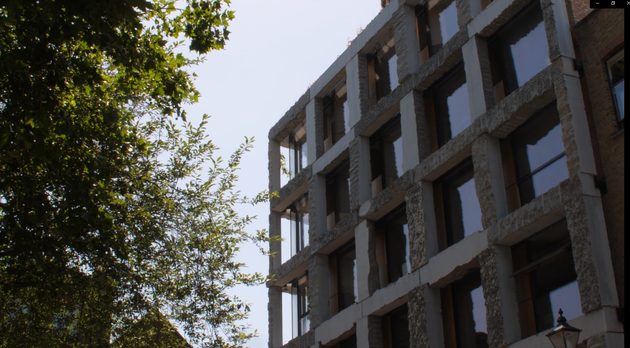 Amin Taha's Clerkenwell Close studio
Amin Taha tells Icon about his battle to save his Clerkenwell Close studio and home from demolition, in a conversation as part of the Icon Minds series
Earlier this year, a demolished corner terrace on Islington's Upper Street, last seen in the mid '90s, was granted new life. But this was not exactly a resurrection. The architect Amin Taha instead imagined a distorted, irregular echo of what had existed before, a remarkable construction in moulded, terracotta-coloured concrete that gracefully dances the old and the new. It is perhaps the boldest statement yet from an architect who has created a new type of dialogue with the history of buildings.
Taha was born in East Berlin to an Iraqi mother and a Sudanese father. He moved to the United Kingdom aged 7 with his parents, living in Southend-on-Sea and London before studying architecture at the University of Edinburgh. After working for a broad swathe of major London practices – including Rick Mather, Wilkinson Eyre and Zaha Hadid Architects – Taha founded a studio in 2003. Now named Groupwork, it is an Employee Ownership Trust, in which every member has an equal stake.
For over a year, Taha has been battling to save 15 Clerkenwell House, a six-storey, multipurpose structure completed in 2017 that includes both his home and Groupwork's office. Islington Council has served it demolition orders on several occasions, claiming that its cragged, roughly hewn limestone structure is out of character with its surrounds and ordering it to be rebuilt in brick.
On 15 August, Taha announced that his appeal against the demolition order had been successful – the council overturned its decision on and granted 15 Clerkenwell Close planning permission, with conditions for several adjustments to the building's existing design.
Icon editor Priya Khanchandani caught up with Taha earlier in the year – before the successful appeal – in at Arper's showroom just streets away, to discuss the furore over Clerkenwell Close as well as his distinctive approaches to material and structure.
PRIYA KHANCHANDANI: Many of our readers will be aware of the issues you've been having with 15 Clerkenwell Close. Can you tell us about that?
AMIN TAHA: We had a complaint from a neighbour who felt that the design should have been brick and not stone. This eventually led to a local councillor – head of the Planning Committee – issuing an enforcement notice for demolition. That was withdrawn when we sent in the delegated report from case officers, conservation officers and team leaders on the planning department.
And then about 7 or 8 months later, we got another enforcement notice that actually says 'yes, we see that you were given approval, but we think it's ugly and deleterious to the conservation area and listed buildings, so we still want you to demolish it and replace it with a brick building.' So essentially, we've been fighting that for the last two years. We have an appeal coming up next week [this took place in July.]. I think it's going to take about three days of our time. And after that we wait a month to three months for the decision of the inspector.
PK: Apart from the fact that this is one of your seminal works – it won RIBA London and National Awards in 2018 – it's also your home and studio. How does it feel defend a building that's such a huge part of your life?
AT: It's inevitably traumatic, as traumatic as you can imagine. But you have to look beyond your immediate horizons and realise that other people have worse things happening to them.
PK: Within the architecture community, you've had a lot of support. And I think there's been an opportunity to reflect on why this building matters, and why it's important. It has so many unusual features, like the fact that it has real fossils buried into its façade, which is an integral load-bearing part of the building rather than a form of cladding. Why are these structural elements important to you?
The structural stone shows the texture and history of the material in the building's facade
AT: The building is essentially about the process of design; the making of the building is expressed as the final architecture. The stone is extracted from a quarry and the extraction method of cutting, drilling, splitting across sedimentary levels are all expressed. That's why you have three different types of finishes on the elevation. But essentially all those stones, columns and beams hold up the whole building. And yes, some of it is from a natural layer of fossilised coal, or ammonite shell, or pieces of quartz crystal. They all speak of the inherent beauty in the material itself, as well as very directly telling you that this building is held up by those stones.
It's more about process, and telling you where those unpredictable natural elements might appear as you're building, really, because you can't predict them. It's like trying to predict wood grain. You might have an idea that there's some grain there, but it's not until you split the wood, cut it or sand it or varnish it, that you know the exact, final result. So that process that was magical for us – and I'd like to think other people appreciate it.
Do planning applications allow the surprise of unpredicted natural finishes to occur after you've got your approval? I'd like to think yes, planning applications will allow that. But at the moment it doesn't seem so, their argument being that we need to know, in the same way that manufactured material has a precise final appearance. It's arguable.
The full interview with Amin Taha is part of the Icon Minds series, filmed in partnership with Arper. Find out more about Amin Taha's career, practice and other works, including Upper Street and Barretts Grove, in Icon 196, the October 2019 issue
---