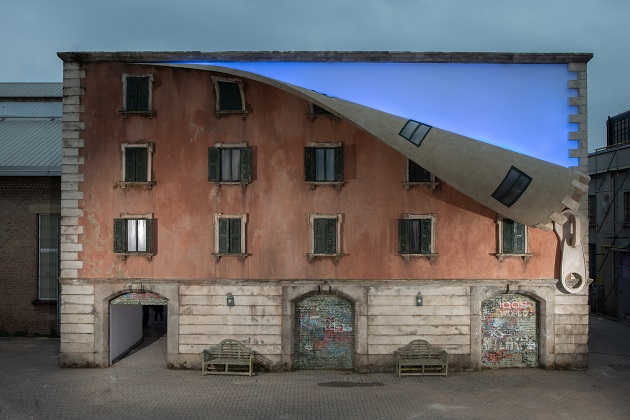 Alex Chinneck, the sculptor best known for his high concept artworks that show buildings melting, floating or sliding apart, made his Milan Design Week debut this week, with a huge public work that shows a building being 'unzipped.'
As with his previous works, the Iqos World unzipping is a giant optical illusion, designed to look like the corner of an old Milanese building has peeled away to reveal what's inside. For this work, one of his biggest international projects to date and created in the space of ten weeks, Chinneck took inspiration from the local architecture to create a weathered-looking, orange-hued building, with the quoin acting as the teeth of the zip.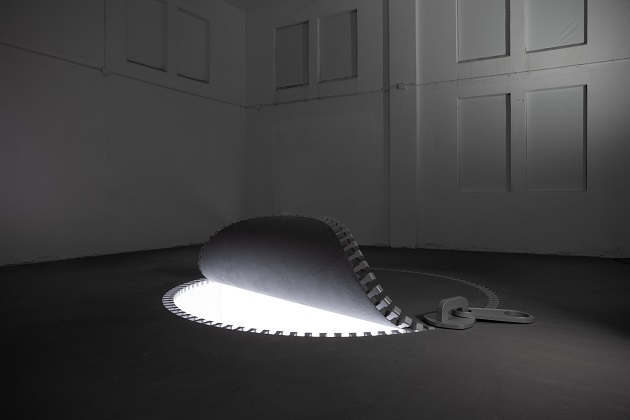 'Art is a platform for escapism… This artwork's playful and accessible concept is designed to be enjoyable and visually pleasing,' he said at its launch on Monday. 'I wanted it to be contextually responsive, so I studied Milanese architecture, distorting it.'
As well as the external zip, the building has internal sculptures that reflect the same concept. 'The builders were excavating the room, one of the rooms in there. And there were holes in the floor. That was just a nice opportunity to dig a massive hole in the room. [We used] illumination and sound and color – it's new territory for me.'
The project came together in a total of ten weeks from conception to construction and the process required the work of a team at Chinneck's practice, as well as three factories across Germany. 'If you limit work to what you can achieve on your own, you immediately restrict possibility', Chinneck said.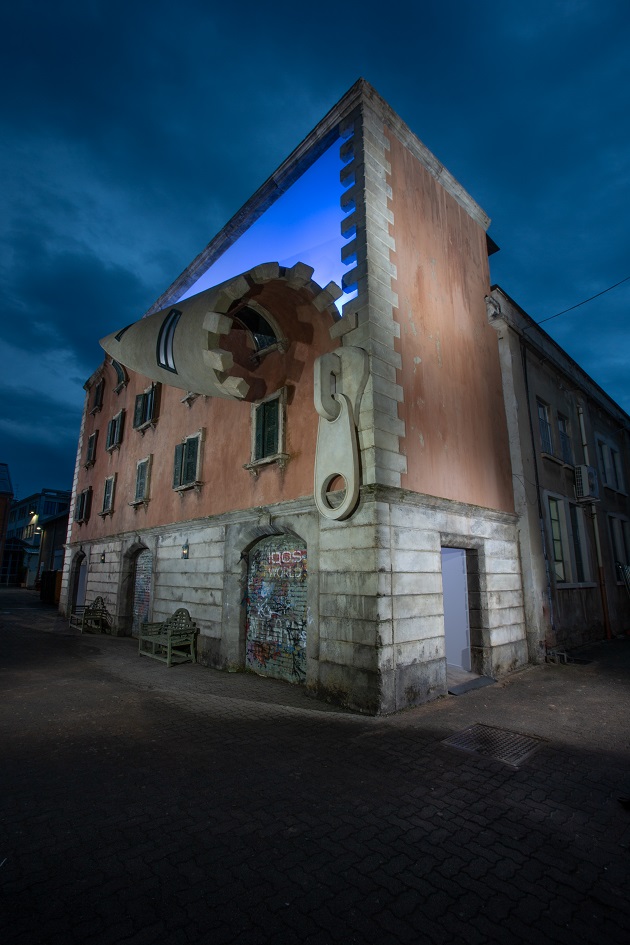 Here, he tells Icon about his collaborative process, making art accessible and his plans for the future.
ICON: This project took you ten weeks, from seeing the site to being fully constructed. How long do you usually take from start to end on a project?
We were invited out 10 weeks ago, [and] came up with the whole thing eight weeks ago. So it's been intense. It's always different… on a project like this you could spend years. But it's just good to get on with them. This was a really nice deadline, Milan Design Week.
ICON: How did you decide on the concept and come up with it so quickly?
We'd unzipped a building before, the one in Ashford, and it's my style, to distort architecture in interesting ways. And then we we choose the architecture, that kind of characteristics of the surroundings. So this is pieced together – within five minutes of this location, we photographed different buildings and it's just elements of that. That heightens that kind of believability.
The reason we did it here – Firstly, the brief wanted us to champion this notion of revealing the future. So then [there was] this this idea of bending, revealing, opening – an action… but the stone quoins on Milanese Italian architecture, just worked well as teeth.
The builders were excavating the room. And there were holes in the floor. The building was going to be demolished, so you get a huge amount of sculptural freedom; when they're about to knock down a building, you can do what you want to it. And that was just a nice opportunity to dig a massive hole in the room. Obviously, the full process is a little bit more than that, but it is just capitalizing on the opportunity… and we thought it'd be nice to continue to the narrative into that space. And again, disrupt the architecture of it in a clean way, slick way, in contrast to [the exterior] which is not brutal, but it's kind of tired and fatigued.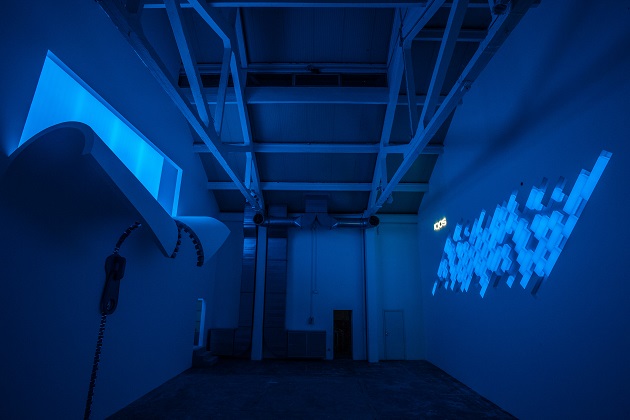 I'd wanted to create a staircase so that when you went up, you're just surrounded by that colored light, the different perspective is just slightly immersive.
The whole space is quite immersive at night particularly because it's darker and there's the red and blue light… It was nice to leave the material boundary of the sculpture and go a little bit beyond – we're working with the sound for the first time.
ICON: Where where do you want to transport the visitors of Milan Design Week with this piece?
Surrealism is a playful disorientation of familiarity. And I guess the work projects that kind of philosophy, just a momentary, uplifting escape from every day. There's just something quite optimistic about defying logic and physics… just a momentary magic trick. Not to suggest it's just this totally superficial without depth – it is conceptually light, intentionally so. We keep the concepts simple, not in a patronising sense, but with accessibility in mind and not trying to state too much in the public place. It's an experience that people can kind of approach from multiple angles… just the simple pleasures of architectural fluidity of the engineering and the making.We approach it with lots of angles.
ICON: How does your process work from brief to creation?
Like any writer or artists we like a lot of creative freedom. In Iqos World, there was a lot of confidence in the work and we felt that it was a fantastic opportunity and the partnership facilitated artworks that wouldn't otherwise exist. That presence was about brand, a new product – they weren't trying to force themselves into my work. They've been really good partners in terms of that kind of commitment to something so surreal.
With the bigger projects we often partner with developers… but that's more about place making, heightening awareness and footfall to a location. Whereas this was about heightening awareness of a product and a philosophy, and combining design and technology and kind of future thinking, I suppose. It is quite stereotypical of my work in a way: the building is fatigued, kind of in a state of disrepair and then doing something interesting [to that]. We were encouraged to introduce a more futuristic element or contemporary element… And we did that with the illumination and the sound and the color – it's new territory for me, but I'm enjoying it. It's quite liberating because everything before was so real. But it's quite exciting to move into a more abstract territory, where is not so much about making things that could already exists but making new things. I hope it opens up a new realm of making, I suppose.
ICON: What's next for you?
We're working on big project in Mumbai, which is new for us. It's a deep end in our learning curve, because it's quite ambitious project to start with. We're working on a project in Germany, which is kind of exciting. But I need to, we've worked with in the UK, we've made a lot of projects in the last five years. And that's great and hope we will continue to do so. There's only so many projects and then you so many times a collaborator can work with an artist.
So we have to expand into an international arena.
And that's really exciting to see its new collaborators, new creative kind of responses. It's nice to work with new architectural aesthetics… this setting [for instance] is informed by Milan. Each location and each relationship does that needs a different creative response. And honestly, sometimes we lean on visual characteristics of my work. That's why I enjoy but we tried to conceive different sculptures and strategies that are specific to that location… and to see how [people] will interact with it.
IQOS W orld by Alex Chinneck appears at Milan Design Week until 14 April 2019
---