The project, by Amelia Tavella, preserves the historic architecture while introducing a striking contemporary intervention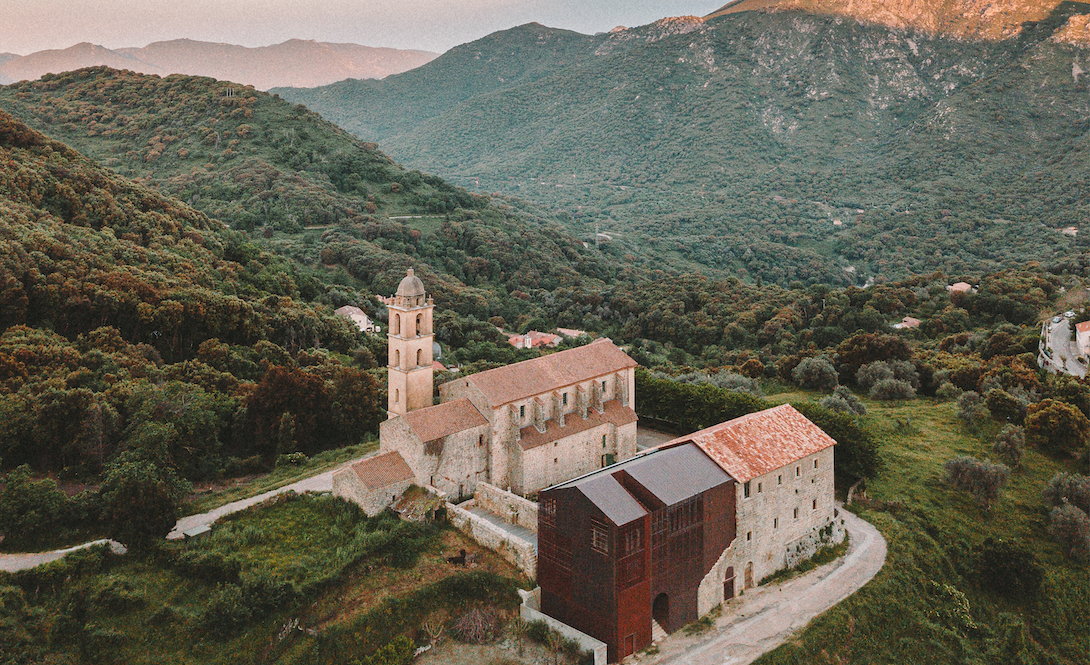 Corsican architect Amelia Tavella has completed the rehabilitation and extension of the Convent of St Francis on her native island. Built in 1480 and listed as a historic monument, the convent was partly in ruins and lay dormant. Tavella preserved it, and extended it – with a striking copper volume – without destroying any of the ruined architecture. 
The convent sits atop a mountain, surrounded by an olive grove, overlooking the nearby village of Sainte-Lucie-de-Tallano. Tavella describes how the semi-ruined building was overgrown with vegetation, but that this formed a kind of 'plant armour' that helped prevent greater erosion or collapse.
The architect wanted history and modernity to be interwoven in the project. 'I chose to keep the ruins and replace the torn part, the ghost part, in copper work,' she says. 'The ruins are marks, vestiges, imprints; they were beacons, cardinal points, guiding our axes, our choices, our volumes.' 
The new copper extension – which reproduces the silhouette of the pre-existing building – will become a 'maison du territoire', a hub for local services run by the council. Tavella chose copper for its 'softness', as well as the way it captures and reflects light.
She has perforated the metal to create mashrabiya elements which allow natural light in while protecting the interior from direct sunlight, but which also create an effect 'as if the light were passing through the stained glass of a church', referencing the building's religious history.
'I have always built this way on my Corsican island, like an archaeologist who brings together what was with what is and what will happen,' says Tavella. 'I do not remove; I hang, bind, affix, slide, leaning on the original ground, on the original work. Copper reveals the stone, the monument, and it sanctifies the ruinous and poetic state.'
Photography by Thibaut Dini
---