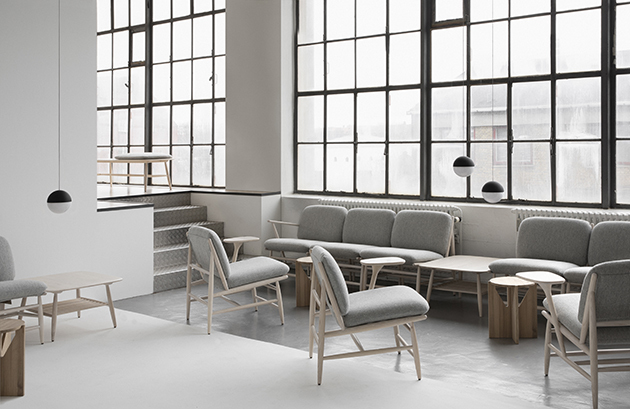 Work chairs and tables from the Ercol Von collection
Tactility and purity of form are two of the values at the heart of Ercol, a global company with a legacy of design dating back to its inception in 1920. Founder Lucian Ercolani was a craftsman who trained as a furniture designer. His vision of well-designed furniture made by artisans who took pride in their work burgeoned into the business it is today. Craftsmanship remains a cornerstone of the company, exemplified by Ercol's perfection of the steam bending of timber, which enabled the brand to produce a modern version of the Windsor Chair that was more accessible to the masses. A pioneering concept at the time, ercol's bentwood furniture featured 70 years later as a special exhibit at the Victoria and Albert Museum, London, attesting to its timeless appeal.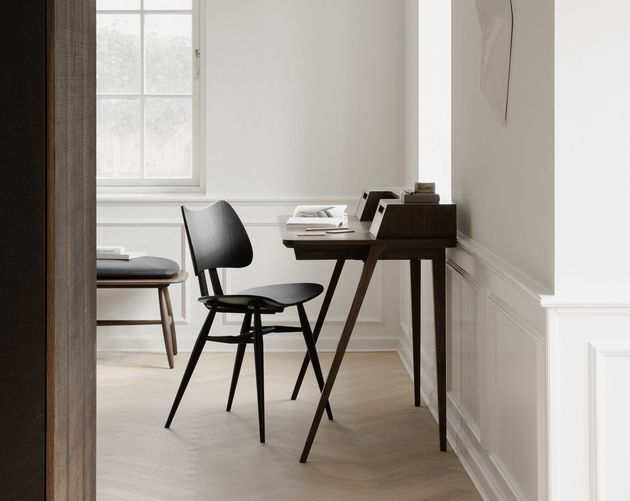 The Ercol Treviso desk in walnut and the 402 butterfly chair in black leather
Ercol brings its heritage and subtlety to all its designs, whether it's for a private residence, a high-end restaurant or hotel. For a dining area, the pieces are designed to add their own kind of flavour, meticulously crafted from wood, from tables, chairs and stools to cabinets.
The brand also looks to future trends and find ways to incorporate its heritage into new designs. It recently commissioned New York-based Altlason Studio to use one of Lucian Ercolani's classics from the company archives, the 427 chair from 1956, and reinterpret it for the 21st century. Reflecting an increasing fluidity between the modern home, workspace and hospitality settings, the Von Collection is part of the evolution of how we see and use furniture in the 21st century. The collection of chairs, tables, benches and screens is designed to be used alone or combined with others to create multiple configurations.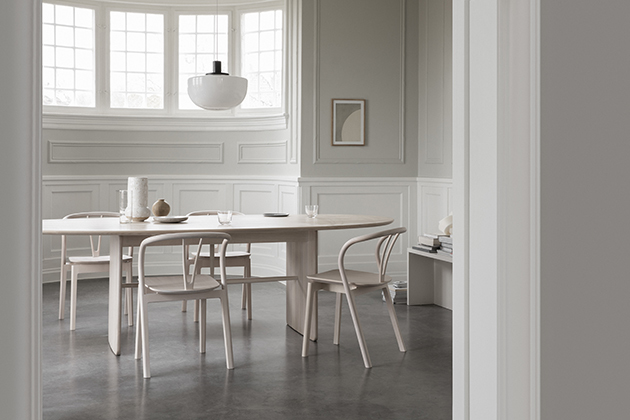 The Ercol Flow chairs and Pennon table in ash
Ercol has also collaborated with Danish firm Norm Architects to create a new table collection. Headquartered in Denmark's capital, Norm Architects are a multi-disciplinary studio working with architecture, interiors, industrial design, branding and photography. Their mantra revolves around minimalism, with meticulously crafted designs involving the sensorial, tactile experience of materials with Scandinavian simplicity.
The Pennon table collection is the result of the collaboration, created in either solid ash or solid walnut and available in a large and small size. The designers were inspired by airplane wings while designing the leg supports, while also referencing the roots of the Ercol DNA and incorporating the spindles of a classic Windsor chair in its underframe construction.
These collections and more can be seen at ercol's Showroom and factory on Summerleys Road, Princes Risborough, Buckinghamshire. Find out more at ercol.com or contact Matt Souch on 01844 271800
---