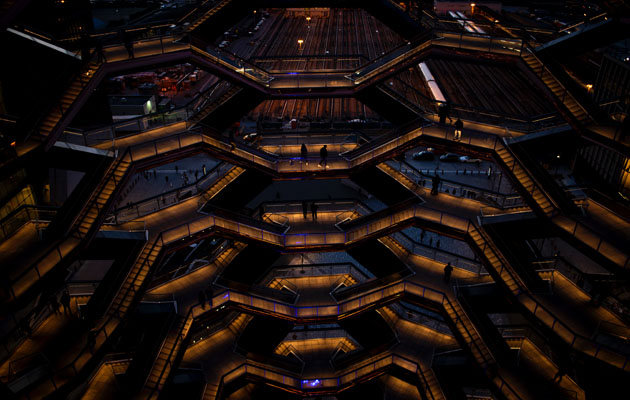 Inside Heatherwick's Vessel, New York. Photo by Jeffrey Blum, Unsplash
Thomas Heatherwick's design for a landmark centrepiece to the multimillion dollar Hudson Yards development in New York opened on 15 March and the reaction so far has been mixed to say the least.
From critics in the US and UK came a range of complaints – several criticised the entire development's its extravagant cost, many called out a restrictive photography policy (though these are not unheard of, especially around buildings constructed to provoke photos) others asked what its function was; CityLab described it as 'gaudy' and 'as if Orwell's 1984 had been given a kooky Wes Anderson makeover'; and the New York Times' architecture critic had much to say, including 'a waste-basket-shaped stairway to nowhere.'
Yet on social media the creators of the Vessel found some saving grace, with plenty of tourists (and some locals) excited to see the city's newest addition to the skyline open, them sharing their best selfies and artsy angled shots, whether or not Hudson Yards can claim ownership of them.
Highly recommend exploring #TheVessel at #HudsonYards. Pictures don't do it justice. It's like being inside an Escher drawing. pic.twitter.com/BjWiy4aAYn

— Julia Austin (@austinfish) March 20, 2019
But of course, as with any new attempt at an oddly shaped icon, the so-called Vessel got rechristened several times. The pinecone, the ribcage, the honeycomb were all in the mix, but on Twitter, the Schwarma was a popular choice, with the evident resemblance to a cone of spiralling meat, also featured on a nearby kebab shop van.
Yes #thevessel is actually a giant #shawarma sculpture with a real shawarma cart in the front. #hellohudsonyards has barely opened, and The American Eater Wins Again pic.twitter.com/Atz4y7lmPo

— Barbarian Capital (@BarbarianCap) March 17, 2019
Well, they were thinking of renaming it anyway, so on behalf of r/nyc, I nominate "The Pinecone" as the new name for The Vessel. #HudsonYards #thevessel pic.twitter.com/lWi20yKaV9

— Luis Daniel (@luisdaniel12) March 16, 2019
This new thing #thevessel reminds me of the Vermicious Knids in Charlie and the Great Glass Elevator pic.twitter.com/Q7TVbu599g

— Isabella Vitti (@ivittieditor) March 17, 2019
Writer Will Jennings, who created an entire 'World Cup' of new names, some crude, some dystopian – and the winner more sobering. Architect John suggestion of 'Ableism: The Building', echoed the criticism made by several people of the building's focus on stairs and climbing, which academic and disability expert Kevin Gotkin explored in depth in his essay Stair Worship: Heatherwick's Vessel.
Despite the controversial reception, the Vessel still managed to pull in visitors, with tickets fully reserved for its first two weeks.
---