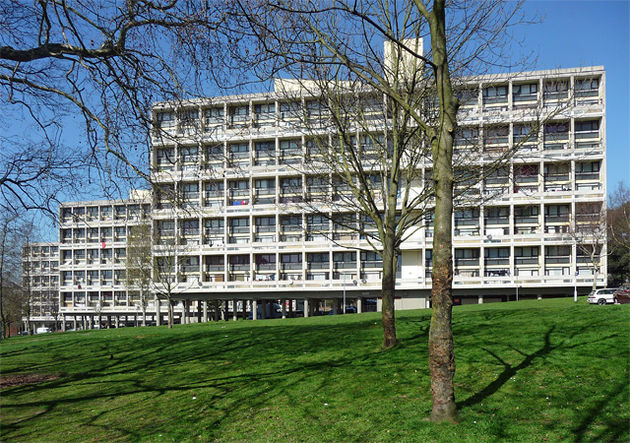 Alton Estate (West), part of the site that is Grade II* listed. Photo by Stephen Richards, CC by-sa 2.0
Roehampton's Alton Estate is one of 10 buildings on the Twentieth Century Society's list of buildings at risk of demolition. Edwin Heathcote argues for its survival
The Twentieth Century Society releases a list every two years of significant buildings at risk of being demolished by changing plans and redevelopment schemes. This year's selection includes several with listed status, and several built in the latter years of the 20th century. Among them is Alton Estate, a south London housing development from the late 1950s, once called 'the best low-cost housing in the world' and now potentially the subject of redevelopment to increase the site's housing density. Architecture critic and Icon contributor Edwin Heathcote makes the case for the estate's preservation.
A whole bunch of the kids I went to school with lived on the Alton Estate. On their birthdays and at the ends of terms we used to pile around to their flats, barely pausing to step inside for a ham, and marge sandwich on sliced white bread, before we ran back out into what seemed like the endless landscape to kick a ball around. It felt like a kind of paradise, a garden as big as a heath. And it was. This was council housing built on 130 acres of the grounds of the stately homes and villas that once occupied the site. It was, in its own way, a revolution, a physical manifestation of a more equal society.
Of course, childhood memories come with their own baseline lens of soft focus fondness and I know my friends' lives were far from the easy idyll I saw on visits after school. I was admiring the estate from the outside and there were always underlying problems that an eight year old is less able to see, but there was no mistake that the Alton Estate was a great place. And it still is.
Read more: 'We forget the brutality of bad design at our peril,' says Richard Rogers
But now it is about to be 'regenerated'. In an act of greedy vandalism, Wandsworth Borough Council, developers Redrow and architects Hawkins Brown are set to tear the heart out of one of Britain's most important, influential and successful council estates and a milestone in London's architectural development.
The justification is, of course, more housing, more density, and we all understand that. But this is an absolutely pivotal piece of British architecture and social history, which embodies the evolution of ideas in the post-war period. It illustrates the transition from the Scandi-style gentleness of the first phase, Alton East, in the mid-1950s, with its point blocks, winding roads and low-rise housing in a picturesque setting, with harsher, more Corbusian blocks of Alton West, added in the late 1950s. Both were versions of brutalism: the earlier signifying a Swedish-inflected soft brutalism and the later, a fiercer and more self-consciously sculptural version of a younger generation.
This was a laboratory of housing ideas and its experiments were conducted by emerging architects. The late architect Colin St John Wilson once told me that the two teams at the LCC (London County Council, which would soon host the largest architect's office in the world) were very much in competition, building out ideas to test them against each other. The young brutalists on the one side saw this as their chance to test a Unité d'Habitation model in London. The architects at work here included not only Sandy Wilson himself but Rosemary Stjernstedt (who led the team), Bill Howell and John Partridge (founders of Howell Killick Partridge & Amis), Roy Stout, Alan Colquhoun and many others who got their start here.
This was a place that was meticulously integrated into its context. Harold Macmillan himself had objected to the way the proposed five long ten-storey blocks of Alton West were set like a continuous cliff facing Richmond Park. Instead, they were turned on their side and set into the hill.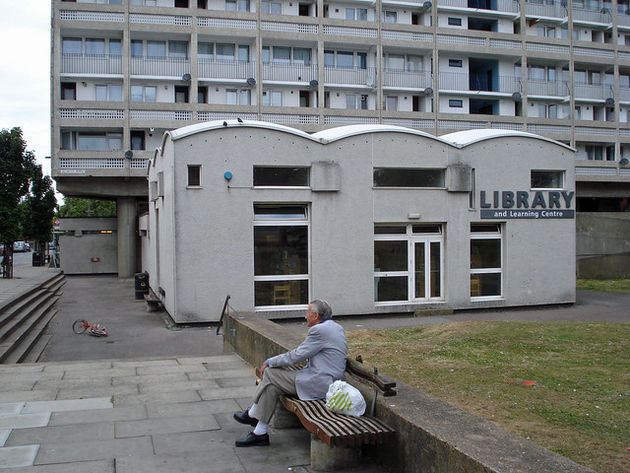 Roehampton library is part of the site. Photo by Diamond Geezer on Flickr
It is not only the landscape but also Roehampton Village that the arrival of the estate inevitably altered irrevocably. There was a library with a curious vaulted roof, which is now under threat of demolition and a public plaza of shops and public facilities that aimed to expand the existing High Street and create a civic centre. The estate acts as a pivot between village and estate and is a critical aspect in enabling us to comprehend the intentions of the whole project.
It is true that much of this architecture, including the library and the shops, are shabby, neglected and partially altered, but they are very far from being beyond repair and the fact that they have not been listed with the rest of the estate (which is listed at Grade II*) is a shocking omission. It is symptomatic of of a system that does not understand the value of an estate like this as a whole rather than a collection of disparate parts. Certainly these buildings' community and the flats that surround them would not be listed on their own, but they are part of something larger: a self-contained community.
In many ways this is a model modernist development. The clichés about failed estates and windswept plazas do not apply here. The Alton Estate remains, with its schools, shops, surgeries, bungalows and, most importantly, its incredible landscapes and retained centuries-old trees, an efficient, elegant and generous place in which exclusive land was seized by the state for the working classes. If there are issues here, they are caused by inadequate transport links and under-investment, not by deficiencies in the ideas of the original architects. And unlike some estates, the flats, houses and maisonettes here are very fine, with good views, generous dimensions, balconies and gardens.
Detail of Alton West Estate Highcliffe Drive by Stephen Richards, CC by-sa 2.0
The sustainable, respectful and right thing to do here is to invest in the existing estate, potentially identify a few points where new interventions and small densifications might be possible without despoiling the entire setting (as the new proposed blocks would do) and leave well alone. Britain's greatest modernist housing developments have almost all been buggered up in some way or lost entirely. Sheffield's Park Hill has been privatised, as has the Balfron Tower. The Trellick Tower is now a virtual boutique development and the Smithsons' Robin Hood Gardens will soon survive only as a shaggy fragment in the V&A. Post-war British modernism is becoming rare and increasingly precious.
It is always difficult to talk about housing in terms of historic preservation in an era of acute housing shortage. There are arguments for making this a more socially mixed estate and for the proposed 1,000 new properties (of which less than 200 are intended as social housing). But the Alton Estate has become a rarity, a working piece of city on the edge of Richmond Park which has somehow survived as it was originally intended. It is a work of public architecture and landscape on a scale which now seems almost inconceivable.
Could London's public sector ever do anything like this today? The Alton Estate needs to stand as an example as to how to tackle housing on a grand scale, not compromised in a dull morass of repetitive and generic beige brick so that it becomes a little bit more like everywhere else.
---