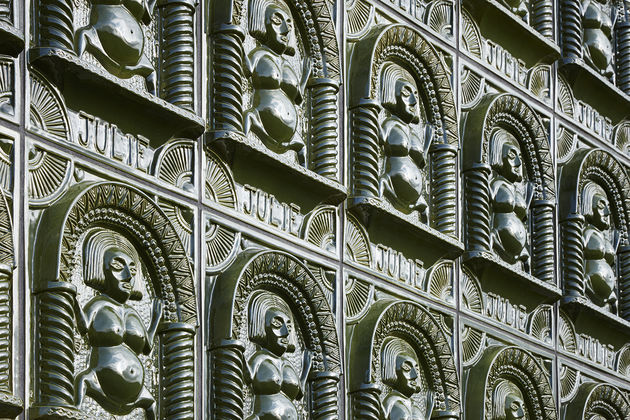 Detail of ceramic tiles designed for the House for Essex by Grayson Perry. Photo by Jack Hobhouse
A new exhibition at the Building Centre showcases a surprisingly rich resurgence of ceramics in architecture, finds Peter Smisek
The use of ceramics in architecture is on the up. Or rather, that is the premise of Handheld to Super Scale: Building with Ceramics, now on show at the Building Centre in central London. Curated by Jenny Watt and architect and ceramicist Lydia Johnson of Fettle Studio, the exhibition stems from their initial hunch as to the growing resurgence of the material, corroborated after talking to building suppliers, architects and engineers, and which gave rise to their informative and timely survey of the contemporary use of ceramics in architecture.
What is missing, perhaps, is the broader context. The revival of the use of ceramics, at least in the UK, is taken as fact, but there is precious little space to investigate the reason behind this. Lacking the forgiving climate of Spain and Portugal, Britain's tiled buildings used to require much more rigorous maintenance in the past, but with more refined cladding systems as well as better adhesives, architects can once again take advantage of the colour fastness and ease of maintenance inherent in the material.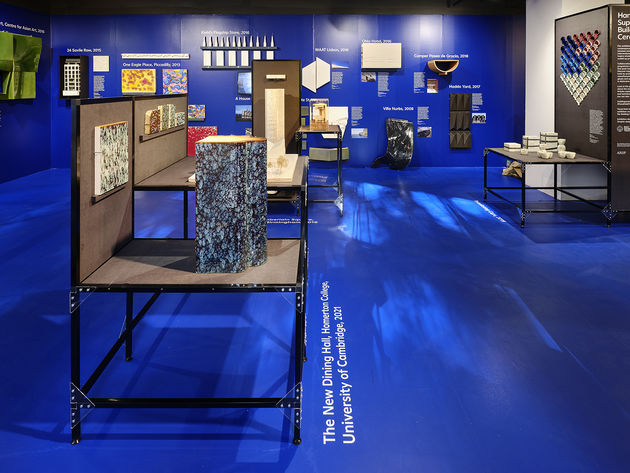 The exhibition showcases recently completed projects that use ceramics, as well as those currently under construction. Photo by John MacLean
The scope of the exhibition is limited to the decorative – as Watt says, 'When you say ceramics in architecture, you could be talking about anything, including bricks' – though it still manages to cover a surprisingly large range of manufacturing approaches, scales and roles that ceramics perform in contemporary building practice.
For Watt and Johnson, ceramics are inherently versatile, and the inclusion of such diverse projects as Enric Ruiz-Geli's experimental, parametric Villa Nurbs (2009) in Spain, covered in large ceramic shells splattered with black glaze, to FAT and Grayson Perry's painstakingly crafted House for Essex (2015), to Assemble and Granby Workshop's Encaustic Tiles (2019), shows how designers, artists and craftspeople and manufacturers can adapt and shape the basic material. Disappointingly, there are no samples for the last project – the curators searched far and wide, but the only available pieces are currently on display in Scotland; though there is a plan to hopefully include them once they become available.
A number of these realised projects line the exhibition's perimeter, while plinths in the centre are used to display just finished and ongoing projects. These are by and large less diverse and exciting, but perhaps more representative of the general trickle-down of ceramics from more bespoke, high-end projects into more general – if still carefully considered – practice. Highlights include the ribbed, turquoise samples from the 27-storey modular residential tower Mapleton Crescent (2018) in Wandsworth by Metropolitan Workshop, the brown ceramic balustrades and cladding panels of AHMM's Hawley Wharf in Camden (2019), and speckled, colourful mullions of Feilden Fowles' design for a new dining hall of Homerton College in Cambridge (2021).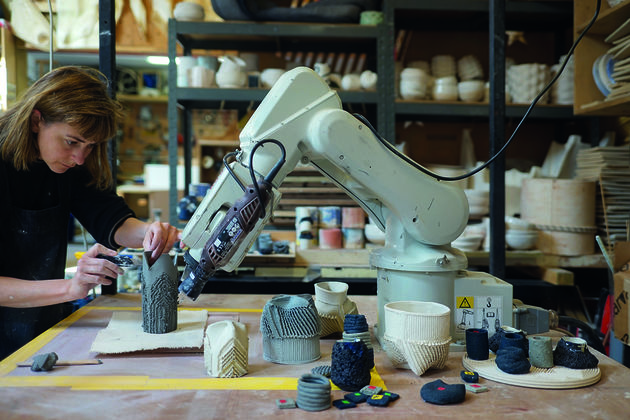 New, robotic techniques are exhibited along with more artisanal and industrial methods of ceramic production. Photo by Guan Lee
Although traditional craft still plays a role in ceramics, there is also a frank display of more industrial methods such as moulding and slip-casting, which makes the building of larger-scale projects economically viable. More experimental approaches, including 3D printing and robotic fabrication from Grymsdyke Farm and Material Architecture Lab, are highlighted too, as is Interface Soundscapes (2012), an installation in which sounds of Liverpool emanate from fragile-looking china spouts.
And although sometimes the exhibition seems to raise more questions than it can answer, a talks programme in which architects (Charles Holland, Eric Parry, Stephen Pey and Rich Miller) and ceramicists (Grayson Perry, Richard Deacon and Kate Malone) discuss their collaborations will undoubtedly provide a more complete picture.
The exhibition Hand Held to Super Scale is on show at the Building Centre in London until 31 January 2020.
---