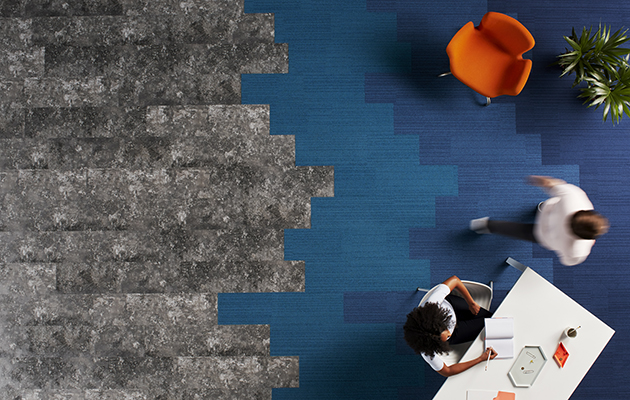 Discover how Interface's latest luxury vinyl tile collections can help to broaden opportunities in workplace design, by making the most of visible texture and striking accent colours
The question of whether flexible office space is on the rise can be answered with a simple online news search, and when you consider the benefits it's easy to see why. It's been shown to improve productivity among workers, it's cost-effective and can also reduce risk for smaller firms or start-ups who opt to share space. But with the need for flexible space, comes a host of challenges for designers and architects.
How can you go about creating multi-purpose, open plan spaces without the use of walls or partitions? Flooring, lighting and furnishings offer perfect ways to demarcate different zones without interrupting the flow of a flexible space.
When it comes to flooring, many designers are opting for a combination of hard and soft products that blend seamlessly together to create distinct areas. When installed in office and commercial environments, products not only need to look the part, but need to be robust enough to withstand traffic, without compromising on aesthetics.
This has led to an increase in popularity for flooring such as Luxury Vinyl Tile (LVT) which is both versatile and durable. Having a wide range of colours gives designers a multitude of options. For example, the latest LVT collection by Interface, Studio Set, offers bright, vibrant shades right the way through to neutral tones.
When switching from hard to soft flooring, the last thing any designer wants is an uneven surface or bulky transition strips. That's why Interface has created its LVT ranges to pair perfectly with its carpet tiles. It is this effortless combination of hard surfaces, soft textures, endless pattern and colour combinations that allows designers to create truly unique zoned flooring designs across flexible office spaces.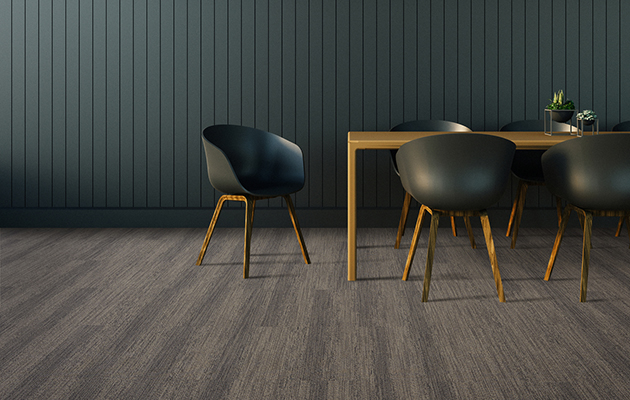 Find out more about LVT meet carpet here.
This is an advertorial feature.
---