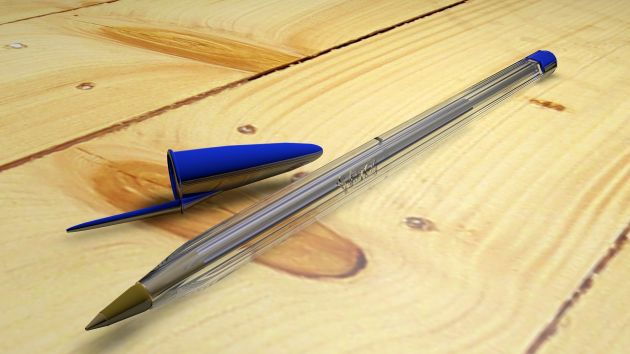 Reliable, simple and timeless, the Bic Cristal ballpoint pen is a household staple and a design classic.
The Bic biro helped to move the public market from fountain pens to ballpoints with this affordable, disposable design. Diplomatic in design, it is used by everyone from professionals to school children. The ubiquitous pen has a minimal, utilitarian look. It was designed with a clear barrel made of polystyrene that shows the user how much ink they have left and features a colour-coded polypropylene lid to differentiate the four colour options for the pens. The Bic traditionally comes in red, blue, black and green.
The shape of the barrel echoes that of a traditional wooden pencil, with hexagonal sides that ensure a comfortable and stable grip. A small hole in the barrel insures that the air pressure is the same inside the pen and outside, helping to prevent the ink from leaking. The barrel and lid are made via a process of injection moulding.
The pen was designed by the French inventor Marcel Bich in the 1950s. Bich saw a gap in the market for an affordable alternative to the fountain pen and decided to start producing ballpoints, which had been around since before the Second World War. In the 1930s Hungarian László Bíró had designed the modern ballpoint pen while working as a print journalist. Frustrated by having to constantly fill up his fountain pens and clearing up ink smudges, he noticed that newspaper ink dried fast and didn't smudge. Along with his brother, he devised an ink similar to printing ink that worked with a pen that had a ball-tipped mechanism.
The Bíró brothers' pen was expensive, and Bich saw an opportunity to make a single-use version with cheap material. He owned a factory on the edge of Paris that he was using to manufacture parts for fountain pens and draughtsman's pencils. After he bought the patent for the Biro, Bich invested in Swiss technology capable accurately cutting the tungsten tip into a sphere with a diameter of one millimetre that would allow the ink to flow freely around it. Bich was able to significantly drop the price of the Biro pen
A lot of money was spent on advertising the pen, and three years after it's launch advertising genius Pierre Guichenne persuaded Bich to drop the 'h' from his family name to create a more catchy brand name.
Over the years, the Bic hasn't changed much. Each pen can write about 2km worth of scribble. They rarely leak and don't shatter easily when dropped. They are around 145mm long with a diameter of 9mm.
To date, over 100 billion Bic Biros have been sold, at the rate of about 57 every second. The Bic is the world's top selling pen, and is featured in London's Design Museum as well as the MoMA in New York.
---