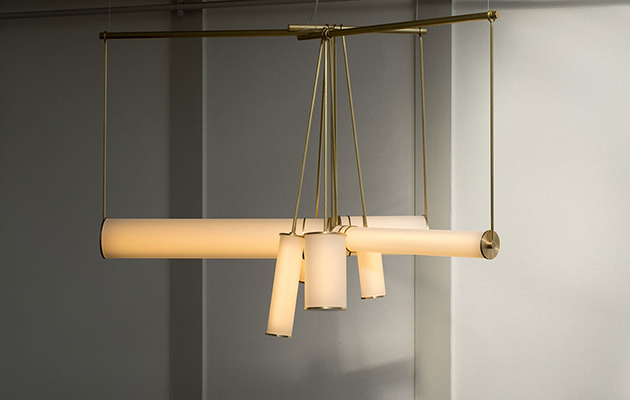 Rust, refugee housing, and furniture for modern urban nomads;
Bryony Hancock

picks the best of the Satellite show at Salone del Mobile 2018.

Milan's Salone Satellite exhibits 650 emerging and young designers under 35 – as the 21st edition wraps up its final moments, we look back at some of our favourite products from this year's show.
Stoft Canvas Chair
Swedish studio Stoft's tactile chair uses upholstery in a playful way. By shifting the focus to the raw hide fabric, not the ash frame, the trio pay homage to the authenticity of textile craft – a trend becoming more evident as we veer towards the ever-impending autonomous age. The bent ash band tightens to secure the fabric and allows users to customise the textile.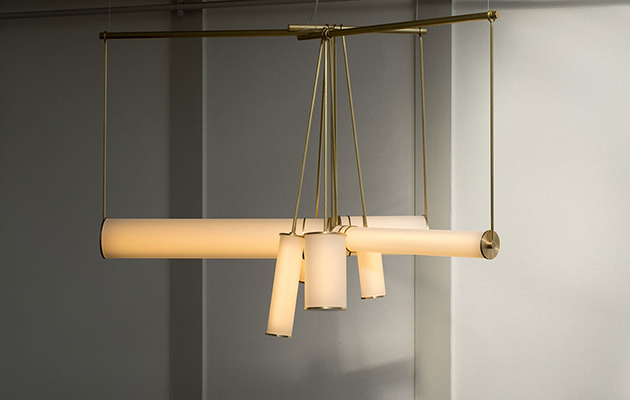 Studio Truly Truly's Pitch Lights
Being one of the hottest design studios of the moment, we were expecting great things from this Australian couple: their new collection did not disappoint. The duo presented a lighting prototype named Pitch, alongside the Brace Rug and an anodised finish of the Fond chair. Composed of hanging tubes of glass & brass that fall against each other like a pendulum, Pitch creates sculptural installations in a dignified way.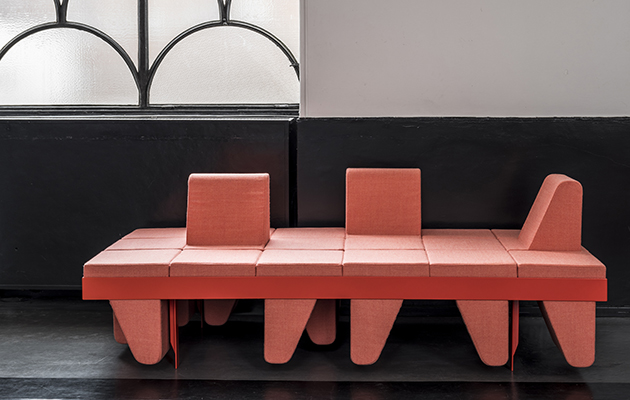 VIA University College: Sandra K. B. Mikkelsen's RYK Sofa
In a mass of near-identikit seating, this sofa by Sandra K. B. Mikkelsen was an innovative cut above the rest. In a show from VIA University College in Denmark, themed around the title 'On or Off?', her upholstered modular sofa encourages users to sit fluidly and irregularly, facing different directions and taking up a variable amount of room. The metal frame construction was sturdy and the upholstered blocks had a distinct weight sliding them into place – a product with both a strong conceptual backstory and well-executed prototyping.
Earnest Studio's Post Lighting Range
Founded by American-born, Netherlands-based designer Rachel Griffin, Earnest Studio is clever and considered. Stationed in the centre of the Salone Satellite area, their stand drew quite some attention… Post is a family of lamps which uses magnetic connections to arrange an independent light source along steel armatures, alone or in groups. The collection spans table, floor, ceiling and wall lighting and the ingenious assembly allows endless permutations.
Dan Schofield's Signet Table
This Sheffield Hallam graduate's latest prototype piqued our interest. Created for the modern urban nomad, Schofield's trestle table is designed to be taken apart easily. The four legs that support the hefty glass top are elegantly profiled, but the real ingenuity is in the fixing method. Aluminium rings lock the two halves of the legs together and the rubber coating provides grip for the glass – a contemporary revamp of a classic trestle table.
Tijs Gilde Gravel Table
Ever the material researcher, this Dutch designer decided to push a technique best known in the flooring industry into the third dimension. Stone, pigments and binder are pressed together to form a delightfully textured surface that is curious to touch. The tables, alongside the accompanying gravel pots, have a sturdy weight and flecked terrazzo pattern typically reminiscent of outdoor furniture. Gilde is currently looking for a producer, so watch this space…
Rehome Furniture
After first unveiling the project at Habitare in Finland last September, students from Lahti University of Applied Sciences brought their humanitarian creations to a worldwide audience. Designed to meet current demands for temporary refugee housing, the team's ten plywood and cardboard concepts push the limits of rapid production and are manufactured with as low costs as possible. Sleeping, storage and privacy were the largest issues to be tackled.
Studio Yuma Kano's Rust Harvest
By far the most original use of materials at the show, Yuma Kano's exploratory process hails rust as a material to be exploited, not an age-old manufacturing problem which destroys all good materials. Kano, a winner of the German Design Award in 2018, developed his own technique which transfers the rust from metal plates using acrylic resin. By exposing these plates to light, rain, earth and seawater he creates rust naturally and then develops the resulting patterns into furniture.
---