Fierce competition has made exhibition stand design is a vital part of making Milan design week a success. ICON picks out some of the most striking stands from Salone del Mobile 2018.
Over 300,000 visitors pounded the red-carpeted pavements of the Rho Fiera for this year's Salone del Mobile, making this edition of the furniture fair the biggest ever. It also had the largest ever number of exhibitors with 1,841 individual stands showcasing the best of design in Milan's mile-long Fiera.
Because of this fierce competition, exhibition stand design is a vital part of making Milan design week a success.
There were some clear stand design trends this year: lots of steel frames and winter-gardens. Millennial pink, and pastel hues were also abundant. But when it comes to stand design and standing out, are hitting the trends really the best way to come out on top? Perhaps not, as ICON's analysis of best stands at Salone del Mobile 2018 demonstrates.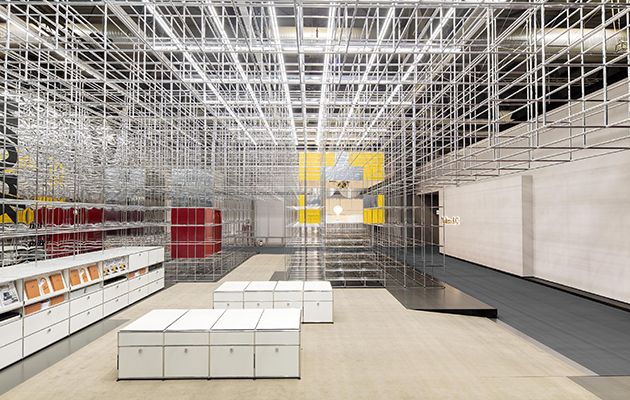 USM
As mentioned, steel beams were a massive trend this year, but no one did it with more panache and aplomb than USM. The stand's structure was made entirely from the Swiss company's flagship Haller system of ballbearings and rods, it stood out like a giant silver optical illusion visible from the opposite side of the pavillion and beckoning for a closer look. Conceived by UNStudio and USM, it had colourful breakout spaces built within the steel frame featuring conceptual art, interactivity and even a golden toilet for visitors to, erm, sit on. The booth itself was the biggest item of furniture built from USM pieces, and was made out of 1,015 panels, 5,008 balls, and 13,318 tubes, and weighed 8.9 tonnes.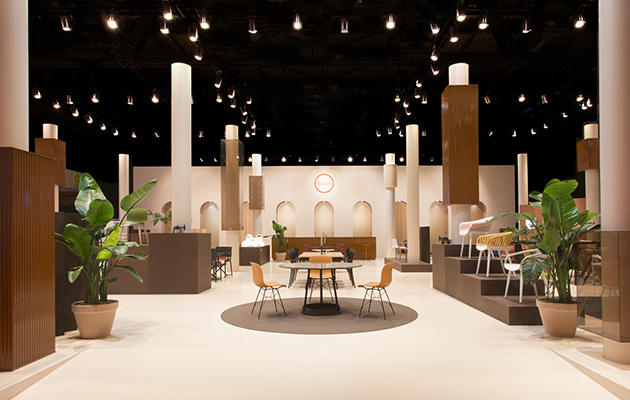 Magis
Though technically a reworking of their Stockholm Furniture Fair stand, the Magis still looked impressive in the darkened Rho Fiera halls. Inspired by the work of celebrated Renaissance architect Andrea Palladio, the space resembled a vast atrium dotted with marble-pink columns and dark wood accents. Magis partnered with Stockholm-based New Note Design Studio to bring the whole thing together, the stand was conceived as a little ideal city, with scattered plants and rounded alcoves framing the products.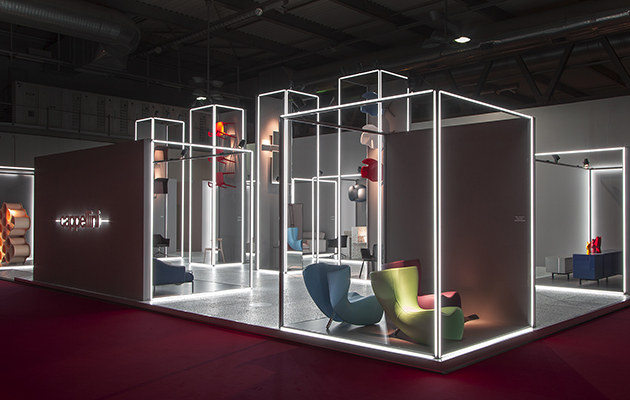 Cappellini
Part Dan Flavin neon columns, part Lucio Fontana immersive lights, Giulio Cappellini himself conceived the company's Salone del Mobile stand. Set among matte grey walls and white light frames, a whole range of new products and reimaginations of old classics were presented suspended from walls, or ensconced in neon. By hanging the objects above the eyeline or framing them unconventionally within the frames, Cappellini created a futuristic, slightly surreal space that welcomed and challenged visitors in equal measure.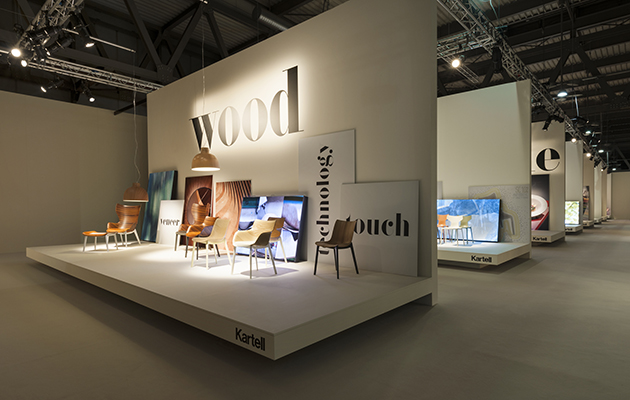 Kartell
Kartell's stand was enormous and made out of several distinct areas, the most interesting of which was a sort of human scale filing cabinet of Kartell ideas. Under the tagline 'Smart design for smart people', the display was made of eight distinct platforms, each representing a micro-theme of the brand's design strategy: wood, bio-materials, smart technology, outdoors, living and sitting, lighting, and a new collaborations with La DoubleJ.
Arper
From a distance the Arper stand looked like a mysterious treehouse of untreated wood walls, and splashes of colour. Partnering with Barcelona studio MAIO, Arper produced a show-stopping featuring natural wood panels, cut into points and geometric arches and housing a number of breakaway spaces of pure colour displaying distinct lines. The goal was to put relationships in the centre of design, and by allowing the neutral stand to act as a solid background to the colourful collections Arper created a cosy yet striking environment.
---