The Greenhouse is Stockholm's laboratory for rising talent, where young designers get a chance to exhibit fresh ideas. At Stockholm Furniture Fair 2019, Icon selects the best new work
The rules of the Greenhouse at Stockholm Furniture Fair say you only get to exhibit there three times – then you're out on the main floor with the big brands. It's the major design event's nursery for future talent, curated to show off student and early career designers with groundbreaking ideas. Past Greenhouse graduates who have gone on to great things include Oki Sato of Nendo, design studio GamFratesi, and Morten & Jonas. At the 2019 edition, Icon spotlights its favourite finds from the Swedish capital.
Brot by Beneditas Studio
Brot is a lamp that also germinates seeds. Wholly made of terracotta clay, the earthy lighting feature uses a standard bulb to help seeds sprout in a cavity inside the lamp. Unexpected moments of growth link food and home, and – as with the pea sprouts here – can set in motion health , say the designers, Catalan-duo Caterina Vianna and Ferran Gesa.
Luu Stool by Origo Studio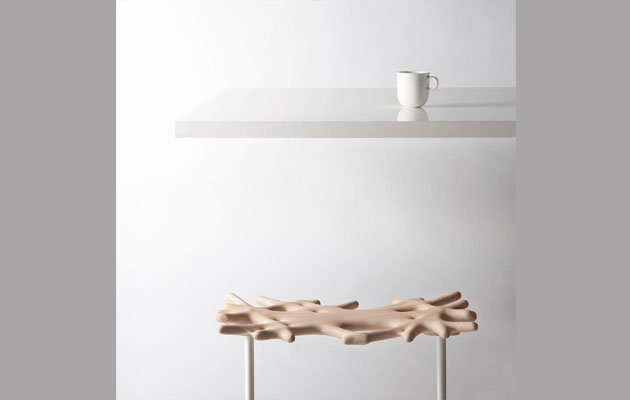 Parametric design – using algorithms to generate forms – is a firmly established favourites for students in Sweden and internationally. While many parametric creations appear angular or nakedly mathematical, Origo Studio's luu stool uses machine generation to create something distinctly organic. Dario Vidal, a masters student at Aalto University, generates the tactile forms using an algorithm that can produce infinite variations in form, which are then CNC milled. Vidal says he aims to find the middle point between industrial fabrication and craft.
Oikoi by Frattini Frilli
These 'low tables' are modelled after the three classic roof typologies – flat, vaulted and pitched – and come in countless colour and size variations. Milanese architect Davide Frattini Frilli designed the tables, named Oikoi (the Greek word for houses) to be playfully arranged into miniature cityscapes.
Hot Lamp by Anna Junebro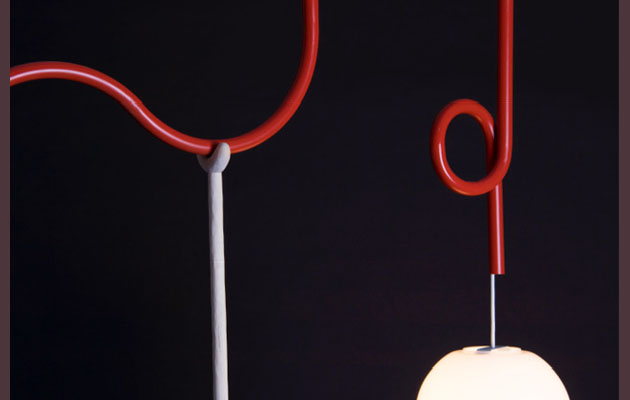 Also representing HDK, Anna Junebro has created this lamp with visual queues from Memphis and Dali. Junebro says it resembles a standing lamp, 'shaped and distorted by the environment we have created' of increasingly extreme weather.
Helix by Dario Samardzic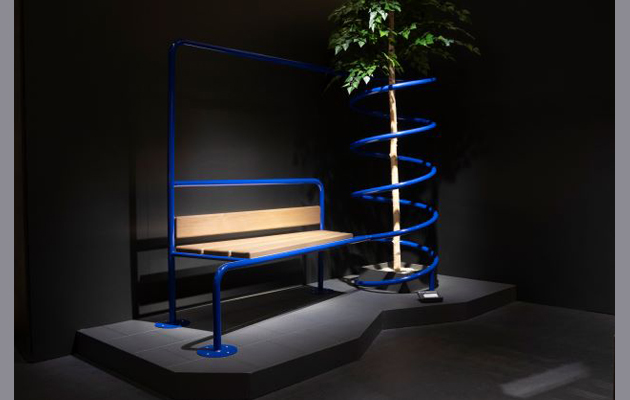 Encouraging spontaneous interaction with others and with nature, this bench and planter from Dario Samardzic uses a giant spiral to protect a sapling and provide a place to rest. Formed part of a group show from Stockholm's Konstfack school, featuring some remarkable, colourful uses of bent steel.
Shelf for the First Salary by Solbi Park
A group of students from HDK were given the chance to work with a new recycled material made from compressed clothing fibres. Making the most of the product's unusual appearance of a woolly terrazzo, Solbi Park proposes connecting key memories (here a person's first paycheque) with purchases of furniture. It's intended as an antidote to throwaway culture: quality items with a connection to powerful memories will remain with the buyer for a long time, she reasons.
Sugar by Milena Faé Velho
Brazilian designer Milena Faé Velho questions how long objects should last with common objects remade sugar. 'Most sustainable objects are built with the intention to last', says Velho, a student at HDK, University of Gothenburg. 'They normally last longer being waste than they do being functional. What if we invert this logic?'
---