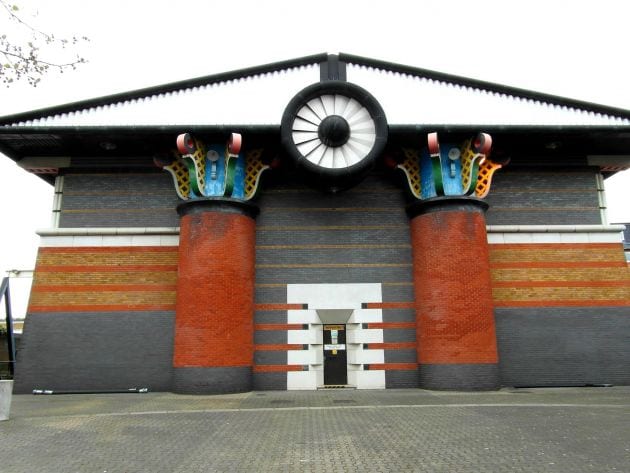 Isle of Dogs Pumping Station.Photo by Reading Tom via Flickr
Popular between the 1970s and 90s, postmodern architecture featured houses with curving forms, bright colours and humorous ornamentation
Modernism, which was popular in the years after the second world war, was defined by its emphasis on simplicity and the adage 'form follows function.' While it strove to create urban utopias and was influenced by the ideas of socialism, postmodernism was nominally unideological but quickly becmae associated with corporations and capitalism.
Spanning design, art and architecture, posetmodernism was often controversial for its flamboyant looks. It was defined by a scepticism and irony in rejection of modernism. At once abstract and subjective, postmodernist buildings, products and art make up a rather odd looking family.
Clore Gallery London. Photo by Elekhh via WIkimedia
Colours ranged from neon to bright pastel palettes, in both the exteriors and the interiors of buildings. These often featured playful elements, intended by architects to catch the eye of passersby with whimsical shapes and absurd inclusions. A wide variety of materials was often deployed to create the desired effects.
Postmodernism began as a fringe movement, made up of designers that were prepared to go radically against what was popular at the time. The movement became more mainstream in the 1980s, which came to be known as the 'designer decade' for all the pioneering products and companies that were creating then.
British Library St Pancras. Photo by David Hawgood via Wikimedia
In product design, Italian design groups such as Studio Alchymia and the Memphis group were important in promoting the movement. And in architecture, postmodernism is most visible in its response to what its proponents would have called homogenous look of the modernist movement and the failed attempts at creating utopian communities.
To many, modernism had seemed too elitist, austere and formal, even though it was founded on socialist philosophies. Postmodernist architects argued that this striving for perfectionism was a failure. They wanted their buildings to communicate with the public.
Vanna Venturi House. Photo by Smallbones via Wikimedia
The style flourished from the 1980s through the 1990s, particularly in the work of Scott Brown & Venturi, Philip Johnson, Charles Moore and Michael Graves. Notable buildings include the Isle of Dogs Pumping Station by John Outram; British Library in St Pancras London designed by Colin St John Wilson & Partners; Clore Gallery extension to Tate Britain, London; and Vanna Venturi House by Robert Venturi.
In the 1990s, newer styles such as High-tech architecture, Neo-futurism and Deconstructivism became more popular, and the heyday of postmodernism came to an end. Nevertheless, many of the structures that make up our cities were designed in the style, and even more display its influence today.
---