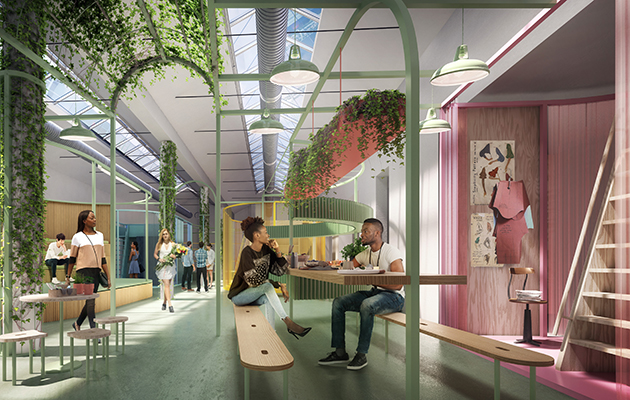 The MINI Living and Studiomama Milan installation 'Built by All', introduced a new living concept designed to address individuals' needs and foster creative communities, writes
Bryony Hancock
The design industry has always been influenced by fad trends, from colour psychology to experimental materials, new technologies to Scandi-chic. However, the growth of urbanisation, remote working and smart cities is affecting architectural spaces in a more enduring way. As our population de-clutters, we see homes become smaller yet more considered, without superfluous details. At this year's Milan Furniture Fair, MINI Living's collaborative installation with StudioMama, titled 'Built By All', embraced this lifestyle shift through a communal living space where residents take ownership of its design.
The installation, which sprang from a disused Milanese warehouse, is split into distinct sections: four private living spaces complemented by a shared amphitheatre and kitchen. Nina Tolstrup, founder of StudioMama, says that by encouraging consumers to become architects themselves, each unit expresses the individual's personality. 'We thought about who would live in this environment and picked out characters: a DJ, an illustrator, a ceramicist and a pattern cutter. Using a basic toolkit of shapes and functions, we helped these spaces identity with a space,' explains Oke Hauser, Creative Lead for MINI Living.
'Built By All' is the fifth instalment in the MINI Living lifespan. Previous proposals include last year's 'Breathe', a building that merged ecology with living and 2016's 'Do Disturb', an investigation into micro-neighbourhoods. The initiative was founded in 2016 to explore how MINI's quintessential foundations in spatial ingenuity can be used within the lifestyle market, not just cars. It makes perfect sense: Hauser's research into reduced living spaces harks back to the brand's iconic 1959 Mini Cooper – a product which maximised driving experience within a small footprint.
Clearly, the 'Built By All' proposal is still inherently conceptual. The pastel shades used to segment the space would be far too avant-garde for some adopters and the layered curtains which indicate residents' preferred privacy levels would need to be more substantial. But, MINI's intention was to start a conversation – and they did. Their intelligent and convertible space prophesises how our homes could look if we adopt this progressive outlook.
The future of urban living is in your neighborhood. Come
and explore the #MINILiving installation at @isaloniofficial and experience it for yourself: https://t.co/40VdwZYwdZ#SaloneDelMobile2018 #BuiltByAll

— MINI (@MINI) April 19, 2018
To transition the venture into one more realistic, Hauser said, 'We'd provide basic elements that users would configure either online or physically. Then you might order the parts or get them manufactured onsite – the idea is to have a toolkit that you manipulate.'
MINI's utopian vision may be conceptual and colourful, but it addresses a definite need. The United Nations predicts that 70% of the world's population will live in cities by 2050. Currently the project caters for urban nomads but could easily be adapted for sociable elderly people who crave communal living or families with shared crèches or home schooling. 'There's a strong tendency towards using spaces more efficiently, but without sacrificing it,' says Hauser, 'it's about the change of lifestyle – people want to live flexibly, with a lighter footprint.'
Alongside the 'Built By All' space, StudioMama and MINI held an open workshop for visitors to become their own architects. Through building blocks and frames people concocted graphic art, living spaces or simply played around with the tangible shapes. This kinaesthetic engagement sealed MINI's ideologies within visitors' mindsets, a feat not achieved by all FuoriSalone events.
The team's success in Milan pre-empts their opening of a MINI Living building in Shanghai next year. Collaborating with Chinese developer Nova Property Investment Co, they are transforming a disused paint factory in the city's Jing'An district into apartments, offices and leisure spaces. Let's see if this project continues to mark the brand's evolution from a car manufacturer into a multi-faceted lifestyle consultancy.
---