Walala Lounge, South Molton Street, by Camille Walala
Read on for Icon's top ten installations to see at this year's London Design Festival
London Design Festival 2019 will feature an array of eye-catching installations at the V&A and beyond, from a uranium glass forest to a Bauhaus-inspired pedestrian crossing on Kensington High Street, and several major projects that focus on the environment and waste.
See more of the talks and exhibitions to see at London Design Festival here.
Bauhaus Rewritten, High Street Kensington, 14-22 September
Pentagram partner Sascha Lobe draws on the legacy of the Bauhaus' pioneering but often-overlooked women for one in a series of 'creative crossings.' Organised with the Design Museum as part of the Bauhaus centenary festivities – and its own 30th birthday – the pedestrian crossing features typography created by Pentagram for the Bauhaus Archive in Berlin. The museum will also display a new sound installation by Yuri Suzuki.
Sea Things by Sam Jacob
Sea Things, V&A, South Kensington, 14-22 September
A huge cube made from two-way mirrors is to be hung at the Cromwell Road entrance of the V&A by British architect Sam Jacob. Created with digital software company SAP, it is animated with a motion graphic portraying our ever-growing environmental challenges, most prominently the use of single-use plastic. Jacob has also recreated a series of water vessels from the museum's ceramics collections.
Watch Icon's interview with Sam Jacob about his career, work with FAT and his designs for the V&A entrance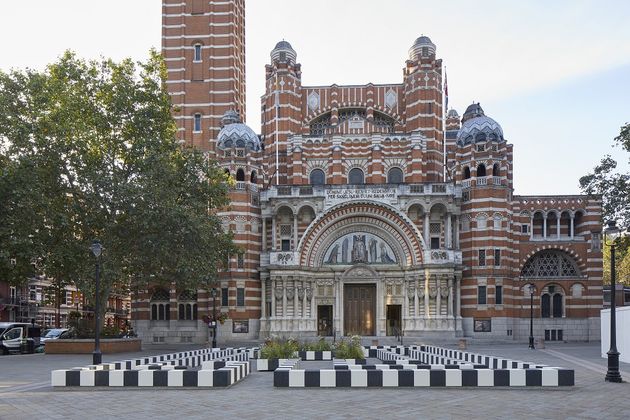 Life Labyrinth by Patternity outside Westminster Cathedral. Photo by stuidostagg
Patternity: Life Labyrinth, Westminster Cathedral, 14-22 September
Anna Murray and Grace Winteringham have created a contemplative space outside Westminster Cathedral using the ancient geometric shape of a labyrinth. The installation is designed to invite visitors to take their time to enter the centre of the spiral, encouraging a meditative moment in a busy part of the city. Read more about the pair's work and their long-term project of using pattern to help influence wellbeing in a positive way in our interview here.
Sacred Geometry, V&A, South Kensington, 14-22 September
A luminous glass forest has taken up residence in the Medieval and Renaissance Galleries. Referencing the use of wood and fire in glassmaking, the piece by Czech designer Rony Plesl is a heap of haphazardly stacked logs made from uranium glass, which emits a fluorescent green glow. The hexagonal profiles of the logs refers to the principle of Sacred Geometry, where particular forms are ascribed significance.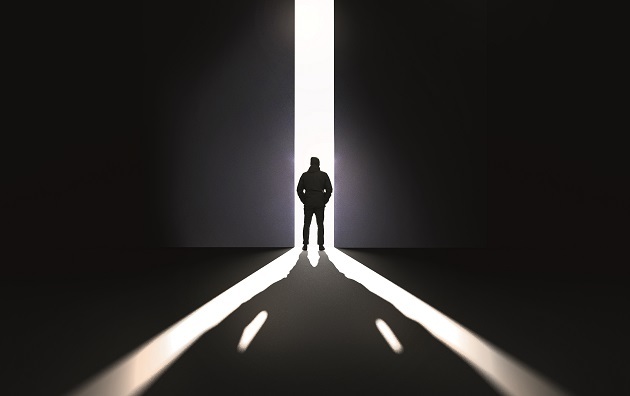 Avalanche at the V&A by Matthew McCormick
Avalanche, V&A, South Kensington, 14-22 September
Canadian designer Matthew McCormick laments climate change in an atmospheric installation that invites visitors into a darkened and reflective space. Guests are asked to pause in its disorienting and discomfiting landscape for a moment, before navigating the uncertain terrain for a route out.
Walala Lounge, South Molton Street, 14-22 September
Camille Walala's colourful designs come to life in central London as a collection of street furniture. Taking her signature 2D style into three dimensions results in a series of cuboids, cylinders and arches that form benches, planters and sculptural forms that are designed to turn the pedestrianised street into an open-air lounge where people can pause.
Camille Walala will also be in conversation with Icon's editor Priya Khanchandani as part of the Icon Minds series, in partnership with Arper.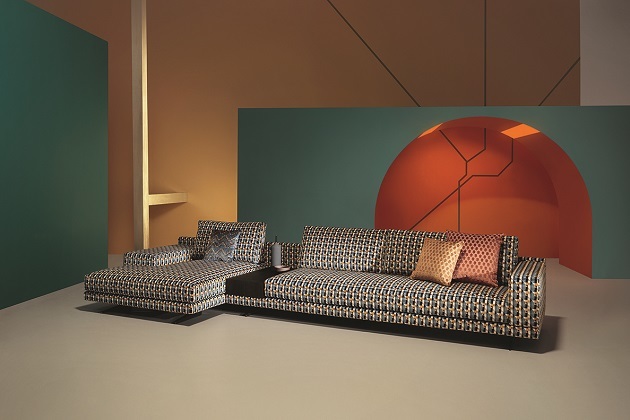 Furniture upholstered in London Underground moquette by Kirkby Design
Kirkby Design, 100% Design, Olympia London, 18-21 September
Textile studio Kirkby Design debuts its second Tube-inspired furniture collection, Underground Vol. II, following an initial collaboration with Transport for London in 2013. The seating range is upholstered in mosaic-patterned fabrics reminiscent of the woollen moquette used on London Tube seats since 1930s – though in updated tones, and with slightly plusher materials than the authentic variety. The collection of sofas and bench-style seating is presented inside the fitting setting of an original 1960s Victoria Line carriage.
Disco Carbonara, Coal Drops Yard, 14-22 September
Martino Gamper has two projects at London Design Festival this year. The first, Disco Carbonara, presents a colourful false facade that acts as a gateway within Coal Drops Yard, designed out of waste products and with idea of Potemkin villages in mind. The second overlooks this, with Samsung creating an exhibition that explores Gamper's work, particularly his use and reuse of materials.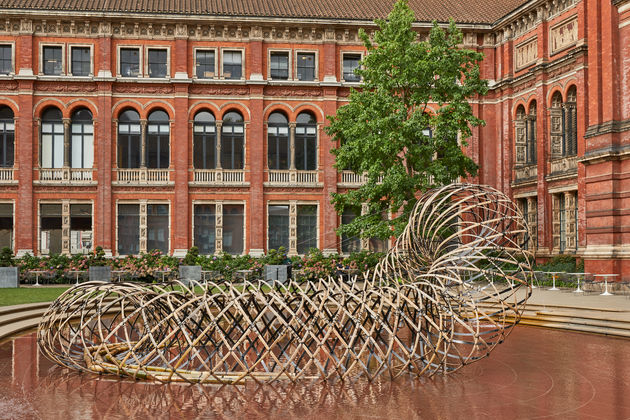 Kengo Kuma's installation outside the V&A. Photo by Ed Reeve
Bamboo Ring: Weaving into Lightness, V&A, South Kensington, 14-22 September
Fresh from Icon Minds series, Japanese architect Kengo Kuma presents an experimental woven installation in the museum's John Madejski Garden. The doughnut-shaped structure, which peels away from the ground at one side, was created by combining bamboo with carbon fibre to form a latticework intended to demonstrate the strength and flexibility of the materials when combined. Kuma worked with Ejiri Structural Engineers and the Kengo Kuma Laboratory at The University of Tokyo on this new project.
Please Be Seated by Paul Cocksedge. Photo by Mark Cocksedge
Please Be Seated, Finsbury Avenue Square, Broadgate, 14 September until 11 October
Designer Paul Cocksedge has created a multipurpose installation for British Land, creating a sculptural design that serves as seating, shade and public art. The large-scale, circular design is made of recycled scaffolding planks, shaped to curve up and down, allowing people to walk under and through the installation, as well as taking a seat in the dip of each parabola.
---