In an east London cafe, a food stylist and photographer are turning fruit into art. By Siobhan Morrin
Just off Broadway Market in east London, a new exhibition of photography crosses art with eating in more ways than one. There's Still Life is a collection of shots by Louie and Tim Waller-Hill, all showing fruit in various forms and displayed at Diddy's, a café and cocktail bar on Mare Street.
The collection of photographs is dominated by strong colours – the different pinks of a dragon fruit, pomegranate and plum against a pale blush backdrop of crepe and fabrics; a bright orange grapefruit sliced in half, sitting on crumpled lilac bag. The pair – Tim Waller-Hill best known as a fashion photographer, Louie a creative director and food stylist – combined their talents to produce a contemporary study they describe as 'a pleasure to look at, as well as to eat.'
All of the striking still life images were shot at Diddy's, primarily a café-bar, but increasingly becoming a place for exhibiting and selling the work of local designers, artists and publishers. The space, opened by Diddy Varley and her partner Jayden Ali in December 2016, is also used for events and other collaborations, including with the Architecture Foundation, and the pair designed the interiors, down to the bespoke Robin Day cafe chairs.
Read more: The class distinctions signified by food packaging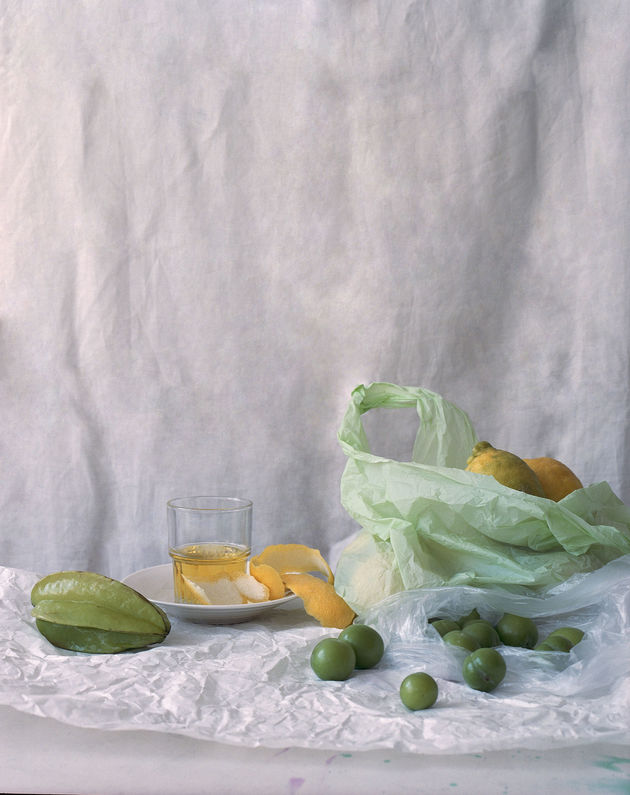 The backdrop of bright orange chairs, white walls and simple shapes provides a contemporary backdrop for both the photos' composition and their display in the cafe.
The exhibition will be on display during Diddy's opening hours from 3 May to 15 June, and will be accompanied by a publication of the photos and a limited edition collection of clothing designed by the Diddy's team and featuring artwork by the Waller-Hills.
The photos start at £125 (£250 framed), with T-shirts available for £30 or £50.
---