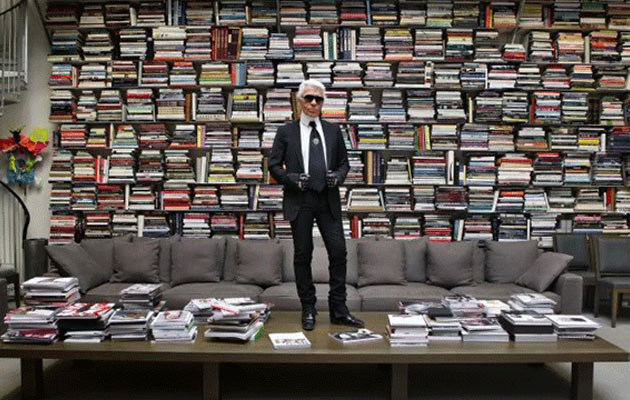 Karl Lagerfeld by Stefan Strumbel
Karl Lagerfeld, the fashion designer best known as the creative director of Chanel, has died at the age of 85. Chanel confirmed that Lagerfeld died in Paris on Tuesday in a statement celebrating his work for the fashion house, where he had been creative director since 1983.
Lagerfeld was known for transforming Chanel, adding new flair and creativity to the fashion house's classic tweed suits. He was also known for his own unique style, with his shock of white hair always in a ponytail and his outfit consisting of high-collared white shirts, black jacket, trousers and tie, fingerless gloves and big, dark sunglasses. As well as his work for Chanel, preparing runway and haute couture collections each season, he also designed for Italian fashion brand Fendi and had his own Karl Lagerfeld line, bringing the number of collections a year up to 15, according to a Vogue profile last year.
However, it was not only in fashion where he exercised his eye for design. From early on in his career at Chanel, he also carved himself a niche in photography, shooting many of his own fashion campaigns, as well as portraits and photoshoots for magazines including V and Harper's Bazaar. He also shot photos collected into several books, including one on modern Italian architecture. In 2008, he collaborated with artists and architects, commissioning Zaha Hadid to create the Chanel Mobile Art Container, a travelling pavilion that contained works by artists including Yoko Ono.
In recent years, he turned his hand to interior design, something that had been evident in his Chanel collections' frequently extravagant set designs, and late last year he created a collection of furniture for Carpenters Workshop Gallery in Paris.
The pieces he created for the Carpenters Workshop Gallery were eventually some of his last works, but were also a first for the designer – the collection of "functional sculptures", called Architectures, was his first foray into sculptural design. The Architectures collection, first shown in Paris, is now on display at the London branch in Mayfair until 8 March 2019.
The inspiration he took from classical Rome in these marble sculptures was something he had also drawn on in his recent interior designs for the Estates at Acqualina, a residential complex in Miami – his first interiors in a US building, but just his latest in a line of work that included hotels in France and Singapore.
Lagerfeld contunued working and creating right up until his last few weeks – the only sign of stopping was the fact that he didn't appear for his post-show bow at Chanel's Spring 2019 haute couture show in January because he was "too tired." Throughout his career and until the last few weeks, he continued to create because he enjoyed it, telling Town & Country magazine of his Miami project: "I don't have to. I do [it] for fun. I have more than a decent job."
---