Landscape designer Petra Blaisse has spent over three decades shaping spaces. Now 70 of her practice's projects are celebrated in a striking show in Rome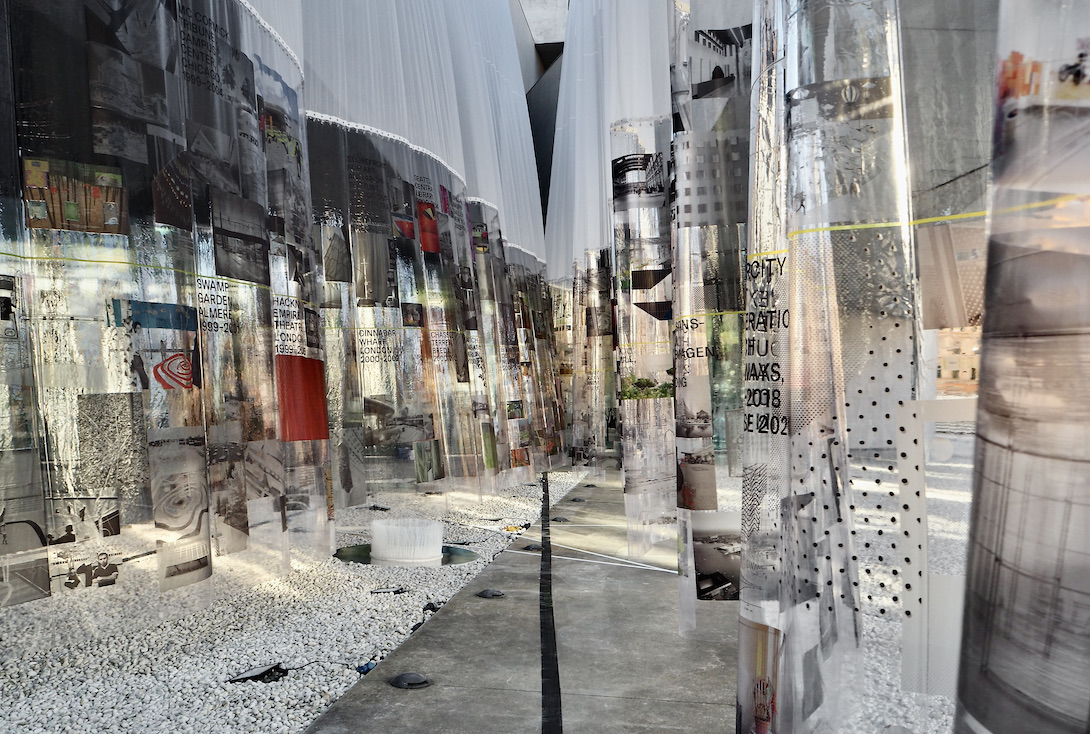 Inside Outside | Petra Blaisse: A Retrospective at MAXXI. Photograph by Anna van Dorp, AVD productions
Words by Veronica Simpson
Since founding her studio in 1991, Petra Blaisse has been a highly sought-after landscape and interior designer. She is regularly invited to collaborate on landmark projects and with leading architects, among them OMA, SANAA and UN Studio, devising strategic material or natural interventions that weave their buildings more artfully and poetically into the landscape or vice versa. That fluidity of context is part of the reason she named her Amsterdam-based studio Inside Outside.
That duality in her work has been articulated nicely with a travelling retrospective, an overview of 70 of the practice's projects, printed on a pair of 25m-long, 12m-high translucent curtains. Initially designed for a 2018 exhibition inside the monumental hall of ETH Zurich, the exhibit has now been installed at the MAXXI in Rome, billowing outside the muscular, concrete curves of Zaha Hadid's building while a number of project models are shown inside.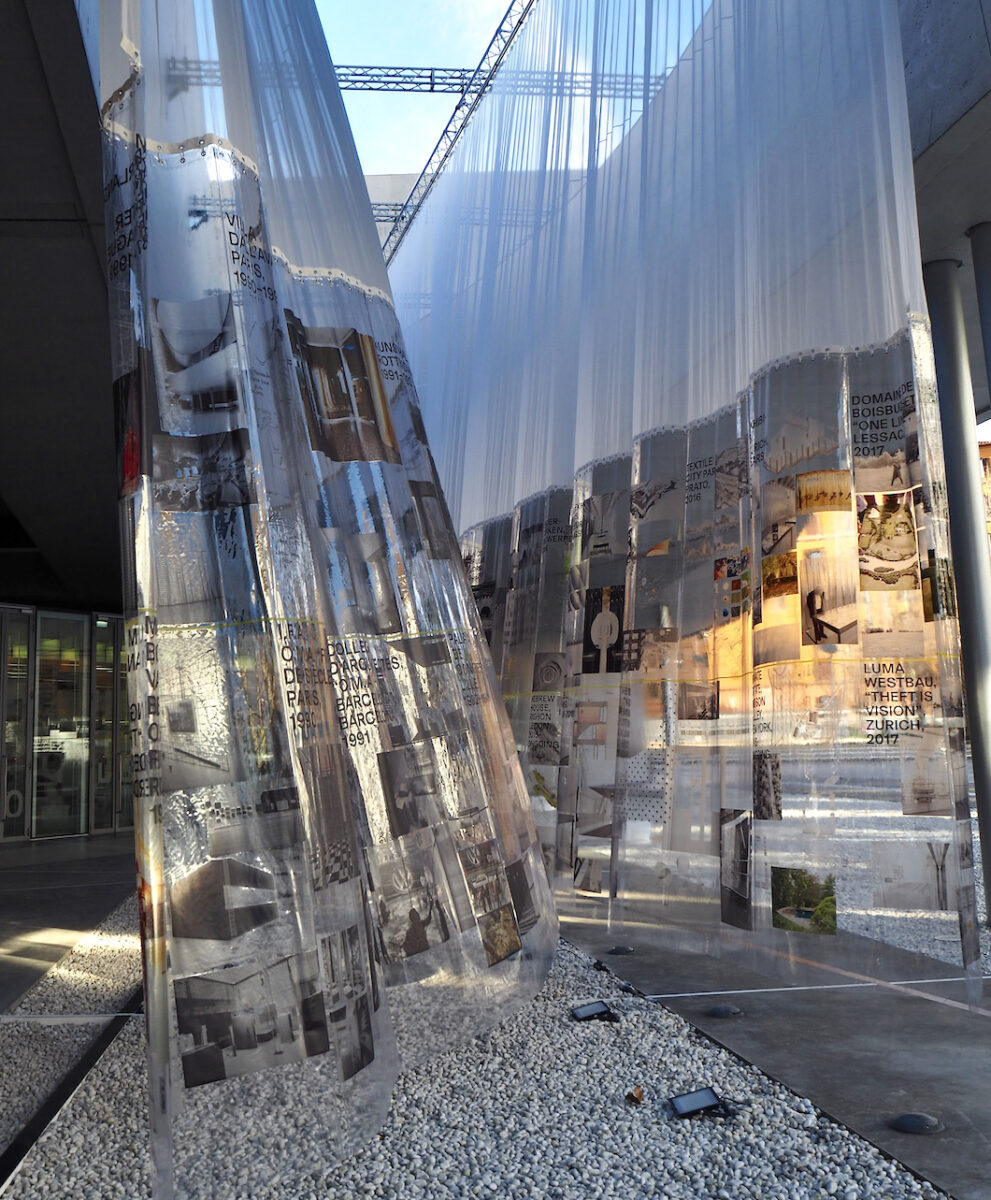 Inside Outside | Petra Blaisse: A Retrospective at MAXXI. Photograph by Anna van Dorp, AVD productions
Giant curtains are something of a trademark for Blaisse, who has promised to 'emancipate' this unsung domestic device. She did so most dramatically in the Dutch pavilion at the 2012 Venice Architecture Biennale, where 12 different spatial experiences were unfurled via curtains progressing slowly along motorised tracks.
Chatting via Zoom from an office inside the MAXXI, prior to the exhibit's 23 February opening, I ask how she seems so liberated from the usual expectations, limitations or hierarchies placed on interior or landscape designers. 'I started at art school [in Hammersmith, then Groningen] and never finished,' says Blaisse. 'Then I worked with photographers and filmmakers and fashion people, and learned a lot about lighting and influence of scale and materials.
'I was hired to create environments, which I did for seven years at the Stedelijk Museum where everything was mixed – photography, graphic design, industrial design, crafts and architecture – and I was seeing the influence of lettering and colour, of lighting, of how you present an object in a tiny space or large space… There's a red thread going through all these years of learning. And the passion for gardens and nature has been with me since I was born.'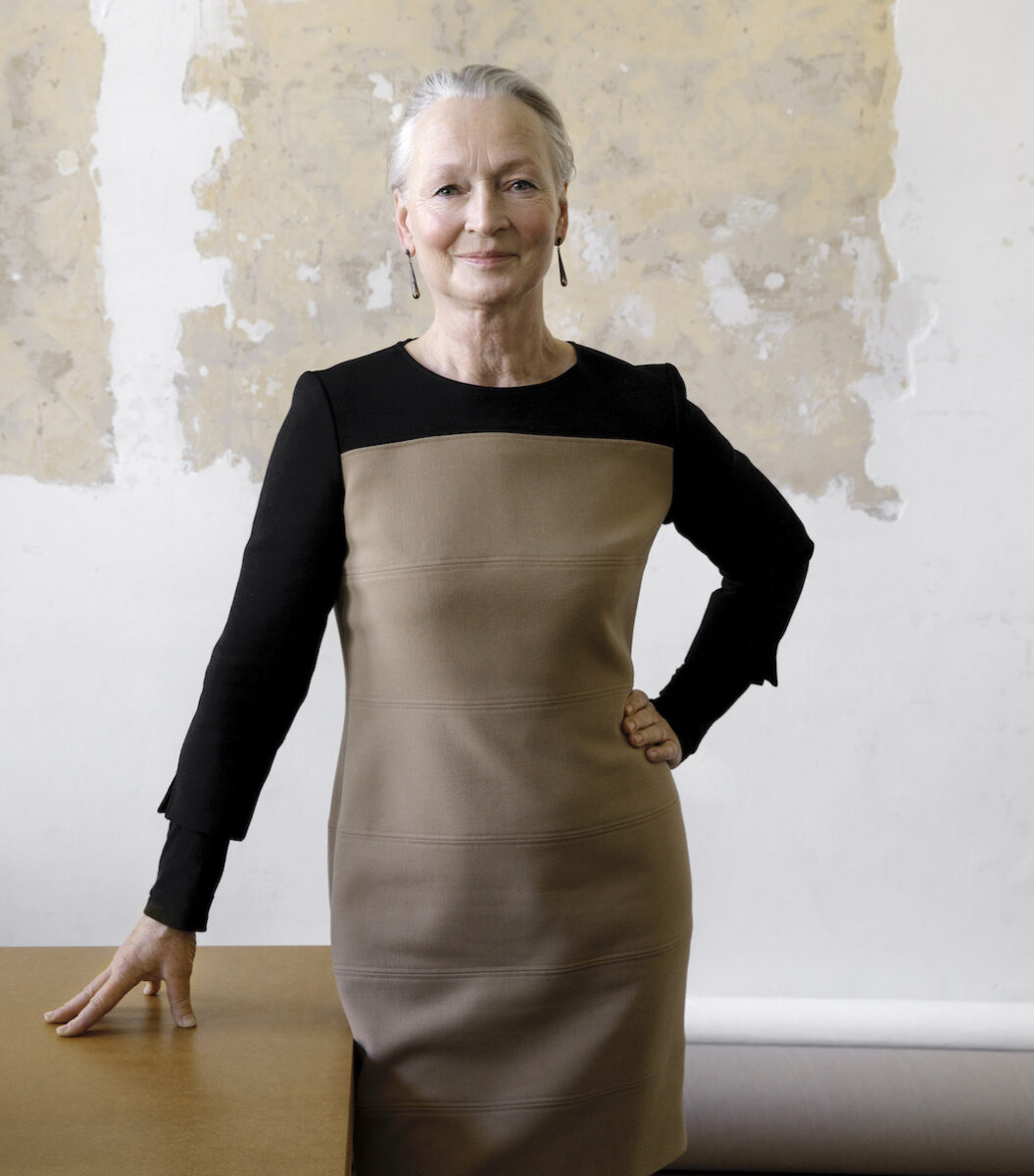 For fashion influences, she mentions Pierre Cardin in his heyday, also Romeo Gigli. 'They were using fashion as a kind of architecture, making shapes that escape your body, creating folds in them, and openings and transparencies.'
I comment on the woven quality of her landscapes, with plants layered in single-species rows or patches. In the Library of Trees project in Milan (2018), which she devised together with another Dutch landscape legend Piet Oudolf, 500 trees are organised into 22 rings among criss-crossing paths. At the MAXXI, the curtain installation is complemented by a web of geometric lines on the ground that reference the Library of Trees landscape.
Biblioteca degli Alberi (Library of Trees), Milan. Photograph: Andrea Cherchi
In Blaisse's multidisciplinary office there is a culture of 'anything is possible', according to Aura Luz Melis, an architect by training, and a partner in the studio, who developed the current exhibition design. 'With Petra, you know that the boundaries are not fixed and there are many ways to look at a project. If you're creative, intelligent, technical, and you use that combination, every time you are asked to look at things in a fresh way, you start from new.'
As the firm grows, that rebellious spirit occasionally has to be curbed by larger, municipality-run or developer-led projects. But the rewards are in seeing what huge benefits such schemes can bring, as Blaisse notes with Milan's new park, to which citizens have flocked in great numbers.
She is encouraged by the increase in civic developments where the brief is to place shared landscaping at the centre, orienting buildings around it. This is where new innovations will emerge, she says – as well as a greater focus on sustainable, or energy-harvesting fabrics. There is clearly still plenty of room left for invention.
Inside Outside | Petra Blaisse: A Retrospective is on show at MAXXI in Rome until 8 May 2022
Get a curated collection of architecture and design news like this in your inbox by signing up to our ICON Weekly newsletter
---