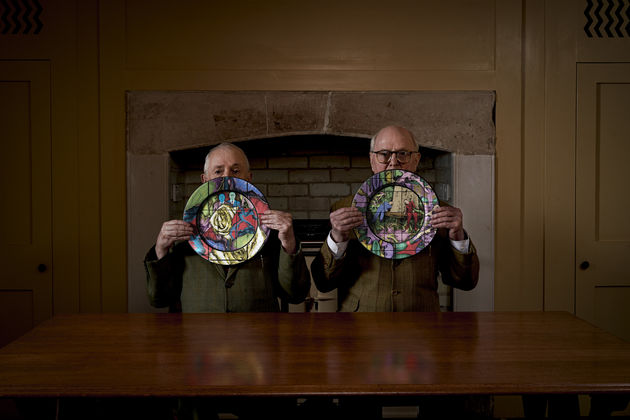 Get a bitesize overview of the week's headlines and events with Icon's round-up
SCENE
POLITICAL DIVIDES
After the Architects' Journal published a snap poll showing a 'gloomy yet resigned' attitude from respondents, writer and critic Paul Finch letter to the World Architecture Festival with a riposte to the profession. His comment that 'architectural profession is utterly remote from the feelings of much of the country… and that it live in a metropolitan bubble completely at odds with general sentiment' sparked a response on Twitter, particularly from architects outside London.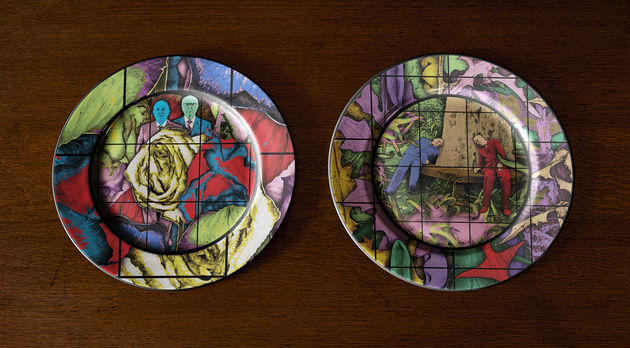 Gilbert and George's plate designs for the Canvas Cafe
GOOD DEEDS
Gilbert and George have collaborated with near neighbour The Canvas Cafe to create two plate designs that will be auctioned off to raise money for the cafe's work with the homeless. The Canvas Cafe is a social enterprise that provides food for the homeless and supports local community projects – it teamed up with brand agency Wieden + Kennedy to commission the artists to create two plates, called Double Helpings. The colourful plates, created with Duchess China in Stoke-on-Trent, will be sold for £125 each to raise money for the Canvas Cafe's work.
Morden, Bedwyr Williams, 2019. Commissioned by Art on the Underground. Photo: GG Archard. 2019
TUBE LINES
Welsh artist Bedwyr Williams has designed a new cover for the London Underground pocket Tube map. Titled Morden, the simple drawing shows two faces wearing very Corbusier-esque spectacles connected together by two lines, the red Central line and the blue Piccadilly line. The cover is the final commission in 2019's Art on the Underground series that asked artists to explore what it means to be 'on edge' and look at themes of togetherness and belonging in an increasingly polarised society.
DIARY
State of Extremes, Design Museum Holon, Israel
Ten years after its inaugural exhibition, The State of Things, Design Museum Holon looks at how society and the world has changed in State of Extremes. The exhibition features work from international designers exploring ecological, technological and social crises, using large-scale contemporary design to highlight extreme situations and ask how creativity could play a moderating role in the world. Many of the projects use extreme methods to find solutions, such as the Neo Fruit, a concept for a nutritionally wholesome, sensorially satisfactory meal. Open until 9 May 2020

Compression Cradle by Lucy Mcrae at Design Museum Holon
Raised by Google, Arebyte Gallery, London
Bristol-based artist Sarah Selby explores the growing reach and impact of a data-driven society on our everyday lives, exploring behavioural analysis and psychographics and looking at how 'black box' algorithms underpin daily activities. The exhibition allows visitors to see the power of psychographic profiling and microtargeting and to understand how these technologies are used in everything from crime prevention to insurance policies. Open until 11 January 2020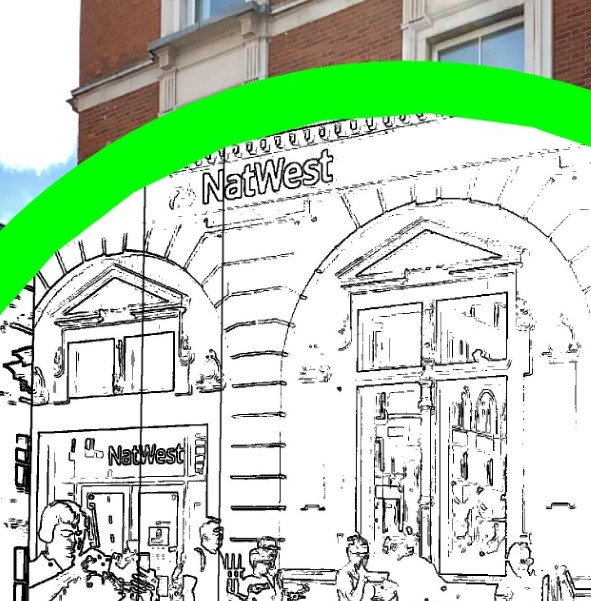 Part of the Carsten Höller artwork in the New Museum AR walk at Today at Apple
Today at Apple, various locations
Since its launch in 2017, Today at Apple has collaborated with a variety of creatives to offer hands-on workshops in topics from drawing to coding. This year has seen some of the most ambitious yet, with an augmented reality walk created with artists including Nick Cave, John Giorno, Cao Fei and Carsten Höller allowing participants to see artwork come to life around Covent Garden, Trafalgar Square and other spots in central London. Newer classes include a treehouse design session curated by Norman Foster, and in January, a new design lab looking at inclusive design led by Ross Atkins. All sessions are free at Apple stores – check the calendar online here.
---