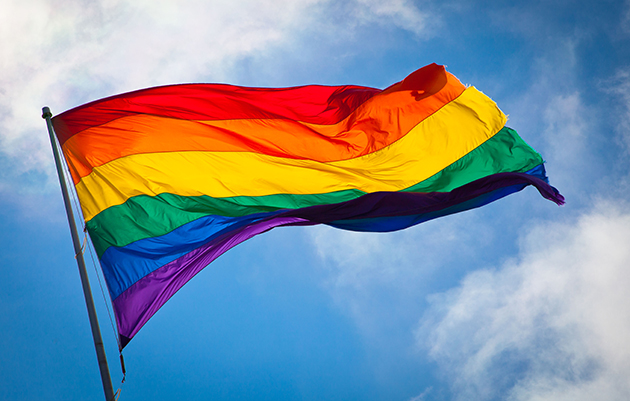 Conceived as a banner of defiance in an era of fear and hatred, Gilbert Baker's Gay Pride Flag has reached middle-age respectability. Is it time to furl it up and find new ways of expressing identity? By
Glenn Adamson
What do the Empire State Building, the London Eye, and the White House have in common? That's right: they have all been transformed into icons of gay liberation through the addition of rainbow stripes. It's just one measure of the success of the Gay Pride Flag, designed by Gilbert Baker 40 years ago. It has had a remarkable itinerary. Originating as a protest emblem representing a marginalised (indeed, criminalised) community, it is now on Facebook accounts and t-shirts worldwide, in the collection of the Museum of Modern Art, and yes, it's even an emoji. The flag is one of our most tangible proofs of design's power to change minds.
Unusually for an icon, the flag has been quite changeable over the course of its history. Baker, who died in 2017, originally designed it with eight colours, to each of which he assigned a specific symbolic meaning. Some of these were intuitive (yellow meant 'sunlight', indigo 'serenity'), others somewhat more arbitrary (orange was 'healing', for instance). This code never really caught on, and over time, the flag was gradually simplified. First, hot pink ('sex') was dropped owing to the difficulty in securing the fabric, so the flag had seven stripes, closely approximating the 'ROYGBIV' rainbow sequence children memorise in school. Another version had a black stripe, memorialising those lost to AIDS. Eventually the flag resolved into six colours, the most common version today.
This may seem like trivial detail, but it reflects an inherent arbitrariness – the division of the continuous colour spectrum into discrete bands – which applies to people, too. Numerous variations on the rainbow flag have sought to reflect specific identities. One includes an additional pair of stripes in black and brown, standing for ethnicities that are marginalised within LGBT culture. One has a lavender stripe, representing the principle of diversity itself. There is a lesbian pride flag, shading from red to pink; a bisexual flag in pink, purple and blue; a transgender flag in blue, pink and white. In 2008, the artist Liz Collins invited participants to help her knit a giant rainbow textile; Baker's original colour coding for the flag hung above. While the team worked, an orator read out answers to an internet poll that simply asked, 'How do you feel about the rainbow flag?' Collins remembers that the answers ranged widely, 'from venom and hatred, to feeling like it was a beacon of safety and hope. One person resented that gay people claimed such a pretty and universal symbol as their own.'
As this diversity of response suggests, the key strengths of Baker's original conception – its clarity, optimism and supposed universality – can also be seen as problematic. In the time since he conceived the flag, understandings of sexual identity have shifted more than once. The 1980s witnessed the advent of the postmodern concept of 'performativity', as theorised by Judith Butler. Gender is akin to theatrical portrayal, she said, a complex script that plays out in social contexts but has no underlying reality. More recently, gender and sexuality have been rethought again, this time entirely outside of male/female, straight/gay dichotomies. According to these new models, identity is not a line one sits on somewhere, but a multivariable space that one should be free to explore.
In light of such newer conceptions of identity, Baker's design may seem hopelessly out of date – not so much because it's a rainbow, but simply because it's a flag. After all, this is a format closely associated with political entities; and even when used in other social contexts, like labour unions and sports teams, it implies a degree of enforced solidarity. At a time when right-wing nationalism is on the upswing, the very idea of 'flag waving' may not seem all that palatable. Perhaps we need different ways of expressing our identities, which do not subscribe to any one symbolic order.
On the other hand, it is interesting to note the recent prominence of the Refugee Flag, designed by Yara Said. Herself displaced from Syria, Said drew on her own experience of transit to conceive the design – in particular, her memory of landing in Europe and seeing mountains of discarded life jackets on the shore, remnants of the dangerous crossing to a still-provisional safety. Her orange and black flag seems a worthy successor to Baker's vivid rainbow. More somber than cheerful, it nonetheless draws on the same instinct, to establish prideful identity in the face of dehumanisation. The two flags were hung together in the lobby at MoMA recently. Though designed four decades apart, they did seem to express that common truth.
Subscribe to

Icon

for more.
---