This weekend, Frieze London, the capital's mammoth contemporary art fair, returned for its 2018 installment. For the 160 galleries in attendance, there was relief that the looming sight of Brexit did not appear to have stalled sales. As the big white tents on London's Regent's Park are packed away for another year, Icon highlights six artists who brought along something for the design-inclined. By
Matthew Ponsford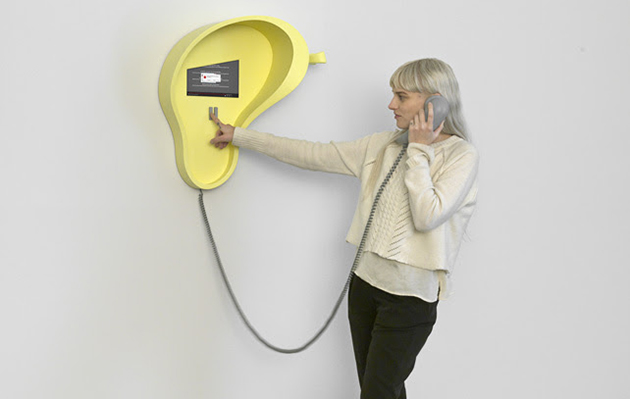 Camille Henrot's Telephones
Pick up one of Camille Henrot's telephones and enter the soundscape of automated helpdesk hell. But instead of drab customer services, Henrot's offers up Freudian and existential questions, probing the caller's relationship with their father and asking how you could ever really know if your partner is cheating on you. Each phone is satisfyingly bold and larger-than-life.
Andreas Angeledakis, Pink Marble
The fair's most mishandled exhibit, irresistible to squish and poke, Pink Marble is a set of cushions covered in wipe-clean vinyl covering, easily recognisable from the kind of children's indoor play areas that used to be attached to McDonald's restaurants and roadside pubs. The smartly dressed art babies, accompanying their fair-going parents, were invited to rearrange the modular parts.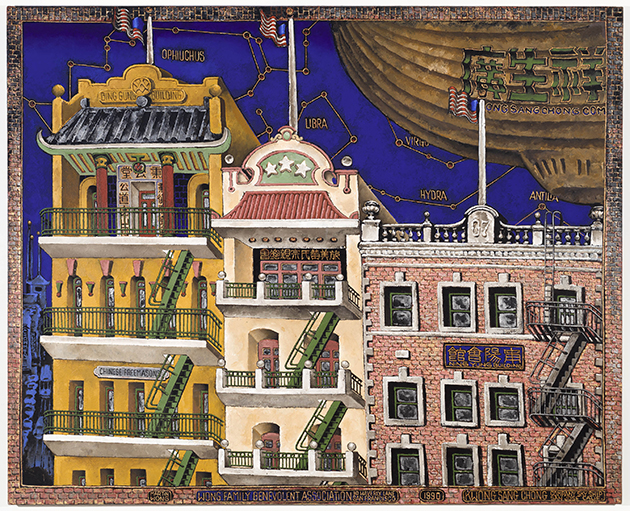 Martin Wong, Wong Family Benevolent Association
Martin Wong's social realist paintings of San Francisco Chinatown came a sublime moment in the notoriously energetic artist's prodigious output. Wong, who New York Times called one of the country's "great urban visionaries", painted his experience as Chinese-American outsider through the Vietnam War and the second half of the 20th century. Here, he depicts the remembered architecture of his childhood home as a heroic landscape, backed by a constellation of American cartography, nine years before his death in 1999.
Teresa Margolles, Pista de baile
Teresa Margolles images of transgender sex workers on the dance floors of demolished nightclubs in Ciudad Juárez, Mexico tell the story of the grinding urban churn, that regularly drives sex workers from their place of work toward more dangerous corners of the city. But the pictures announce resistance: in her work, Margolles builds a deep understanding of her subjects daily lives, including the dangers they face, and pictures Nancy, above, standing defiant.
Sam Lewitt's CORE (the "Work")
Sam Lewitt's CORE is the latest commission from BMW Open Work, a joint initiative between BMW and Frieze to bring together art, design and technology. CORE, an installation in the BMW Lounge of engine parts recreated in sand and binder, uses materials and "sand core" casting techniques from automotive engineering.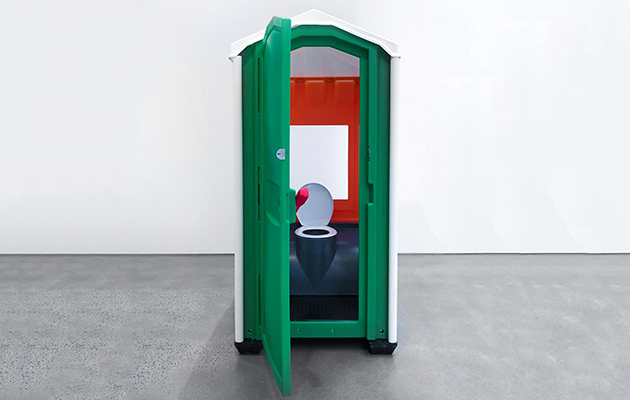 Andreas Slominski, Chameleon
Andreas Slominski, eccentric sculptor of mass-produced everyday objects, gives his high-density polyethylene its day as material of fascination. It's a portaloo but Slominski wants it to be a playhouse.
---