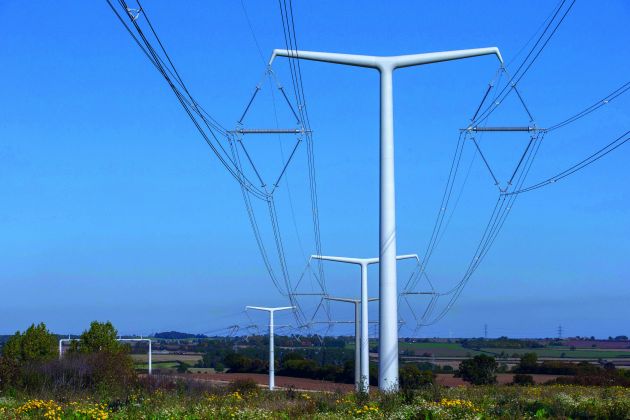 The T-Pylon, by Danish architect Bystrup, was praised for its classical simplicity. Image: Bystrup.
This army of countrywide invaders needs a new uniform, writes Priya Khanchandani.
There is nothing like a row of tall, metal frames strung together with thick grey wires to hit home the insidious fact that the countryside does not belong to nature, it belongs to humans.
The first electricity pylon in the UK was designed by the Milliken Brothers and selected by the architect Sir Reginald Blomfield in the 1920s. The latticed pylon that adorns the British countryside has remained largely unchanged ever since. Its form actually has a kind of majesty about it, a skeletal puppet standing with its floating strings attached. But the sheer number of them – 88,000 in the UK alone – and their intrusion onto our increasingly precious green space, makes them both unsightly and monotonous.
Standing 50m tall, pylons are a blot on the picturesque landscapes that they litter. Objections are continually made in response to new power lines. Their introduction has enraged residents of Somerset, for example, who feel that a proposed string of new pylons would disturb the natural beauty of the area and deter the swathes of tourists who visit each year. Yet public opinion has not managed to change the pylon's fate.
The campaign No Moore Pylons puts forward the view that pylons are 'inefficient' in that take up disproportionate amounts of space and that there are alternatives that are 'potentially safer and also visually non-intrusive.' It is true that underground cables – the most viable and least intrusive alternative – would be safer in that they wouldn't blow over in strong winds, causing blackouts, nor be a nuisance to birds, who routinely fly into pylons by accident. Then again, National Grid have argued that digging to install cables would be more expensive and that they could be more dangerous, since underground fires, such as the one that ignited under the streets of Holborn in 2015, are harder to reach.
If pylons are here to stay, then some variety needs to be injected into their design, at the very least. In 2011, the RIBA, along with National Grid and the Department of Energy and Climate Change, made an attempt to spice things up with a pylon design competition. The shortlisted entries, which were displayed at the V&A as part of London Design Festival, show the imagination that pylons could embody.
They included Plexus by Al-A with Arup, in the form of a billowing sail, which you can visualise placed among windy meadows and fields. I also liked the simpler, lighter version of the latticed pylon in the form of a single column, titled Totem, by Newtown Studio, and also a pylon in the form of an elegant pointed dagger reaching to the sky, called Silhouette, by Ian Ritchie Architects.
The chosen winner, T-Plyon designed by Danish architect Bystrup, was praised for being simple, classical and practical, but is far less interesting. This is the design that National Grid have begun to roll out. Pylons could be like public sculptures, a chance for our landscapes to be adorned with eye-opening designs, as opposed to being merely functional, engineered structures. The public realm is a constant battle between practicality and creativity, and it is about time the latter became an equal player.
---