MK Gallery by 6a Architects. Photo by Johan Dehlin
The list showcases technological innovation, clever use of materials, inclusive and accessible design and wry looks at modern culture, finds Siobhan Morrin
The Design Museum has announced the full list of nominees for its annual Beazley Designs of the Year awards and exhibition. The 76 designs selected fit into the categories of architecture, graphic design, fashion, product design, transport and digital design and include a hueg spectrum of ideas, from Viktor & Rolf's meme-worthy dresses and Jasper Morrison's recycled chair for Emeco to a biodegradeable pregnancy test and the world's first 'genderless voice' for AI.
The Design Museum says the list of nominees is the 'most gender balanced and international' to date, and many of the projects included have a focus on accessibility, gender equality and inclusion. London-based start-up Elvie is on the list for its silent, hands-free breast pump, which frees up mothers from the usual restrictive, noisy, wired pumping machines to go about their day.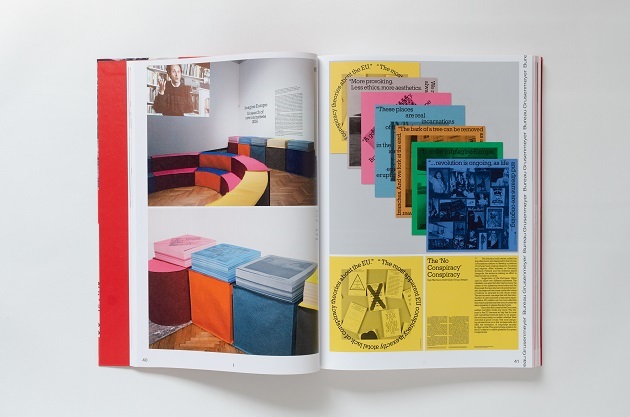 A spread from notamuse – A New Perspective on Women Graphic Designers in Europe
In graphic design, several of the projects focus on inclusivity: Papi Juice, a Brooklyn-based art collective, is nominated for its posters that celebrate trans and queer people of colour; notamuse is a book highlighting women in graphic design, created by designers Silvia Baum, Claudia Scheer and Lea Sievertsen; data journalist and illustrator Mona Chalabi is included for her work highlighting disparities of representation in the works shown in galleries; and designer Anja Kaiser is included for her feminist ad campaign, created in collaboration with feminists across Europe.
Maya Somaiya Library by Sameep Padora and Associates. Photo by Edward Sumner
In the architecture section, a varied range of projects includes a new mesh roof for the market in Homs, destroyed by the Syrian conflict; a skatepark in Athens made with plywood and 19th century housing remains; Maya Somaiya Library, a school library in India with a walkable parabolic roof; and MK Gallery, a new gallery for Milton Keynes (featured in Icon 192), an appealing space that references the gridded plan of the town, created in a utopian planning system of the 1960s.
Whose.Agency – Anja Kaiser's feminist ad campaign
Elsewhere, nominees use new materials as in Bacteria Lamp by Jan Klinger or the bioplastics of Nuatan, Nendo finds an analogue solution to a common digital problem with its kinetically powered charger, and several projects seek to make affordable interventions to improve people's health, including Catch, a small, low-cost device that allows users to self-test for HIV, Tierrafiltra, a clay water filter to improve the water quality in Puerto Rico, and MySleeve, a soft, silicone cover that makes the handles of crutches more comfortable.
Bacteria Lamp by Jan Klinger
The designs will be on display, alongside prototypes, drawings and models, at the Design Museum until 9 February 2020, and the winners – judged by a panel including designers Yinka Ilori and Martino Gamper – will be announced on 21 November.
---