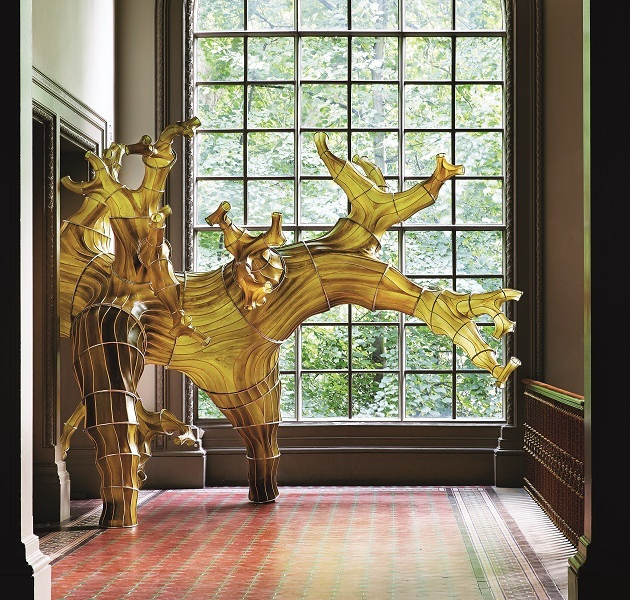 At the V&A Department of Seaweed, Oki Naganode's seaweed installation is on display
Lamps created from stomach lining, jewellery cast from frozen baby mice, experimental objects formed from seaweed: the work of the German-born, London-based designer Julia Lohmann is deeply unconventional. Catherine Flood finds out more
Julia Lohmann's choice of materials may be unusual, but she is not outré for the sake of it. Her work rather constitutes a sustained investigation into humanity's relationship with the natural world, interrogating our use of animal projects, sustainable methods of sourcing material and the possibilities of transcending human-centric design.
The Department of Seaweed (DoS), a collection of seaweed items first exhibited at the V&A in 2013, is currently on display at New York's Cooper Hewitt Design Triennale. And this autumn, Critical Tide, an exhibition co-curated by Lohmann that explores the design potential of the sea, opens at the Designmuseo Helsinki. In this interview for Icon with V&A curator Catherine Flood, Lohmann discusses these projects, as well as the power of museums and the significance of empathy in design.
CATHERINE FLOOD: Maggots, cow stomachs and seaweed are some of the materials you are known for using. What inspired you to work so viscerally with the natural world?
JULIA LOHMANN: I could say that it starts as far back as being a child, when I was always playing in nature. Every holiday I collected flotsam on the beach with my father, strange roots and stones and things. That really trained my awareness of seeing little details and realising the beauty of things. I have always been very concerned about consumerism, fast fashion and fast everything because I see the value in things and in materials. I find it most interesting to work with materials that are commonly undervalued, and to create moments of surprise that make their value visible.
CF: How have you surprised people with cow stomachs?
JL: I made a series of lamps, Ruminant Blooms, from the preserved linings of cow and sheep stomachs, a part of an animal we commonly slaughter but don't really value any more. We wear the leather and the wool on our skin, we put the flesh – the muscle – in our mouth and eat it. We really value certain parts, but we are disgusted by others. We may no longer like the taste of a cow's stomach, but it has a beautiful, beautiful texture. So, I tried taking it out of a food context and putting it in a material context. People were able to perceive the beauty before being confronted with the realisation – oh, it's a cow's stomach, I shouldn't like this – which left them in a dilemma, not knowing how to react. Given the absolute unthinkingness with which we normally consume, I think moments of dissonance like that are really important.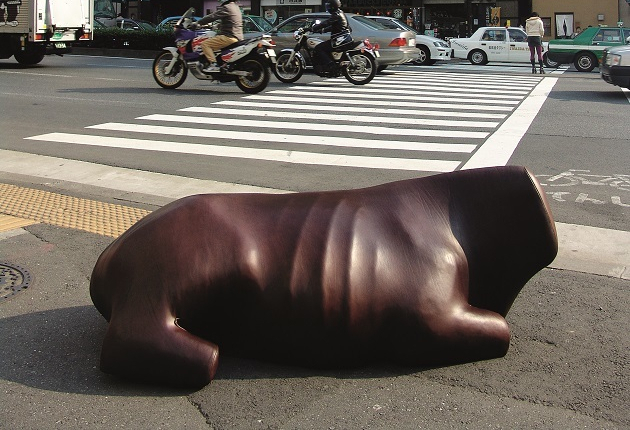 Cow benches: leather seat in the shape of a cow's body
CF: How did your love affair with seaweed begin?
JL: In 2007 I was doing a design residency in Sapporo, Japan when I encountered this amazing seaweed, konbu, in the fish market, folded in long lengths. It looks really gorgeous, like veneer or wood. It is about 20cm wide, grows up to 6m long in just one year, and can be harvested sustainably. In that moment, I imagined there must be this whole seaweed craft that I don't know anything about. I started imagining a world of everything being made of seaweed! But people told me they just eat it, they don't make anything from it. So, I thought I need to be the one who starts making it happen.
CF: For your residency at the V&A in 2013 you created the Department of Seaweed (DoS). Why did you give seaweed its own museum department?
JL: The premise is that seaweed is as important as glass, silverware, textiles, ceramics, or any of the materials that have a department at the V&A. The difference is that most of what we will make from seaweed has not been made yet! So, you have a museum department that doesn't reach far into the past and a little into the future, but reaches a tiny bit into the past and a long time into the future. I started to question what it means for a museum if there is this overhang into the future where speculation plays a big role. And where there is more possibility for participation, because suddenly you don't have precious objects to care for and you can work with the material in a very active, multisensory way. Visitors can smell it, taste it, touch it. They can get involved at the design phase in which many futures are still imaginable.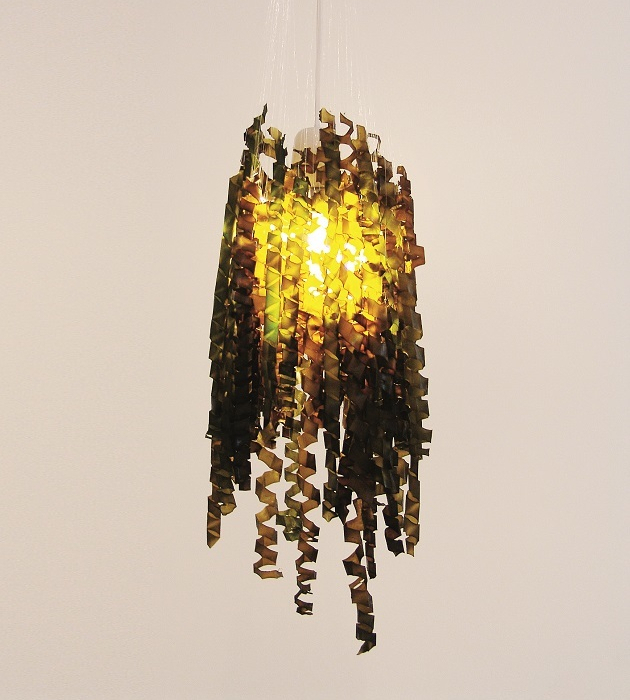 Kelp Constructs: a lamp made from kelp
CF: Can museums be spaces for future-making?
JL: I see the museum as a very powerful place. It is a place where the sharing of knowledge takes centre stage. Very often, this is knowledge about who we are through understanding our history. But I think a museum is also a powerful place to figure out where we are going. The possibility for people to gather in a physical space, with objects and materials, to think together and exchange ideas is so important at a time when we really have to readjust what we are doing and how we are doing it. Also, museums are open compared to universities, which with their student fees are becoming more and more closed. But we have to nourish it, which means finding ways of engaging people who think the museum is not for them or that they don't belong there.
CF: What was your role as designer and head of the DoS?
JL: In the DoS I was trying to craft a lens through which visitors could imagine futures in which seaweed plays a role. By making peculiar objects we encouraged conversations with the visitors about what they imagined could be made from seaweed. People looked at the possibilities and suggested their own ideas from their own experiences. What about raincoats, for example? And we would talk about whether it would be feasible and what steps we would have to develop. People who came to the DoS could really influence our process of making.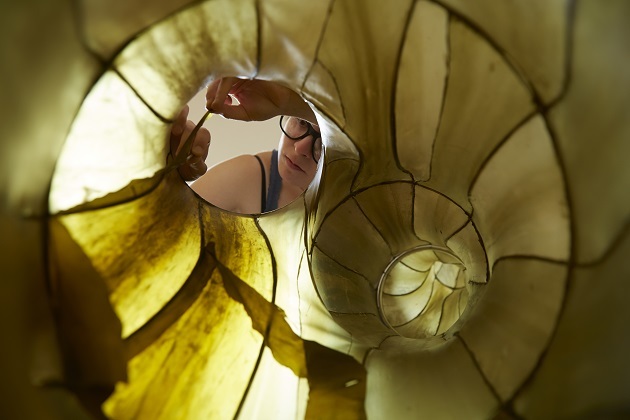 A work in progress. Photo by Petr Krejci
CF: Are you excited about the potential of seaweed to go mainstream?
JL: I am both absolutely ecstatic about the idea and also wary. If you don't have the right mindset, you can do the same damage as with everything else. We shouldn't just replace other materials with seaweed but look at the eco-systemic impact of farming it and using it. If you grow seaweed in the right way and in the right places, it can actually benefit its environment by pulling harmful excess nutrients out of the water. That is what really inspires me about the material. As a designer I want to be like seaweed that grows and has a positive impact on its environment. Not just being benign or neutral, which is already hard to achieve, but having a positive impact. That is my aspiration.
CF: Your new group exhibition, Critical Tide at Designmuseo in Helsinki, explores the sea and the potential for positive impact through design. What new perspectives do you gain from working with the ocean?
JL: Working with marine environments brings us to question the limits of human-centric design. Because straight away it is non-human stakeholders who are most affected by any decision we make. When we are dealing with the sea, no human is the key stakeholder because we affect an environment we do not inhabit. It becomes obvious that we have to find ways of giving attention and agency to non-human stakeholders.
The original version of this article originally appeared in Icon 195, the September 2019 edition on waste, design and the circular economy.
---