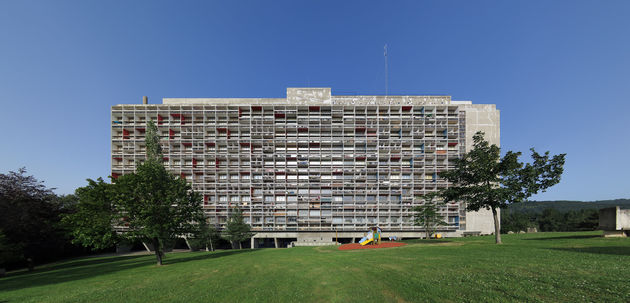 Unité d'habitation in Marseille by Le Corbusier. Photo by Ken Ohyama via Flickr
It was the miracle product of the post-war period, but its edifice is starting to crumble, writes Katy Kelleher
A few weeks ago, I stayed in a rental apartment in Montreal that was billed by its owners as 'industrial chic'. When I arrived, I was swept away by the view of Saint Patrick's Basilica in the snow, dazzled by the twinkling lights of that wintery city.
But as sunset faded, so did my impression of my temporary home. I realised that I was surrounded by floor-to-ceiling concrete, which seemed to contract and cool as the night wore on, pressing me deeper into this nightmare studio decorated with mid-century knock-offs, fake fur throws, mirror-painted bison skulls, and other such objects of artifice.
Aside from the view, there was no beauty in this place, no warmth, no joy. There wasn't even, as I discovered to my great dismay, a bathroom door. This space was too modern for outmoded wood panelling, too contemporary for good old-fashioned privacy.
Concrete has become a mainstay of 21st-century architecture. It's purportedly sleek and cool, sexy and bold. Eco-conscious architects tout its heat-storing properties, and budget-aware buyers like that it's not as pricey as natural stone or as stodgy as clay brick.
Concrete is the most widely used synthetic material in the world. It is absolutely everywhere; it has been since the brutalism boom of the 1960s. Every major metropolitan region has its own chapel to cement, from Rio de Janeiro's Cidade das Artes (designed by French architect Christian de Portzamparc) to Marseille's Unité d'Habitation (one of Le Corbusier's most famous monuments to the slab-heavy style).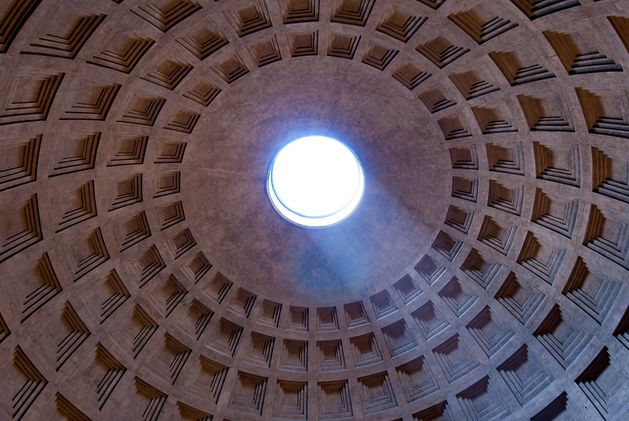 Detail of the Pantheon roof in Rome. Photo by Wynand van Poortvliet
But these triumphs of design are few and far between. Certainly, concrete can be used to create stunning shapes, but at what cost? Back when the ancient Romans were building the Pantheon – perhaps the most beautiful building to be made from the material – and the Baths of Caracalia, they didn't have to worry overmuch about greenhouse gases. But we do.
The production of cement (that is, the binder used to adhere bits of crushed stone together) is one of the leading contributors to atmospheric carbon dioxide, meaning that every truckload of concrete poured out contributes to the problem. The production of the most common form, ordinary Portland cement, emits approximately one tonne of CO2 for every tonne of product.
Although the modern 'green movement' dates back to the 1970s, we continue to use concrete and cement in many of our supposedly eco-friendly houses and projects. Global cement production has increased almost four-fold since 1990.
But the concrete backlash has begun. Some scientists are working to find less dangerous means of concrete production, while others are urging humans to simply stop building so much. Instead of creating new technology and ever-higher high-rises, we could rehabilitate structures, revive all those crumbling brick mills, those empty shopping malls. We could give them bamboo floors and rammed-earth walls.
We could embrace the knowledge of our past and remember the pleasures of old, worn wood. We could even – hear me out – revive the glorious tradition of bathroom doors. A girl can dream.
The original version of this article appeared in Icon 191, the May issue, all about materials, nature and design
---