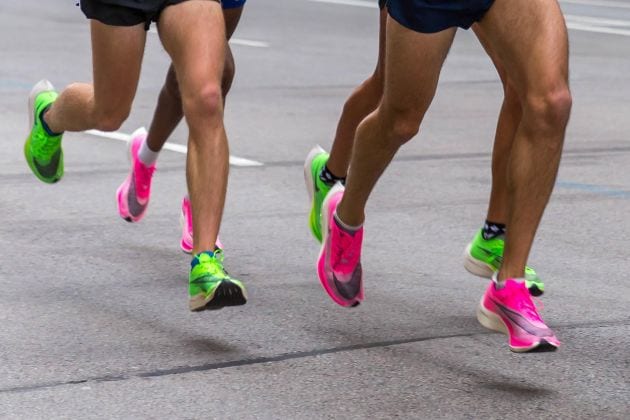 Nike's Vaporfly running shoes reportedly shave several percentage points off a runner's race time.
Nike's Vaporfly shoes are reported to enable athletes to run between four and six per cent faster then the average running shoe, due to their carbon fibre plates and the dense, energy-returning foam within the sole. Nike have referred to this as the '4 per cent system.'
The Vaporflys were originally introduced in 2016. The foam in the sole, called Pebax and referred to by Nike as ZoomX, is fused to the carbon plate to create the propelling effect. This means that the athlete losses less energy with every step. Nike has patented the carbon plate, much to the anger of its rivals, meaning that the competitors' shoes struggle to match the Vaporfly.
The shoe is so effective that it was nearly banned from various sporting events, seen as too advantageous to the runner wearing them. It has been accused of 'technological doping', though the World Athletics after Kenyan Eliud Kipchoge was able to break the two-hour marathon in 2019 in his Vaporfly prototypes. Conversations around the Vaporfly did lead to a change in regulations that sportswear must now meet.
World Athletics rules stipulate that shoes cannot have a sole that is thicker than 40 millimetres and can have no more than one carbon fibre plate in the sole. The Vaporfly abides by these rules and so will be allowed in future sporting events. New ruling now also states that elite athletes can no longer compete in prototypes, but only in shoes that have been available on the market for at least four months.
The consumer grade version of the Nike trainers is now out in a family of variants, which feature one carbon fibre plate, two air bags, and the innovative energy-return foam.
The shoes were being adapted to meet the international regulations specified in advance of the Tokyo 2020 Olympics, which have been postponed to 2021 in light of the global Covid-19 pandemic. By that point, perhaps an even faster shoe will be on the market.
Read more: Trainers: from sporting gear to objects of design
---