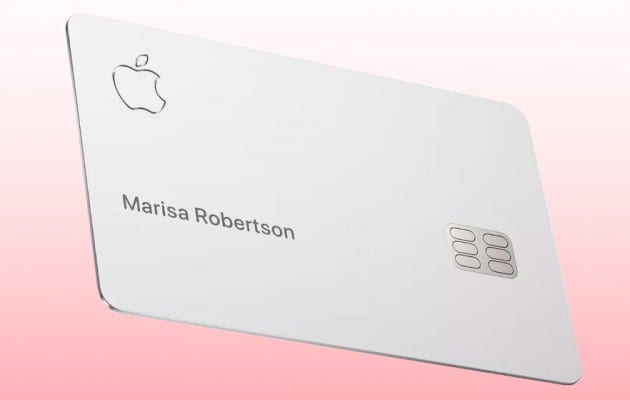 Unveiled in 2019, Apple's titanium credit card has been revealed to have some material issues. Image: Apple
The tech giant is turning money into an almost entirely virtual experience. So why has it launched the world's most impractical credit card?
Money looks different these days. Even the biggest spender doesn't need to carry a thick roll of 50s, because real money is intangible. It's cashless and contactless, hiding in a card or on your phone, and it comes to life in multi-coloured data visualisations and spending notifications (Ping! You spent £5.32 in Sainsbury's. Ping! Your flatmate sent you £30). Your money has never been more invisible, or more difficult to touch. Apple has played an important part in creating this cashless magic. ApplePay turned its phones and watches into virtual wallets that hold little avatars of your payment cards. And if you can afford an iPhone XS with Face ID (Ping! you've spent £1,099 at the Apple Store), you benefit from the illusion of paying for things with your face.
So obviously, now that your face is actually your fortune and no one needs a prestige credit card, Apple has launched a prestige credit card. And because it's Apple, it's not a tacky plastic card that can be cut up in an anxious moment of spendthrift regret. It's made from titanium.
If you're not up on your metallurgy, titanium is the superhero of transition metals. It is low-density, high-strength, and named after Greek gods the Titans. If you were picking a credit card to have on your side in a mythical credit card fight, this would be it.
But it has a surprising weakness. It cannot be contained by porous materials. Specifically leather or denim. Which means – unusually for a credit card – you can't carry it in a wallet or in your jeans without damaging it. And while all superheroes have weaknesses, this seems like a bad one, like Thor having a problem with hammers.
But of course, the Apple Card comes with an app, so you don't actually need to carry it with the rest of your money. Instead, you might want to leave it at home in a frame or hang it on a chain around your neck.
The Apple Card is made to be seen and not used. Many Apple fans will change their fashion choices and their lifestyle to show it off. On the one hand, it's flashy, inconvenient and overdesigned, but if tiny white ear tampons – aka AirPods – can be a status symbol, then a credit card you can't put in your wallet might just become surprisingly successful.
---