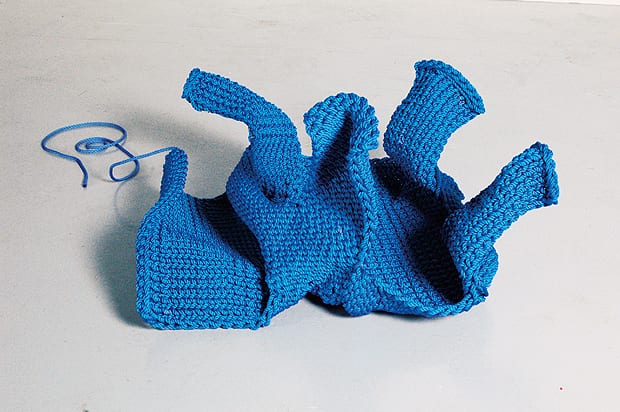 words Johanna Agerman
A knitted chair, a sailing boat and metal imitations of cardboard boxes were all part of the industrial design graduation show at Swiss design school ECAL in July. The exhibition demonstrates the course's commitment to producing functional everyday objects infused with a poeticism that makes them linger in your mind.
Alejandro Bona's chair, knitted from plastic cable, started out in a knitting machine for socks. Bona then rebuilt the same machine on a larger scale in order to produce an almost seamless chair. The plastic is heat-bonded on the inside to make it rigid.
A stopper in a wine bottle inspired Tomas Kràl's work, which plays with the fragility and hardness of glass against the soft sturdiness of cork. His pendant light is held together without screws; instead, the glass slips into the cork fitting and stays in place through pressure alone.
Another design with a prosaic inspiration is Ilze Kalnberzina's range of metal desk accessories, which take their golden hues from simple cardboard boxes.
This autumn ECAL launches its new "Design & Luxury" MA course, headed by Augustin Scott de Martinville, a member of Belgium-based collective Big Game. "We have been working with these high-end companies in France and Switzerland for a couple of years now," says Alexis Georgacopoulos, Head of the industrial design course at ECAL. "The luxury business is big nowadays and no other school has this specialisation."
---