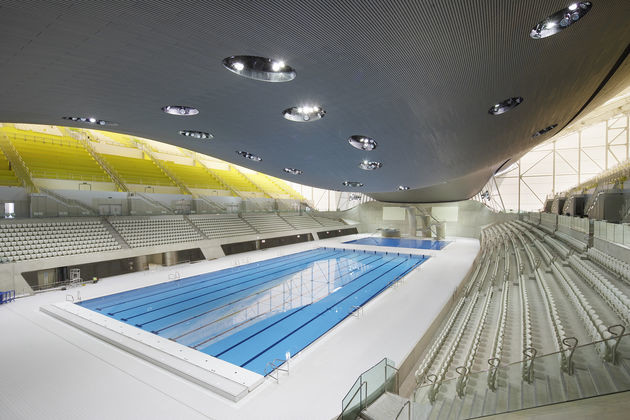 Built for the 2012 London Olympics, Zaha Hadid's London Aquatic Centre has an undulating roof that dips down like a wave
According to Zaha Hadid Architects, the building's shape was inspired by the fluid geometry of water, and intended to integrate well into the riverside environment in the Queen Elizabeth Olympic Park, Stratford. This design gave the building the flexibility to swell in spectator capacity from 2,500 to 17,500 during the Olympic competitions.
The Aquatics Centre is positioned in the south eastern edge of the Olympic Park with pedestrian access via the east-west Stratford City Bridge. Several other smaller pedestrian bridges pass over the canal and connect the centre to the rest of the Olympic Park.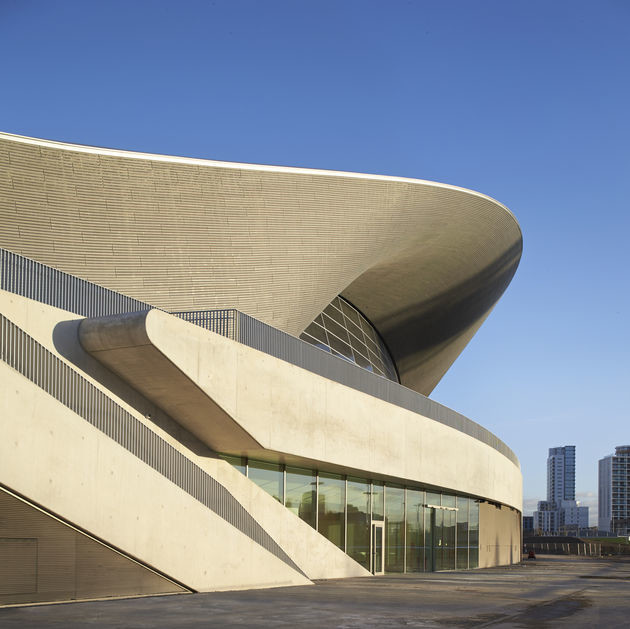 The roof dips up and down like a wave and its structure is grounded at three points: two to the northwest end on the bridge and a single time on the south east. This ensured that an additional 7,500 temporary spectator seats could be installed along either side of the pool (there were 15,000 temporary seats in total) and swell the number of people who could watch the competitions with unobstructed views. After the Games, the seats were removed and the pool is left with a capacity of 2,500.
The indoor centre contains three pools, two Olympic-sizes pools of 50-metre length and a 25-metre diving pool with six curved concrete diving boards and platforms of up to 10 metres jutting out over the deep water. The centre is arranged on an orthogonal axis that runs perpendicular to the Stratford City Bridge. All three pools are aligned on this axis.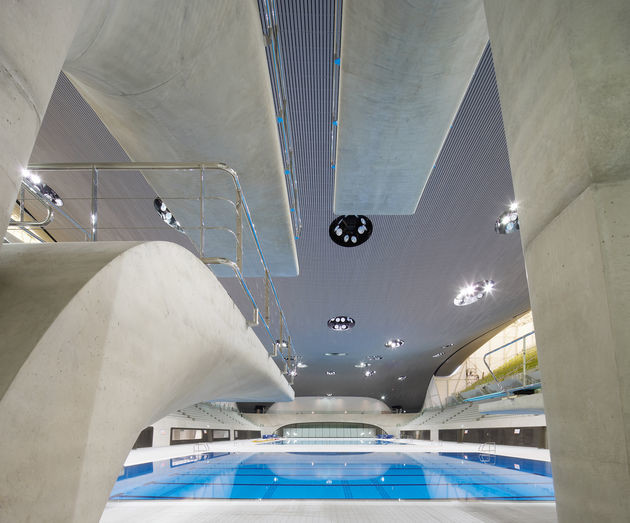 The training pool is located under the bridge, with the competition and diving pools in the large hall enclosed by the main roof. The roof's movement also differentiates the volumes of the competition and diving pools. A total of 628 panes of glass in the facades let natural light flood the competition pool hall. Petal-shaped openings in the roof of the second hall allow light to penetrate through to the practice pool.
The programming was designed to frame the pool hall as a podium that is connected to the Stratford City Bridge. The podium then appears to 'cascade' from the bridge and move around the pool hall down to the lower level of the canal.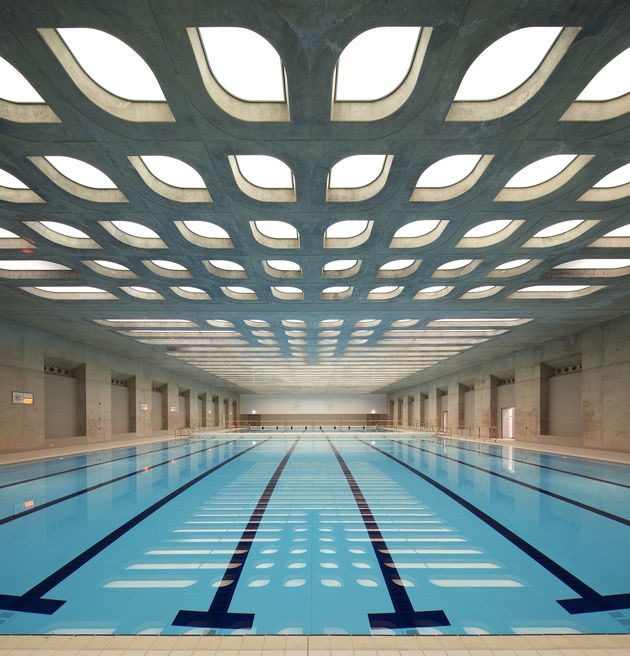 The venue was one of the main venues for the Games, used for swimming, diving and synchronised swimming events. After the Olympics ended, the pool was opened to the public and is used for swimming and diving lessons, fitness sessions and inclusive community swimming. Though it also still hosts international and national events, it is no longer reserved for elite athletes. This is known as the centre's 'Legacy Mode,' where it becomes a public leisure centre to benefit the local community – though no other community in London can boast such a high-spec pool.
---