The Christo and Jeanne-Claude project, wrapping the iconic Parisian monument and realised posthumously, marks the end of an era – in more ways than one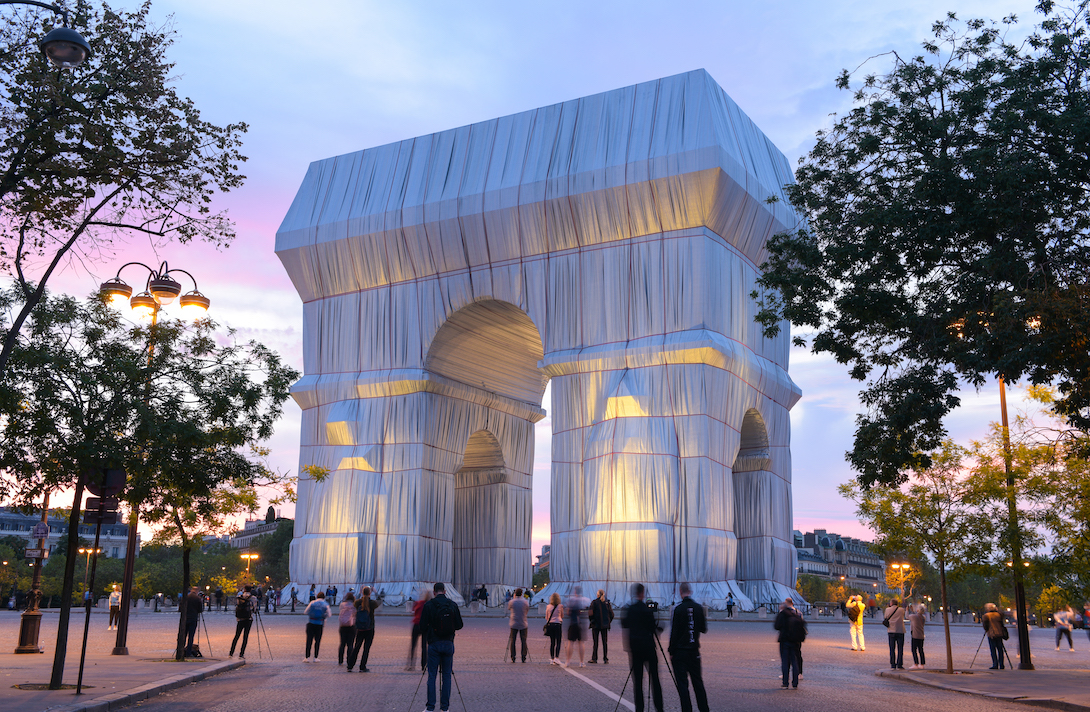 Words by Julia Webster Ayuso
A year after the death of the artist Christo, the dream he and his partner Jeanne-Claude conceived to wrap the Arc de Triomphe in Paris has finally been fulfilled. Draped in 25,000 sq m of silver and blue fabric and 3km of red rope, one of Paris's most famous monuments has been transformed into a final beautiful celebration of the duo's work, even if for a younger public it raises questions about its environmental impact.
Known for wrapping landmarks and iconic architecture such as the Pont Neuf in Paris in 1985 and the Reichstag in Berlin in 1995, Christo and Jeanne-Claude drew up the plans for the Arc de Triomphe in 1962 from their nearby apartment in the French capital. But permission wasn't granted until 2018, nine years after Jeanne-Claude's death.
After Christo's death in 2020, his nephew Vladimir Yavachev took over to oversee the completion of his great-uncle's posthumous work, for which Christo left detailed plans and drawings. The €14m (£12m) project is fully self-financed by the artists' estate, thanks to the sale of Christo's drawings, lithographs and maquettes.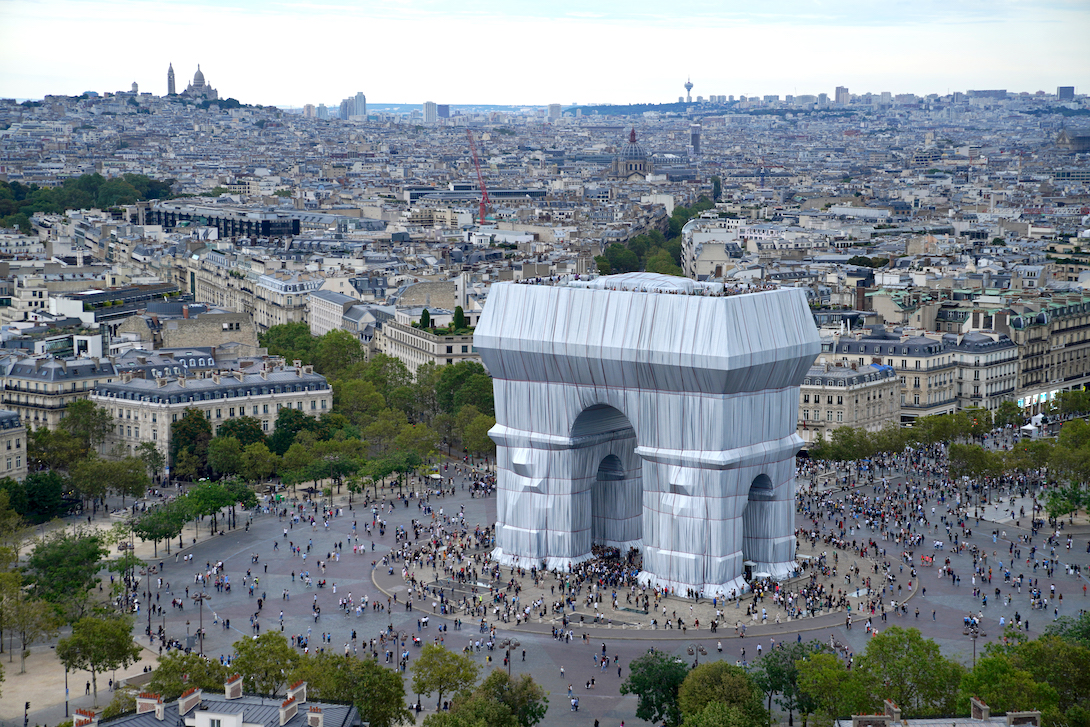 The work – L'Arc de Triomphe, Wrapped – was inaugurated on Saturday 18 September and will be on display for two weeks. Visitors and passersby can walk onto the Place de L'Etoile roundabout and get up close to touch the shiny polypropylene fabric, which is secured but loosely draped over the monument, following Christo's wish for it to be 'like a living object that will come to life with the wind and reflect light.'
As the Paris evening sky turned grey on Saturday evening, the monument magically blended into the background. Napoleon's 19th-century war memorial has vanished and been replaced by something else: tangible evidence that dreams, however crazy, can become reality. For Christo, who fled communist Bulgaria in the 1950s, this is the culmination of his lifelong celebration of freedom, and a beautiful posthumous tribute to the city that allowed him to become an artist.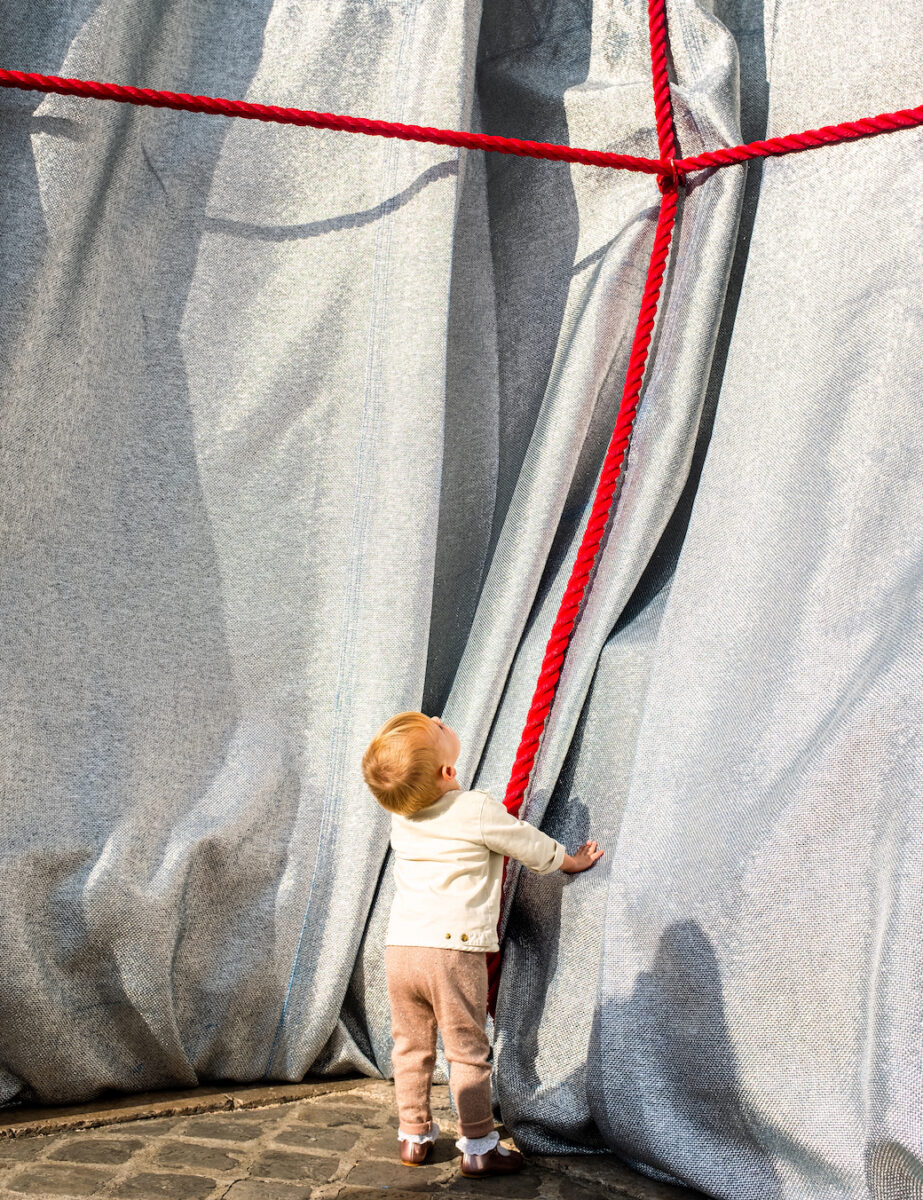 Inevitably, however, the wrapping of a huge monument in plastic fabric also strikes an awkward note. Thousands of metres produced especially for the occasion, although recycled, have a significant environmental impact. In French newspaper Le Monde, architect Carlo Ratti commented about the project: 'As we seek to break out of a society of overconsumption, we must abandon the aesthetic of high-waste packaging.'
The striking image of a wrapped Arc de Triomphe will live on in our memory, but the material used to make it may live on for even longer. In more ways than one, Christo and Jeanne-Claude's final work of art marks the end of an era.
L'Arc de Triomphe, Wrapped is free to visit until 3 October
Photography by
Benjamin Loyseau, Wolfgang Volz and
Lubri, all copyright 2021 Christo and Jeanne-Claude Foundation
---