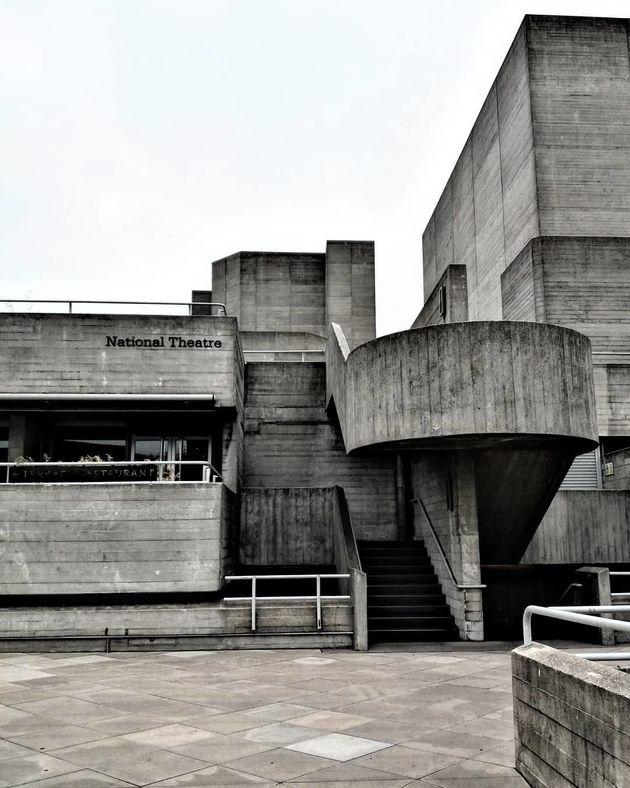 Royal National Theatre Southbank. Photo via Wikicommons user Mfkrzzz
The post-war architectural style, characterised by block-like forms usually cast in raw concrete or brick, defined an era of architecture in Britain
Intended to provide solutions to the city's housing problem, the Brutalist movement was strongly guided by socialist ideology. Its buildings focus on communal areas, and seek to provide equal units of space to its users. Many of Brutalism's leading architects, including Erno Goldfinger and Alison and Peter Smithson, believed they were creating revolutionary urban utopias.
The success or failure of these buildings in achieving their socialist goals is heavily debated. For a period of time Brutalism was favoured for institutional buildings, but by the 1980s they were spurned as too abstract and inhuman, and many were torn down. Here are 10 of the most recognisable amongst the concrete behemoths that survived demolition in London.
Southbank Centre and the National Theatre, 1976, Denys Lasdun
The Southbank Centre has been controversial since it opened, much loved and much maligned. Likened to a 'nuclear power station' by Prince Charles, it is a vast concrete structure with tiered volumes that step down towards the Thames. The neighbouring National Theatre, with its monumental inner volumes, houses three theatre stages, as well as interior communal spaces that Lasdun described as his 'fourth theatre.' It is surrounded by several generous public terraces.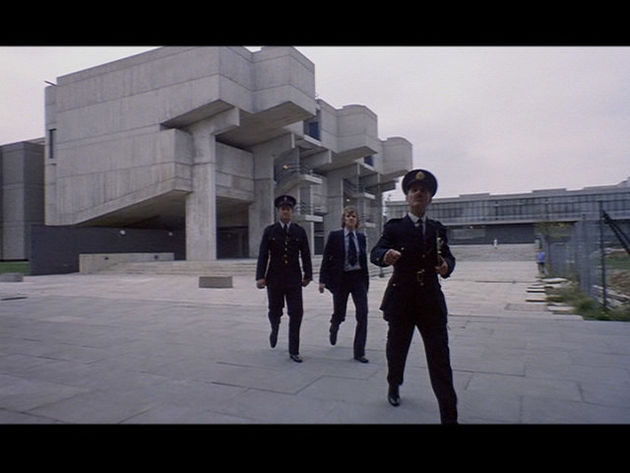 Brunel University Lecture Theatre in a scene from the film Clockwork Orange
Brunel University Lecture Centre, 1965-66, John Heywood
Built in the mid-60s, the Brunel University Centre was featured in the film A Clockwork Orange as a the dystopian Ludivico Medical Facility. Apart from this memorable appearance in cinema, the centre's protruding concrete forms make it a Brutalist classic. It forms an expressive centre piece for the university's campus.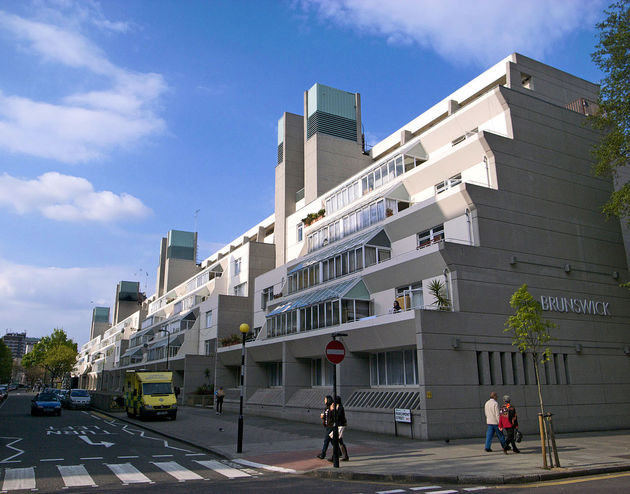 Brunswick Centre. Photo by Flickr user Mibuchat
Brunswick Centre, 1967-72, Patrick Hodgkinson
The grade II-listed Brunswick Centre was the only finished portion of Patrick Hodgkinson's vision for Bloomsbury. It is a vast megastructure – a concrete realm of houses that are situated above a cinema and shopping walkway. Three decades after its completion, its raw concrete facades were covered with paint as per its designer's original plans. Its mammoth flying buttresses are toned down by this recent colour scheme, which has lightened the development.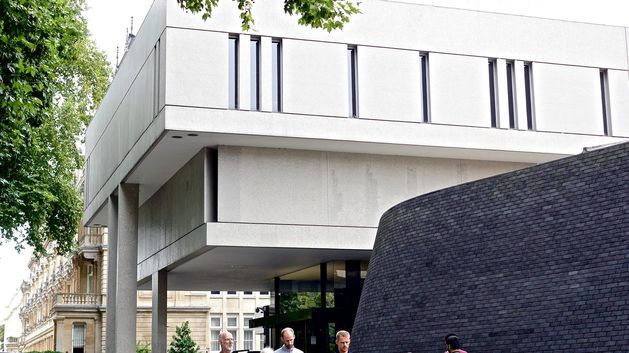 Royal College of Physicians. Photo by Ted Eytan
Royal College of Physicians, 1959-64, Denys Lasdun
A more delicate example of a Brutalist structure, Lasdun designed the Royal College of Physicians with a less intrusive geometric block plan. It is considered a Modernist masterpiece. Lasdun attempted to combine his progressive theories with the traditional character of the institution, celebrating the combination of old and new with dramatic interiors and a white mosaic exterior.
The organisation's headquarters houses an ancient library with original 17th century oak panels from the College's previous location, a marble portrait gallery and a concrete and glass ceremonial hall. The entrance cantilevers out dramatically, and the exterior is a masterful combination of curves and lines. The building is grade I listed.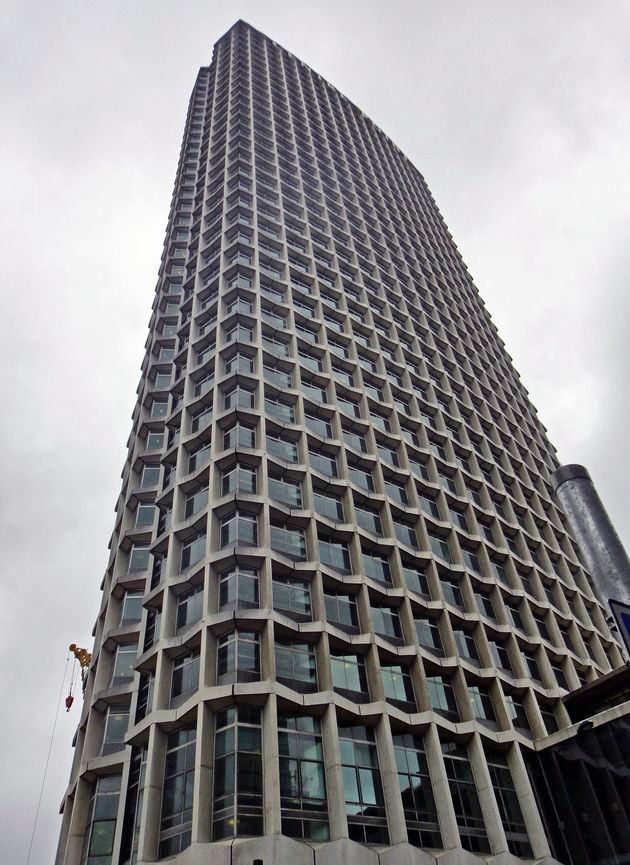 Centre Point. Photo by Gareth Williams
Centre Point, 1963-66, Richard Seifert & Partners
Embodying Brutalism's post-war optimism, Centre Point was thought to be beacon of a recovering city. Situated at the Tottenham Court end of Oxford Street, the 33-storey tower has a recognisable geometric concrete facade, with subtle v-shaped window mullions. It was one of the earliest skyscrapers in London and is still a commanding site in the city's skyline.
The tower stood partially empty for the first decade after completion, and was highly criticised by housing activists, who saw its empty office floors as an insult to the many homeless people in London. In 2010 Conran and Partners was commissioned to update the building and convert office spaces to residential units; nearly 100 apartments were modernised and a series of communal amenities were added, such as a pool and a private clubhouse with treatment rooms.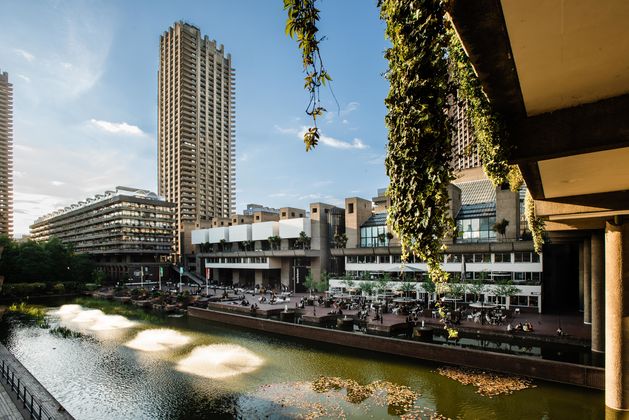 Lakeside Terrace Barbican Centre. Photo by Max Colson
The Barbican, 1965-76, Chamberlain, Powell and Bon
The Barbican is London's best-known Brutalist megastructure. The 35-acre 'city within a city' hosts over 2000 apartments that weave around a series of inner gardens, as well as a vast arts centre and two schools. Designed by Chamberlin, Powell and Bon in the late 1950s, the estate was only officially opened in 1982.
The Barbican is an exemplary concrete structure with hand-picked textured facades. The attention to detail in the cultural and residential programming and the creation of oasis-like gardens has ensured the Barbican's enduring success.
Trellick Tower, 1966-73, Erno Goldfinger
Trellick Tower is the quintessential London Brutalist building. Its austere facade has become iconic and the once-poorly maintained block is now a highly desirable address. The Grade-II listed housing tower in Notting Hill contains 217 flats across 31 floors. The main block structure is a thin slab, allowing all of its apartments to have views on either side of the building over the city.
The design for Trellick Tower was an evolution of Goldfinger's earlier project Balfron Tower, which he designed for the poorer residents of Poplar in the East End. Trellick and Balfron share distinctive separate service towers, which provide access to the residential units and house the utilities.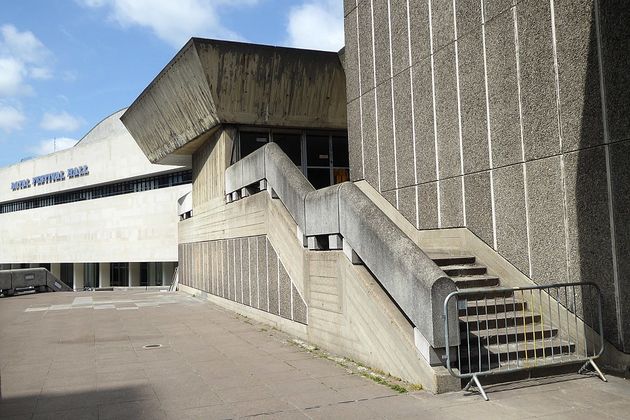 Hayward Gallery. Photo by Ethan Doyle White
Hayward Gallery, 1960-68, Denys Lasdun
Lasdun laid down the aesthetic foundations for the South Bank when he completed the Hayward Gallery and Queen Elizabeth Hall almost a decade ahead of his National Theatre. It is concrete at its most diverse – a patchwork of textures and geometric forms that rise up from the river Thames. The Hayward Gallery contains five exhibition spaces and three outdoor sculpture courts. Terraces and ramps link the galleries, the uppermost of which is lit by natural light that is allowed to enter through controlled roof windows.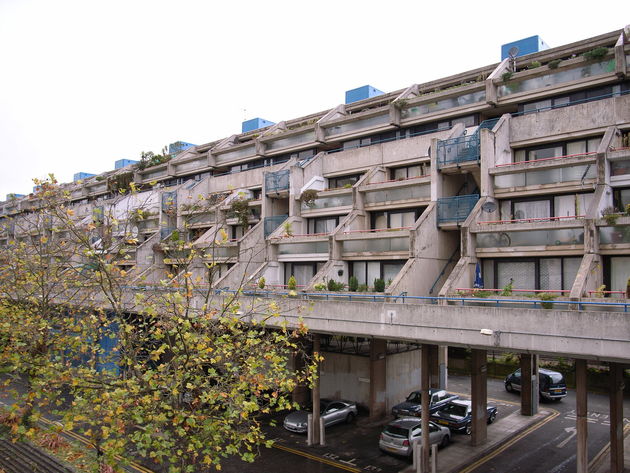 Alexandra Road Estate. Photo by Steve Cadman
Alexandra Road Estate, 1968-78, Neave Brown
Social housing at its most community-centric, the Alexandra Road Estate sits along the railway line in Camden. Its architect Neave Brown was working for the architecture department of Camden Council when he was commissioned to design the estate. Construction went severely over budget and took much longer than anticipated, but has since become highly acclaimed.
Featuring 520 apartments, a school, community centre, youth club and parkland, the high density, low-rise development is mounted onto rubber to minimise the noise from the passing trains, and the almost window-less facade facing the tracks also acts as an effective noise barrier. Its stark concrete volumes are complimented by the vast landscaping. It has been used in a number of dystopian films and television series.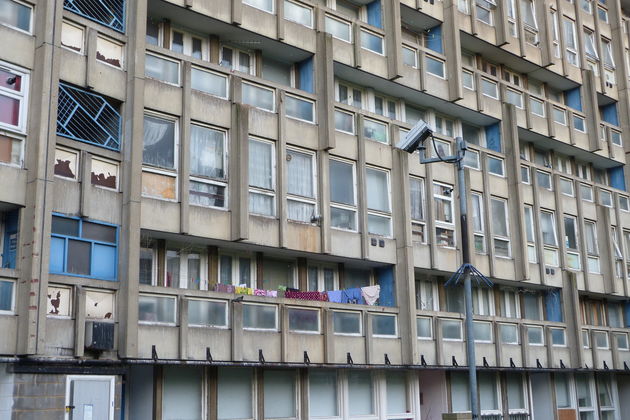 Robin Hood Gardens. Photo by Gordon Jolly
Robin Hood Gardens, 1968-1972, Alison and Peter Smithson
The Robin Hood Gardens council estate was the culmination of the Brutalist architect duo Alison and Peter Smithson's theories on socialist architecture. The housing estate in Poplar, not far from the Balfron, was constructed from pre-cast panels of concrete, with concrete balconies that were intended to serve as communal 'streets in the sky.' Poorly maintained, it almost immediately became synonymous with crime and vandalism. It was denied listed status in 2015 and is currently being demolished to make way for a new, even denser housing development.
---