The underground extension and sculptural landscaping at the Ordrupgaard museum aim to holistically enhance the entire complex

Words by Harriet Thorpe
Ordrupgaard, an art museum in eastern Denmark renowned for its collection of 19th- and early 20th-century French and Danish works, has gained a new architectural 'layer' designed by Snøhetta. More than just an extension, the thoughtful intervention builds respectfully upon the museum's original neoclassical building from 1918 as well as its Zaha Hadid-designed 2005 extension. The project brings a new visitor circulation route, better links the existing architecture, and contributes to the landscape.
Mostly underground – and emerging only as a steel-coated sculptural layer in the museum's leafy grounds north of Copenhagen – the extension is subtle and poetic, yet brings a vast amount of new space to the museum. Five new exhibition spaces have been added, two that connect to the modern extension and three dedicated to the Ordrupgaard's revered French Impressionist paintings.
The angular sculptural layer that greets visitors to the museum is in fact the roof of the largest exhibition space below ground. It appears like a magical silvery pond, polished to appear like the surface of water. The architects named this piece 'Himmelhaven', or 'Heaven's Garden', inspired by the Impressionist paintings of Manet, Monet, Degas, and Renoir, who captured the beauty of dappled light on canvas.
Artistic impressions continue throughout Snøhetta's design, which seeks to make the journey through the museum feel intuitive to all types of visitors. For example, a diagonal 'cut' in the landscape, which develops into a bridge of natural stone, pulls anyone meandering through the park towards the entrance to the Hadid-designed galleries. Inside, slices of natural daylight are positioned to mark the transitions between one building to the next, prompting reflection on the architecture.
The new circulation route honours the original architecture gracefully – instead of ego and legacy, the architects again prioritised the smooth experience of the visitor. The two new galleries that expand Hadid's design echo the existing material palette of dark concrete with the same sense of rawness. Meanwhile, the other exhibition spaces adopt a more traditional museum display, with oak floors and panelling, gypsum boards for flexibility, and harmonious colours.
The route travels freely between gallery and the protected museum landscape with its English-style park with deciduous trees and French-inspired rose garden. A new half-sunken atrium space offers visitors a chance to pause along their journey, to enjoy atmospheric informal seating. Respectfully blending new interventions into the landscape was important to Snøhetta, just as the design respected the existing architecture and the path of the visitors. Instead of a straightforward 'extension', it aims to be more a holistic re-interpretation and enhancement of the museum.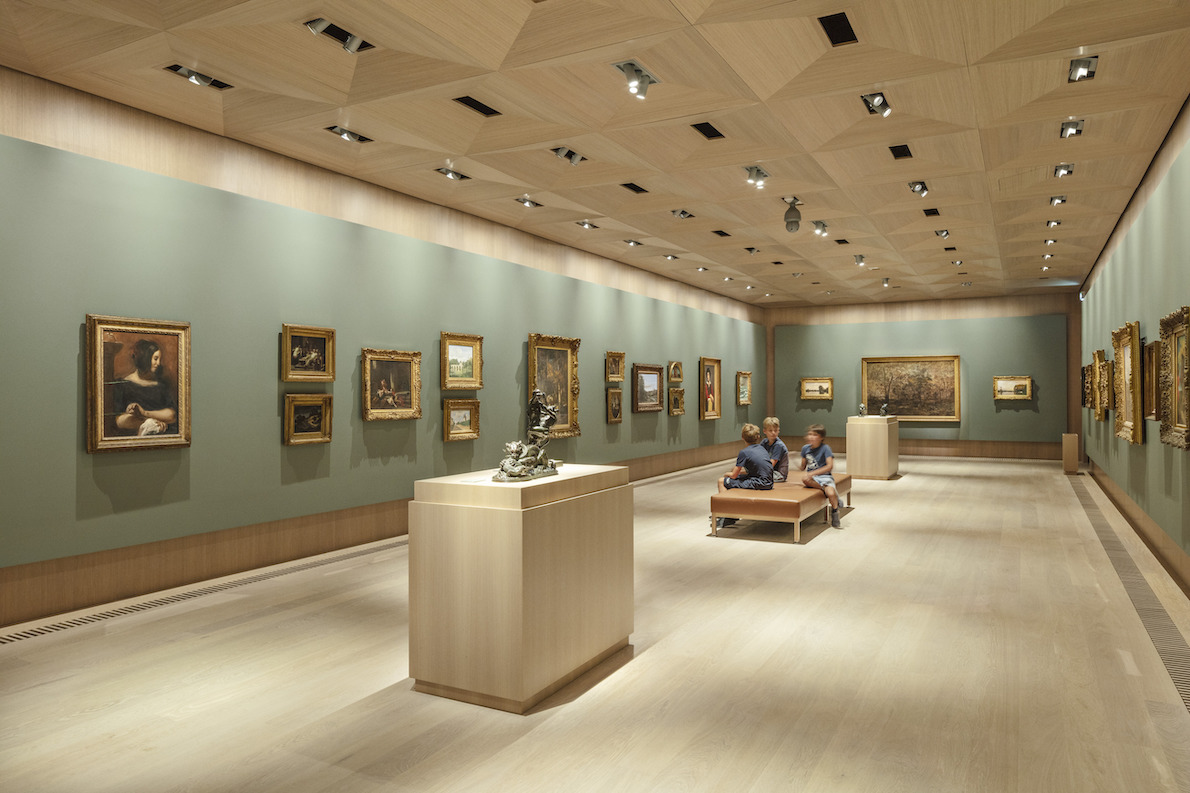 Photography by Laura Stamer
Get a curated collection of architecture and design news like this in your inbox by signing up to our ICON Weekly newsletter
---