Curated by Annalisa Rosso, the project for the Società delle Api's residency programme at Porta Rossa sees designers and studios transforming a Kastellorizo house into a colourful artists residence

Words by Sonia Zhuravlyova
The Greek island of Kastellorizo is now home to a colourful artists residence created by La Società delle Api, a non-for-profit arts and culture organisation. Its founder, design patron and collector Silvia Fiorucci, put out a call for a project called 4Rooms, which asked creatives and studios to submit designs for the four bedrooms of the organisation's historic property, Porta Rossa.
The house, one of several owned by La Società delle Api, is a space for artists, architects, designers and thinkers to exchange knowledge, engage with the island and work on their craft. Among the selected designers and studios are Phanos Kyriacou (co-founder and director of the art gallery Party Contemporary), Julie Richoz (Swiss-French designer based in Paris), and Studio Brynjar & Veronika (Icelandic-German studio working in the field of art and design).
There is also UND.studio (a collective of designers, artists, cabinetmakers and architects working on objects and spaces), while French studio Superpoly, who have worked with Società delle Api before, was commissioned to design the common spaces located on the ground floor of Porta Rossa.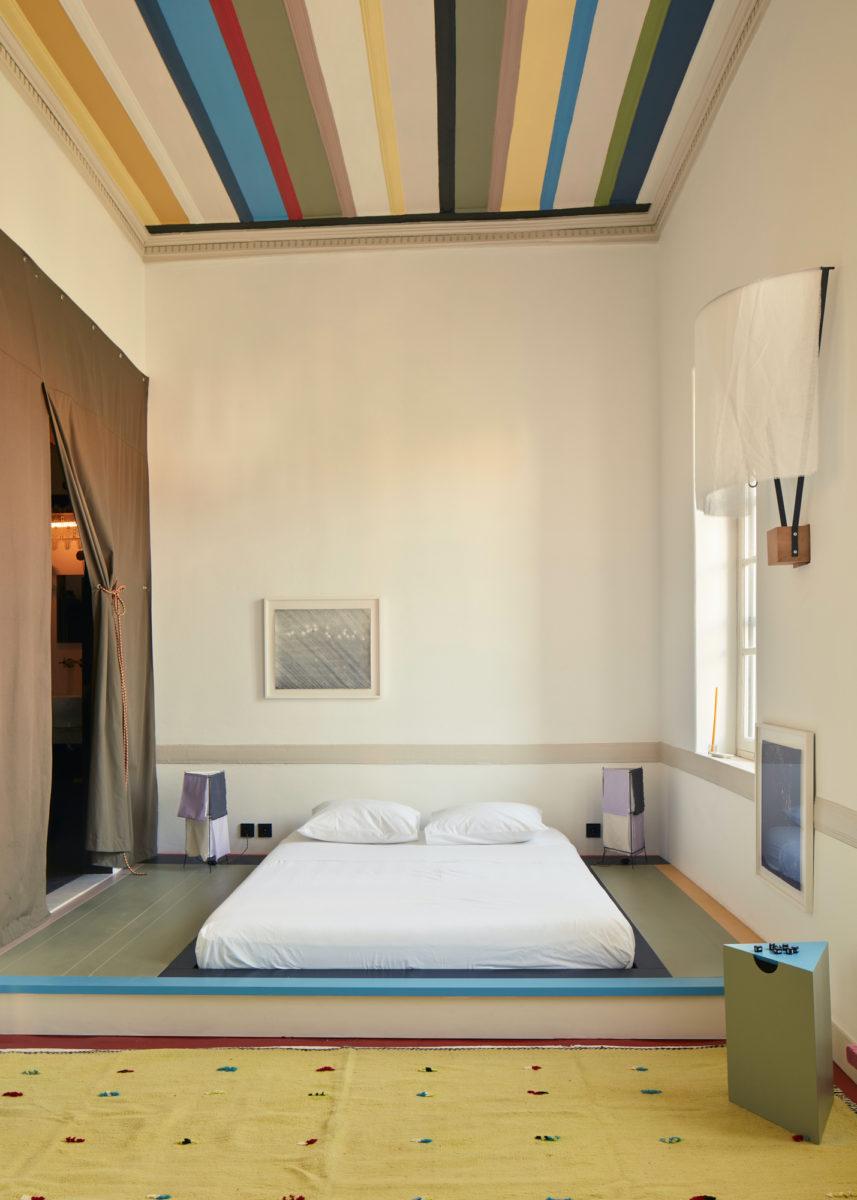 Each has interpreted the rich heritage of the Greek island and translated it using their own design language, taking inspiration from things such as fishermen's nets, traditional fishing boats, and the sunny colours of the decorative friezes seen on some of the houses.
'We asked for a connection with the island and its quite unique environment but we also wanted to respect the peculiarity of each designer's creative language,' says Annalisa Rosso (co-founder of the Milan-based design agency Mr Lawrence and editorial director of the Salone del Mobile), who curated 4Rooms.
'We selected projects that could add something to the material culture of Kastellorizo – expressions of contemporaneity, yet preserving continuity with the ones already existing.' The four resulting rooms are colourful, quirky and idiosyncratic, yet somehow entirely in tune with the island and its material culture. 'I was immediately struck by the rich layering of cultures that defines Kastellorizo's identity,' says Julie Richoz, one of the designers.
For her room, she looked at traditional folk costumes worn by the women of Kastellorizo. Seeing textiles as a means of communication and a way to encounter the identity of a place, her room is intended as a celebration of the richness of the textile world and of the island itself.
'All the rooms are so different,' says Rosso. 'In inspiration, aesthetics, materials, colours. Of course, function binds the entire space: the rooms will host artists and creative people in residence, even for long periods.'
'But the strongest bond has been the conversation and the exchange that all the designers have had in this one-year project: the respectful curiosity and mutual support, the confrontation and the praise of their work became part of the design practice and somehow get to the project a real consistency.'
Photography courtesy of La Società delle Api
Get a curated collection of design and architecture news in your inbox by signing up to our ICON Weekly newsletter
---