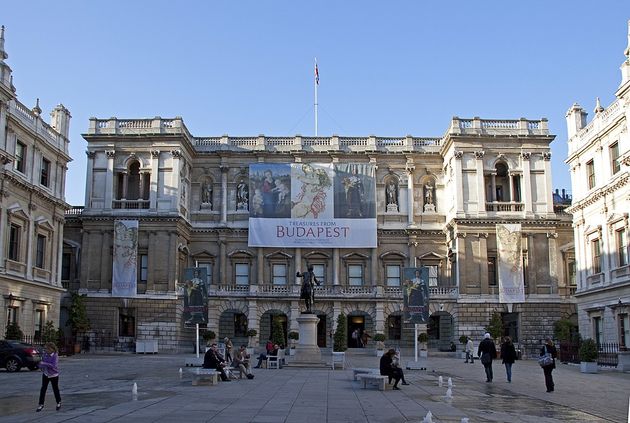 The exterior of the Royal Academy. Photo by Tony Hisgett, CC BY 2.0
The Royal Academicians have elected an artist known for her work across painting, printing and mixed media
The Royal Academy of Arts has chosen artist Rebecca Salter as its new president, marking the first time the academicians have elected a woman in the body's 251-year history. Salter has taken over the role from Christopher Le Brun, who has stepped down after eight years in the role.
Salter, who was first elected to the Royal Academy in 2014 as a printmaker, has taken in several creative disciplines in the course of her career, beginning with ceramics and mixed media, and moving into printing after training in traditional woodblock printing in Japan in the late 1970s. Her work has moved into abstract works, both painting and printing, incorporating mixed media and using both canvas and paper, and Salter has also worked on architectural projects, creating installations for several hospitals, including St. George's in Tooting.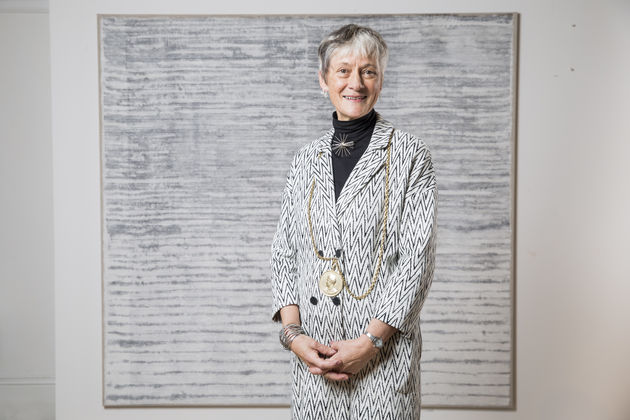 Rebecca Salter, the new president of the Royal Academy of Arts. Image by Getty Images/Tristan Fewings
After being elected by her fellow academicians, Salter was confirmed as president by the Queen, joining an illustrious, and until now all-male list of former presidents, including Nicholas Grimshaw and Le Brun in recent years.
Salter described her election as an honour and said, 'This is a tremendously exciting time to become president following the recent 250th anniversary expansion. I look forward to working with my fellow Academicians, our staff and our many supporters to help the RA to evolve while keeping art, architecture and debate at the heart of what we do.'
In 2018, the Royal Academy opened an extended campus that linked its two former sites, designed by David Chipperfield, himself an academician. The expanded space has included larger exhibitions and more space for the schools on site, as well as an extended programme of talks and workshops for the public.
Grayson Perry called it a 'lovely and historic' moment, while Bob & Roberta Smith noted the 'excitement on the faces of the largely female staff' at the Academy.
Several of Salter's contemporaries and fellow academicians congratulated her online, with many noting the significance of her being the first woman to take up the role.
A lovely and historic moment, Rebecca Salter RA has just been elected the first female president of the @royalacademy in its 250 year history pic.twitter.com/zDAc07rWkO

— Grayson Perry (@Alan_Measles) December 10, 2019
Excitement on the faces of the largely female staff of the @royalacademy as after 250 years we/they elect a female president. Congratulations to Rebecca Salter PRA. Remember voting can achieve real change everyone! pic.twitter.com/1sZVi4aRMr

— Bob&Roberta Smith (@BobandRoberta) December 10, 2019
Staff at the Academy and other cultural organisations also shared their congratulations, with several noting the length of time it had taken to elect a woman.
Rebecca Salter is the new President of the @royalacademy and the first woman to take up the role in our 251 year history. An amazing moment to witness. Incredible!!! pic.twitter.com/yYI75XEyTi

— kate topham (@katetopham1) December 10, 2019
Congratulations to Rebecca Salter PRA. This blog is now out of date in a good way ?. https://t.co/XFPg83aGRt

— Annette Wickham (@AnnetteWickham3) December 10, 2019
An immense change and achievement. What an historic moment for the RA. 'Rebecca Salter PRA' well done ?? https://t.co/XkRPCrcTHe

— NSEAD (@NSEAD1) December 11, 2019
The times they are a changin' at the @royalacademy. Rebecca Salter becomes the first female president in the institution's 251 year history ♀️ https://t.co/l1MVkoQUuO

— Museums + Heritage Advisor (@MandHAdvisor) December 10, 2019
---