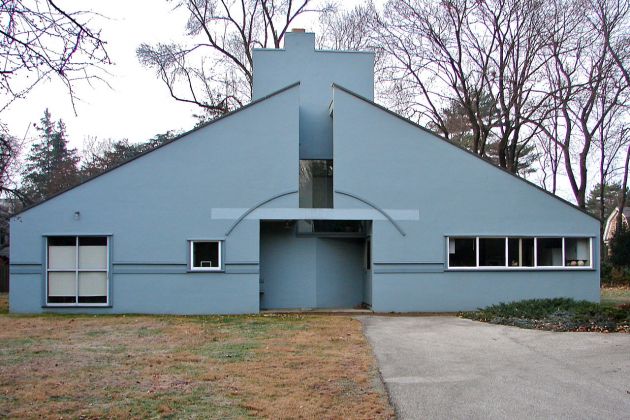 Robert Venturi is one of the most original and notable architects from the late 20th century
Regarded by many as the founder of postmodenrist architecture, Robert Venturi is both a celebrated architect and a highly influential writer.
Venturi Studied at Princeton University and then at the America Academy in Rome. On his return to the US he began to teach at the University of Pennsylvania. He has subsequently held teaching positions at many prestigious universities in America.
After working in architecture studios with Eero Saarinen, Louis Kahn and Oscar Stonorov, Venturi founded his own practice in 1958.
In 1962 he designed Vanna Venturi House for his mother in Philadelphia. The house, since highly acclaimed, saw Venturi's break away from modernism by adopting forms from traditional architecture. It is thus seen as the first postmodernist building.
Read more: Robert Venturi's 'Ghost Houses' are playful reminder of the great architect's continuing influence
The house referenced classicism and Mannerism with its broken pediment and ornamental features. It combined the ribbon windows of international style modernism with the pitched roof of shingle style American vernacular.
Venturi's other well-known projects include Guild House in Philadelphia, the Allen Memorial Art Museum in Ohio, the extension of the National Gallery of Art in London and the Seattle Art Museum.
Venturi's books and theories have arguably had even more of a profound effect on the architecture industry than his built work. His writings called for an architecture that was diverse, and he promoted contradiction and ambiguity over unity and clarity. This makes his style almost impossible to define, but he did advocate for design that engaged with the everyday aspects of life.
He authored 'Complexity and Contradiction in Architecture', which was published by MoMA in 1966. It took the form of a manifesto for complex architecture, arguing that there was a sense of vitality in the messy built environment and stating that architecture should engage with the complexities of the city. He believed that much of modern architecture was commendable, but that there needed to be a broader understanding of the improvised and casual in the built environment too.
Venture met architect and planner Denise Scott Brown in the early 1960s. She was also a professor at Penn. The two formed a formidable partnership, both professionally (they set up Venturi and Brown in 1969), and romantically (they married in 1967).
Read more: Denise Scott Brown is as influential as ever at 86
Venturi and Scott Brown published another book, 'Learning from Las Vegas' with Steven Izenour in 1972, in which they explored the iconic commercial strip of Las Vegas and the city's urban sprawl and suburbs.
As well as many other decorations, Venturi was awarded the Pritzker Prize in 1991 and the National Medal of Arts in 1992. His writing continues to influence architectural thinking today.
---