The works of the young Gambian-British artist, who tragically lost her life in the Grenfell fire in 2017, are the first installment of site-specific exhibition project Breath is Invisible.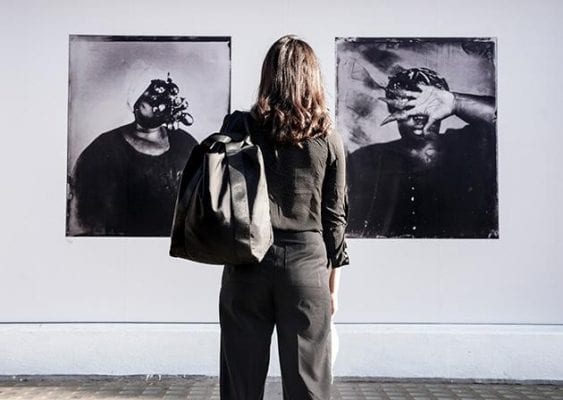 Image courtesy of the Estate of Khadija Saye. Photo: Jeff Moore
A new public exhibition by  Khadija Saye was unveiled this week in Westbourne Grove, Notting Hill – less than a mile away from the site of the Grenfell Tower, where the artist sadly lost her life in the 2017 fire at just 24 years old.
The works make up part of Breath is Invisible, a project set up collaboratively with young artists and arts organisations in the area – created by patron and businesswoman Eiesha Bharti Pasricha and curated by Sigrid Kirk as a response to urgent conversations around social inequality, the Black Lives Matter movement and the lack of diversity within the arts sector, specifically for BAME artists.
The project was launched by David Lammy, Labour MP for Tottenham and Shadow Secretary of State for Justice, who knew Khadija Saye.
Image courtesy of the Estate of Khadija Saye. Photo: Jeff Moore
in this space we breathe is an installation of 9 large scale prints that celebrate of some of Saye's best known works, exploring ideas of the migration of traditional Gambian spiritual practices.
"The series was created from a personal need for spiritual grounding after experiencing trauma," Saye said of the series. "The search for what gives meaning to our lives and what we hold onto in times of despair and life changing challenges."
Partnering with community organisations, the launch of Breath is Invisible also marks the launch of The Khadija Saye lntoArts Programme, founded by Nicola Green and lntoUniversity, The programme aims to provide opportunities for young people from BAME and disadvantaged communities across the UK in the arts industry. Portfolio sets of Saye's silkscreen prints will also be available for sale, with the proceeds going to The Khadija Saye lntoArts Programme and the Estate of Khadija Saye.
Image courtesy of the Estate of Khadija Saye. Photo: Jeff Moore
On display until August 7th, Saye's work marks the first of three site-specific exhibition as part of the Breath Is Invisible project.
Between August 11th and September 4th, the second exhibition in the series to be invisible is a visual and aural soundscape installation by Martyn Ware in collaboration with young musicians; while Joy Gregory's The Invisible Life Force of Plants can be seen between September 8th and October 9th, exploring her research that tracks how many plants we think of as native have origins from across the world.
Breath is Invisible
Location: 236 Westbourne Grove, London Wll 2RH
Dates: 7 July- 9 October 2020
---