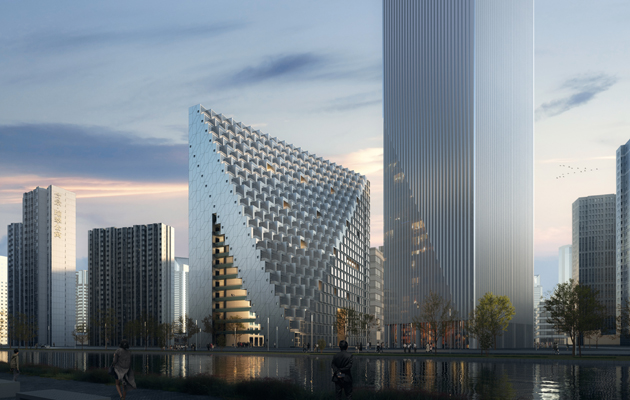 OMA's Xinhu Hangzhou Prism. Photos by Bloomimages
OMA's newest project in China, the Xinhu Hangzhou Prism, a mixed used space in a pyramid-like building, broke ground on Monday.
The structure has an unusual off-centre pyramid shape, with shimmering facets in its pointed sides serving as terraces for the spaces within. The complex in Hangzhou will be home to a hotel, retail space, lofts and atrium garden, with the lofts in particular offering open views over the city.
Hangzhou is known for its scenic setting, with its West Lake a designated UNESCO World Heritage Site, though it has started to make a name for itself as a tech hub: Alibaba, China's largest ecommerce company, has its HQ in the city.
The prism will become part of the city's 'Future Tech City' in the central business district dedicated to technology. It measures 50,000 m², with an additional residential tower of 35,000 m² that reflects the first building's prism shape in its facade. As well as the generous terraces for residents of the prism's lofts and rooms, there will be a large interior garden accessible to the public.
Heading up the project is partner Chris van Duijn, OMA's lead in Asia. He has previously been involved in some of the firm's best known projects, including the Casa da Musica in Porto and the CCTV headquarters in Beijing.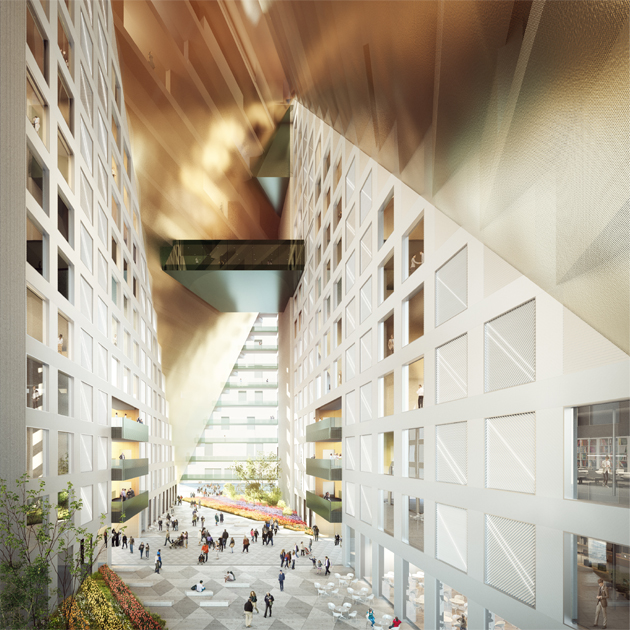 The firm, founded by architects Rem Koolhaas and Elia Zenghelis in 1975, has several upcoming projects in China, including Columbia Circle in Shanghai, a complex of historical buildings being transformed into a cultural and retail hub.
In the UK, OMA is about to undertake its first major cultural project, designing an arts an theatre venue in Manchester, called the Factory. Partner in the practice Ellen van Loon told Icon about plans for the site and her own creative process in Icon 189, the March 2019 issue.
---