In Bedford, NY, the LX Pavilion forms a new home for the sculptor's work

Words by Francesca Perry
NYC-based practice OLI Architecture has created a small-scale and minimal – yet simultaneously monumental – pavilion designed to house the Richard Serra sculpture London Cross (2014). Located on a private estate in Bedford, NY – and surrounded by greenery – LX Pavilion's charred Accoya wood cladding mediates between the natural context and the man-made metal structure within.
The American sculptor's piece is composed of two 15-tonne, 12m-long and 2m-tall weathering-steel plates which cross over one another in a stacked formation. Stretched between the walls of the 76 sq m, perfectly square pavilion in Bedford, the sculpture creates a dissected space, lit by north-facing rooflights in a sawtooth profile above.  
The lower steel plate, resembling an impenetrable wall, runs diagonally between two corners of the space, while the other plate perches on top at midpoint, positioned perpendicular and held in place by a specially constructed hydrated-lime wall partition.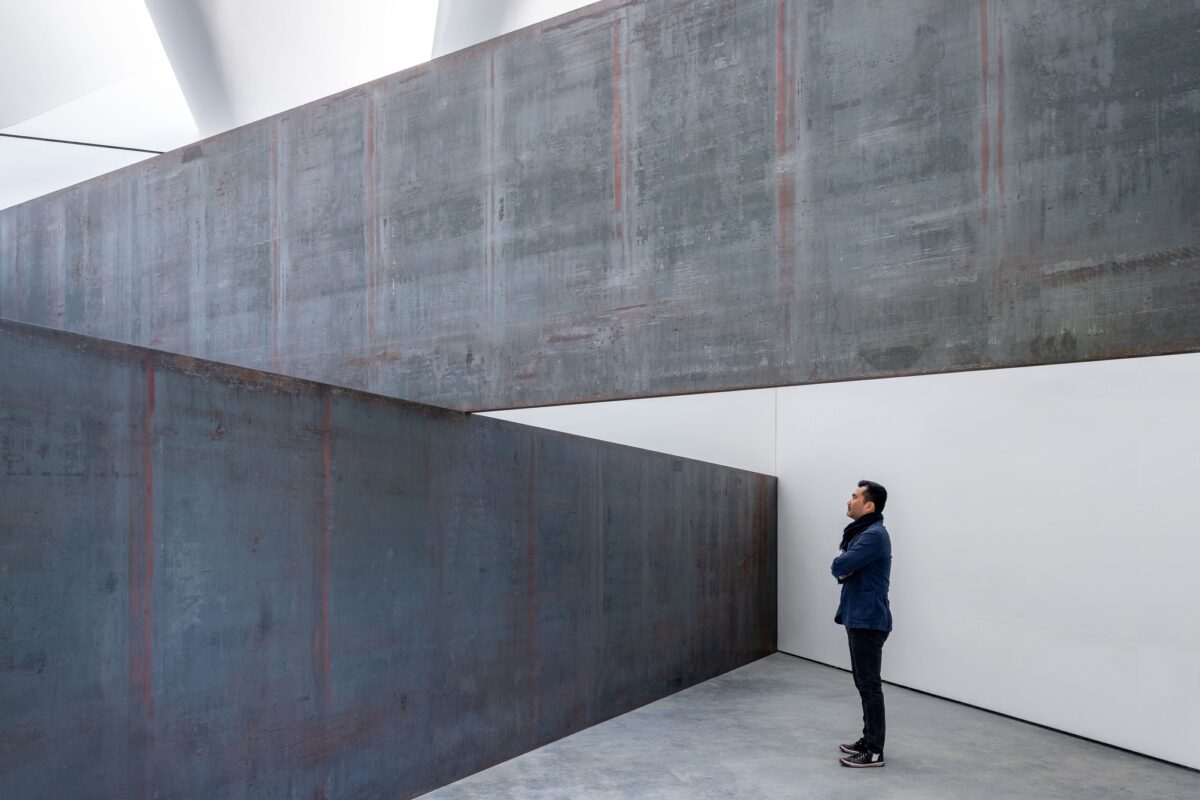 As Serra's work is so strongly spatial, the specially designed pavilion necessarily becomes a part of the artwork itself (Serra's approval of the building was contractually part of his art piece). OLI carefully sited LX Pavilion 20 degrees east of true north in order to minimise shadows through the rooflights. The charred Accoya cladding will weather and transform with time, giving the pavilion, and the artwork, a sharp sense of temporality.
OLI collaborated closely with Serra on the pavilion. 'The project came to us through Richard Serra who recommended us to the client,' explains OLI principal Hiroshi Okamoto. 'The client has several significant pieces from Serra in his collection and Richard and I visited the site to pick the location of the building which we staked out together… We knew that the key was to complement the art without competing with it, in order to maximise the intimate and powerful spatial-temporal qualities of his art.'
Serra's sculpture was first exhibited in London, at the Gagosian Britannia Street gallery in King's Cross. The work had an almost overwhelming spatial and sensory impact, the sheer weight of it felt without even touching. Beyond its explicit name, there is something inherently tied to London about it – a cold, dark grey, heavy industrial presence that particularly suited the history of King's Cross, and its steel station structures, well.
OLI's pavilion looks peaceful, rural and meditative. Serra's sculpture may be detached from its original context, but as with most of his work which has found homes in places around the globe, it takes on new context, in the state where the sculptor lives and works – and creates a new kind of experience, that the artist himself has helped conceive. 
---