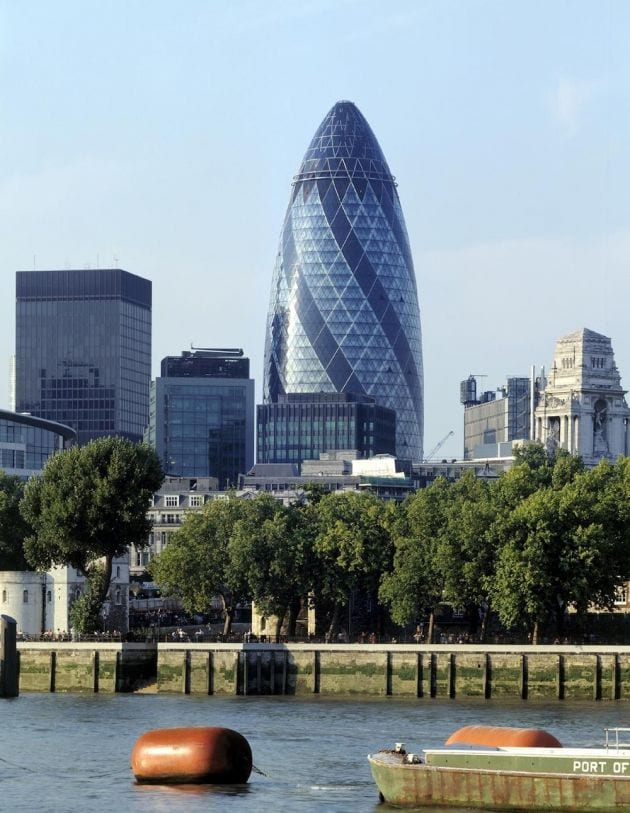 Norman Foster has been designing innovative high tech buildings for more than four decades.
Possibly the most prominent architect of his generation, Norman Foster is known for his contemporary glass and steel architecture. His international practice, Foster + Partners, is known bot for its celebrated structures and its sustabinbility. Over the years, Foster has been the recipient of an outstanding number of awards, including the Pritzker Prize and the Aga Khan Award. He was given a Knighthood in 1990 and bestowed a life peerage in 1999, becoming The Lord Foster of Thames Bank.
Facade of the Bloomberg Building by Foster + Partners
His notable include cover all types of building, including the Willis Faber and Dumas Headquarters in Ipswich, the HSBC Building and International Airport in Hong Kong, the Joslyn Art Museum in Omaha and 20 St Mary Axe – also known as the Gherkin – in London.
Born in 1935 in Manchester, Foster's father worked for an engineering company, which Foster claims influenced his interest in architecture. His path to practice, however, was indirect: he left school aged 16 and worked at the Treasurer's Department of Manchester City Treasurer's office and then served in the Royal Airforce. 
Foster later trained in architecture at the University of Manchester and went on to study a masters at the Yale School of Architecture in Connecticut, where he met Richard Rogers.
In 1963, along with Richard Rogers, Su Brumwell and Wendy Cheesman, Foster set up Team 4, a firm that quickly became recognised for its high-tech approach to architecture. Four years later Team 4 dissolved, and Foster and his new wife Wendy Cheesman set up Foster Associates. Later renamed Foster + Partners, it is now a worldwide practice.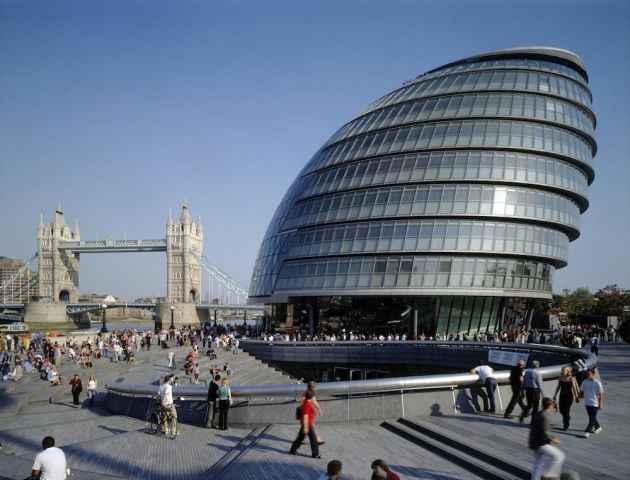 London City Hall by Foster Partners. Photo by Nigel Young
The firm has embarked on public structures, industrial buildings, transportation hubs and private houses. Foster's early works explored his ideas of technological advanced designs and lightweight structures. He also had a long-standing friendship and collaboration with American architect Richard Buckminster Fuller, who he refers to as a mentor.
The Willis Faber and Dumas headquarters, built between 1971-1975 in Ipswich, UK, was a huge breakthrough project for Foster Associates. The building features a full height glass facade and was one of the earlier examples of open-plan office design in the UK. It has roof gardens, a gym and a pool that were aimed at increasing the quality of life of the inhabitants. The idea of an office as a place full of natural light and that offers social facilities for its employees to enjoy on their breaks was completely radical at the time.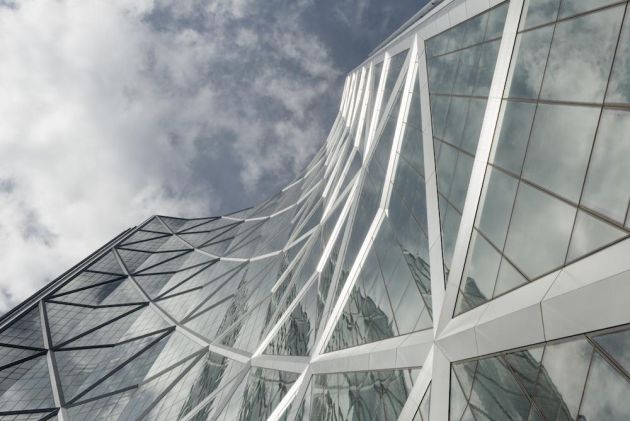 The Bow by Foster + Partners. Photo by Nigel Young
Foster also received international acclaim for his metal-and-glass panelled Sainsbury Centre for the Visual Arts in Norwich, England and for Hong Kong's International Airport on the island of Chek Lap Kok, which is so vast that it can be seen from space. Foster also designed the Stanstead terminal building and Terminal 3 at Beijing's airport. His airport designs, he claimed, are aimed at bringing a sense of occasion back to travelling. 
Read more: 'It still has the power to shock:' Norman Foster looks back at his work in a new interview
In addition to the world's largest airport, Foster also designed the world's tallest bridge: the Millau Viaduct in collaboration with Michel Virlogeux. The bridge is located in the South of France. 
As well as the high tech elements of Foster's work, many of his buildings introduce green spaces and garden schemes. He designs rooms to maximise natural light and to encourage a dynamic relationship between the indoors and the outdoors. These green, landscaped elements provide a sense of familiarity in otherwise very futuristic office environments.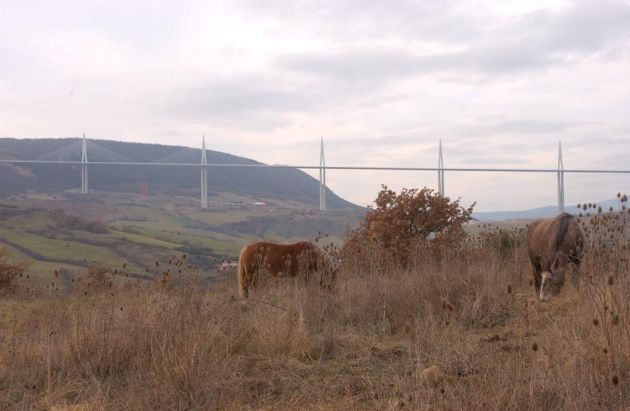 Millau Viaduct by Foster + Partners. Photo by Nigel Young
Foster has been involved in significant landmarks, including the Reichstag in Berlin, which he rebuilt to create the New German Parliament when East and West Germany unified. He added an impressive steel-and-glass dome that surrounds a spiral observation platform. Foster also encased the court of London's British Museum under a steel-and-glass roof to create an enclosed square within the confines of the building. He also designed London's City Hall. 
Foster has lectured at universities throughout the world, teaching consistently in the United Kingdom and the United States. Foster was also Vice-President of the Architectural Association in London, Council Member of the Royal College of Art and was a founding trustee of the Architecture Foundation of London.
Foster received the Pritzker Prize in 1999 and the RIBA Gold Medal for Architecture in 1983 as well as the Gold Medal of the French Academy of Architecture in 1991. He also received the AIA Gold Medal in 1994 and his contemporary design Stanstead Airport Terminal Building was awarded the Mies van der Rohe Award. 
---