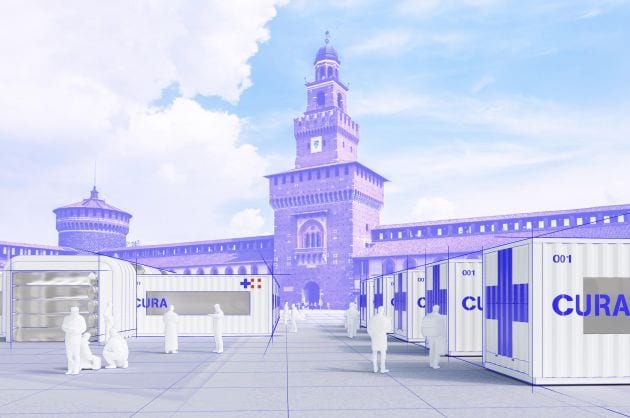 Carlo Ratti Associati has proposed CURA: shipping containers repurposed as portable ICU units. Image courtesy of Carlo Ratti Associati.
Get a bitesize overview of the week's headlines and events with Icon's weekly round-up
SCENE
CULTURAL CHAOS
As cultural institutions across the world shutter, the absence of extensive cultural funding in American has placed its museums at particular risk. The American Alliance of Museums (AAM) has estimated that up to 30 per cent of museums across the country face permanent closure as a result of the virus. Even larger institutions have braced for losses, with the Met projecting a $100m shortfall and permanent staff losses, and LA's Museum of Contemporary Art already cutting almost 100 part-time workers. In response, the AAM has asked Congress for a $4bn emergency grant. Instead, the cultural sector as a whole received a mere $157.5m, a sum that does not bode well for museums' continued operation.
CREATIVE REUSE
In Milan, Carlo Ratti Associati (CRA) has launched CURA: a scheme to transform shipping containers into portable containment pods that could be used to supplement intensive care units (ICU) across the world. It is possibly the most ingenious, and certainly the most useful, deployment of the ubiquitous containers to date, though some have already questioned its practicality. In London, meanwhile, the NHS has turned to a novel hospital conversion. The ExCel centre, a foreboding conference hall in London's Docklands with more than a hint of the villainous lair about it, will be converting into the 4,000-capacity NHS Nightingale. While this is of course welcome, one might wonder where the staff and equipment needed to run such an oversize facility will be sourced given shortages elsewhere.
HOT AIR
In its search for more ventilators, the British government has turned to a seemingly unlikely saviour: the vacuum and hand-dryer magnate James Dyson, whose company has no medical experience. Dyson — a vocal Brexiteer who plans to move his operations to Singapore next year — says his company have rapidly designed a new (and untested) prototype ventilator, the CoVent. As the government ordered 10,000, questions were raised by numerous pre-existing ventilator manufacturers whose attempts to proffer their services were met with silence.
VIRTUAL SHOW
Students at the Royal College of Art (RCA) are up in arms after the school announced that this year's degree shows will be hosted online. A petition, No to the Virtual Show, has at the time of writing attracted almost 7,000 signatures — not a bad count for an institution with just over 2,000 students. Students have protested both the impossibility of accurately representing their artworks through an online platform, as well as their inability to finish their projects due to the closure of all RCA workshops. It is, of course, distressing to see the work of months — and thousands of pounds in tuition fees — shunted to the internet, though given that many of the institution's international students may not be able to easily return to London after their degree's conclusion for a rearranged show, it remains up in the air as to what can be done to satisfy all parties.
RISKY BUSINESS
While many of Britain's office-bound architects have been allowed to work in the relative safety of their own homes, those who work in the construction industry are seldom so lucky. Although some developers have paused work, construction minister Nadhim Zahawi still advises that construction sites should remain open with social distancing measures. In response, the Architecture Foundation's Young Network has raised a petition demanding the closure of all sites the safety and healthcare of construction workers. Given that many construction workers work on a precarious self-employed work basis, however, such cessations in work may not be entirely welcome.
OBITUARY
The American architect, urbanist and writer Michael Sorkin has died, aged 71, of the Covid-19 coronavirus. As the founder and principal of Michael Sorkin Studio, Sorkin produced numerous urban studies and environmental projects. He was also president of Terreform, a non-profit centre for advanced urban research. But Sorkin was perhaps most renowned as an architecture critic, regularly writing for both specialist publications and America's major newspapers. Edwin Heathcote, architecture correspondent at the Financial Times and regular Icon contributor, described Sorkin as a 'fierce and brilliant critic, perhaps the best.'
A still from Josephine Meckseper, Pellea[s], 2017 © Josephine Meckseper. Courtesy Timothy Taylor, London/New York.
DIARY
DELAYS AND CANCELLATIONS
Another week, another around of delays, this time affecting events purporting to begin in the summer. Design Miami/'s June edition has been moved to September, while the London Festival of Architecture has sensibly chosen to reschedule to 'later in the year.' And London Design Fair, one of the largest compoments of London Design Festival each September, has been pushed back to 2021.
Vast property trade fair Mipim, usually held in Cannes, has been cancelled but plans to go ahead with a smaller networking event in Paris. Manifesta 13 Marseille, the latest edition of the roving European biennale of art and culture, has announced that it will not open as planned in early June.
The biggest news for the design sector, however, came this Friday evening: Salone di Mobile, the world's greatest design fair and the lynchpin of Milan Design Week, has been cancelled. The next edition will instead open in 2021.
ONLINE BIENNALE
The 22nd edition of the Biennale of Sydney opened on 14 Mar. Ten days latter, it shuttered prematurely. Themed NIRIN – a word meaning 'edge' in the language of the Wiradjuri people of western New South Wales – the biennale features around 700 works by 101 artists, including many hailing from Australia's indigenous communities. Although the experience of visiting has been lost, artistic director Brook Andrew has announced that the exhibition will open on Google Arts & Culture with live performances, walk-throughs, Q&As and more.
PICK OF THE GALLERIES
This week, numerous private galleries have launched 'virtual exhibitions,' which often seems a rather grandiose way of describing an image slideshow. Film works have transitioned rather better, and one at London's Timothy Taylor Gallery, available online until 30 April, seems especially to chime with the time. Josephine Meckseper's 42-minute Pellea[s] — based on Belgian playwright Maurice Maeterlinck's fin-de-siècle tragedy Pelléas et Mélisande, opens with footage of an eerie, seemingly abandoned Washington D.C. There are close-up details of the capital's bulky neo-classical architecture and faceless monuments, obliquely angled shots across the urban landscape, and sinister military marches.
---