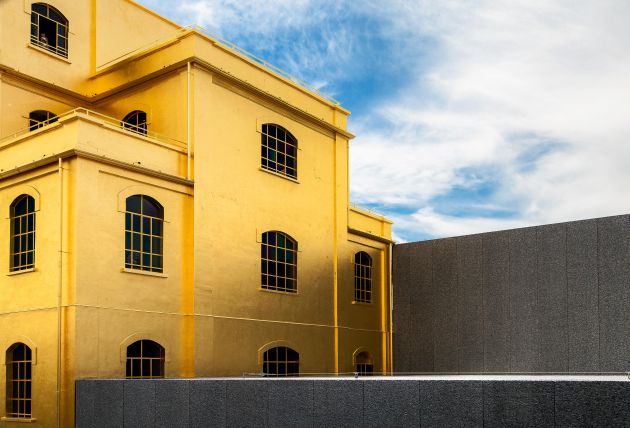 The Fondazione Prada in Milan is one of several cultural institutions to offer virtual tours during the Covid-19 pandemic. Image: Gaetano Cessati via Unsplash.
Get a bitesize overview of the week's headlines and events with Icon's weekly round-up
SCENE
OBITUARY
The Italian modernist architect Vittorio Gregotti has sadly passed away, aged 92, after suffering from the Covid-19 coronavirus. Gregotti was an intractable presence in Mediterranean architecture for half a century. He was a pioneer in the architectural exhibition, curating with Umberto Eco the influentual 1964 Milan Triennale and the architecture section at the Venice Biennale for two editions in the 1970s. He also edited the architecture magazine Casabella. Gregotti's major built works included the renovation of a 1929 stadium for the 1992 Barcelona Olympics, the Università Bicocca in Milan, and the ZEN housing estate in northern Palermo, an area that has since become a byword for urban dilapidation.
SANITARY SAVIOURS
The French luxury goods giant LVMH has responded to the Covid-19 pandemic by redeploying its perfume factories to create hand sanitiser. The gels will be delivered free of charge to hospitals around the country, for as long as they are required. Somewhat more incongruously, Brewdog has announced a similar scheme around its Scottish breweries, and the design studio Bompas & Parr have launched Fountain of Hygiene, an open call competition for designers to propose new models of hand-dryer pumps. Entrants are slated to be displayed in the Design Museum, then auctioned at Christies' in support of the British Red Cross. Over in Spain, meanwhile, fashion behemoth Zara has committed to delivering 300,000 surgical masks to the country's health authorities.
NO GOOD DEED GOES UNPUNISHED
Earlier this week, news broke that a group of volunteers in Brescia — the second largest city in Italy's hard-hit Lombardy region — had successfully managed to 3D print a valve used in coronavirus treatments. The valve manufacturer has since threatened to sue the volunteers for patent infringement, even after their work had saved 10 lives and been praised by Italy's Minister of Technological Innovation. 'The patients were people in danger of life,' said Cristian Fracassi, one of the volunteers, 'and we acted. Period.'
BLUE LAGOON
As cities across the world enter lockdown, spare a thought for Venice. Barely recovered from its ravaging by floods last November, the floating marvel's reliance on international tourism has made it particularly susceptible to the Covid-19 economic effects. Amidst these anxieties, there has been one side-effect that might give the city pause for how it functions post-pandemic: denizens have reported that the city's canals are clear for the first time in memory, with visible schools of fish. Elsewhere in Italy, including the Sardinian capital of Cagliari, the lack of shipping traffic has allowed dolphins to swim into harbours.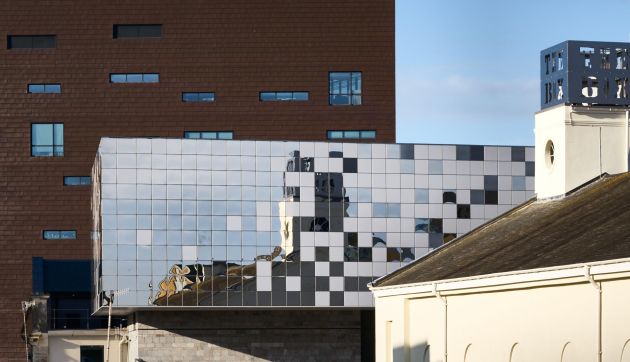 The Box in Plymouth is among the new cultural institutions to delay its opening. Image courtesy of Atkins.
DIARY
COVID CANCELLATIONS
As the coronavirus epidemic waxes, cultural institutions across the world have closed their doors and postponed exhibitions. This week Britain and Sweden followed suit. In London, the Design Museum, the V&A, both branches of the Tate and the Barbican were among those closing for the foreseeable future. New cultural institutions, including the Oslo Central Library and The Box in Plymouth, have announced indefinite delays to their planned spring openings. And some intriguing exhibitions that were slated to open this week — including Christo and Jeanne-Claude: Paris! at the Centre Pompidou — will not.
There have also been further event cancellations and rescheduling, with Clerkenwell Design Week moved from May to July and NYCxDesign pushed back to October. Since the Venice Architecture Biennale was bisected and moved from late May to August, no further announcement has been made, while the committee of the Salone di Mobile are due to make a decision early next month as to whether the fair will go ahead in mid-June as announced earlier this month.
ONLINE SUSTENANCE
Tour from Home
With the blitz of closures mentioned above, many of the exhibitions and events slated to open this week will no longer do so. In what amounts to a rapid response to the virus's disruption, however, many institutions have begun to place their work online. The Fondazione Prada in Milan, for instance, has announced virtual tours of all three of its present exhibitions, and will turn its website and social media into a 'laboratory of ideas.' In nearby Turin, the Castello di Rivoli art museum has launched tours and videos for its exhibitions under the name Digtal Cosmos, while across the Alps the Centre d'Art Contemporain Genève has opened its '5th floor', which features videos, music and a text archive. And, for the duration of March, the Milan Triennale is playing homage to Bocaccio's Decameron with a daily broadcast of stories on its Instagram channel.
Savage Beauty
Galway's year as European Capital of Culture has suffered from a huge number of cancellations, among them Finnish artist Kari Kola's Savage Beauty, a spectacular light art piece that would colour-wash the mountains and bogs of Connemara with 1,000 lights. It had already been pushed back after Storm Ciara last month. By way of recompense, the enormous work has been uploaded in video form.
Exploring the Archives
The four-venue exhibition Invisible City: Philadelphia and the Vernacular Avant-garde, which tracks radical art, design, and architecture in the US' sixth most populous city, has closed for the remnants of its run. But its extensive online archive, covering everything from postmodern pioneer Robert Venturi to the furniture designer George Nakashima, remains accessible. Cambio, Formafantasma's wood-focused exhibition at the Serpentine Galleries in London, also has a companion website, which compiles interviews with environmental and tree experts along with an extensive linked list of further reading.
Virtual Repository
And then, of course, there's Google Arts and Culture: the tech giant's digitalisation project that has complied collection highlights of over 1,200 museums worldwide. Constantly updated with new selections and virtual tours, its collections include such design-centric venues as the V&A, Designmuseum Danmark and the Bauhaus Dessau.
The Icon team has now de-camped from the office and will be in post remotely. At this trying time, the would like to share our warmest solidarity with the design community.
---