The Madrid-based architecture studio utilised raw and industrial materials to create an eclectic interior that blends various styles and motifs together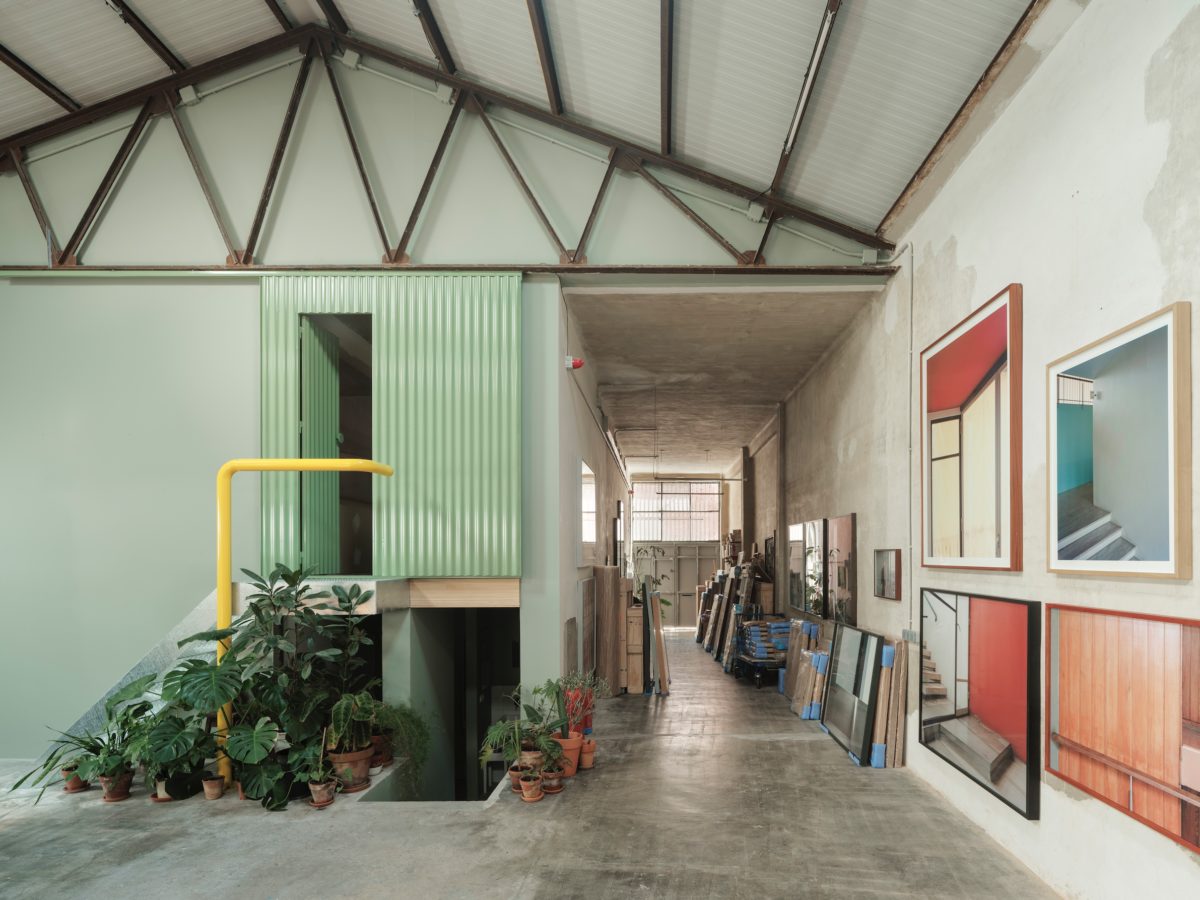 Words by Sonia Zhuravlyova 
Madrid's experimental architecture studio Burr has been occupied with preserving the city's industrial heritage. Over the past several decades, its warehouses and industry have increasingly been pushed out to the outskirts due to rent hikes. 
'This situation condemns the city to a single use and this typology to disappearance,' says one of the studio's architects, Ramón Martínez. Its latest project, called Eulalia Gil, is a warehouse restoration to make a home and studio for the Spanish photographer Juan Baraja.    
The architects chose to retain much of the industrial aesthetic of the pitched-roof warehouse, formerly used for storage, but restored its concrete shell and inserted a kitchen, small bathroom and bedroom, accessible via a new metal staircase that has striking yellow railing.
Mint-green corrugated metal partitions reference the original ceiling, whose steel trusses have been left exposed. The concept was to allow for Baraja's things to dictate much of the layout, creating zones for work, life and recreation to flow seamlessly from one into another.
Objects such as large-format photographs, work tools, rescued and restored furniture, a kitchen from a recently closed restaurant, a bench from an abandoned church and plants of different types and sizes, have been installed in the warehouse, the fabric of which acts an airy but unobtrusive backdrop.
'Eulalia focuses on the content rather than the container, centring the experience on the different relationships that these objects establish with each other,' says Martínez.
The architects hope that the project can show how Madrid's various architecture can be preserved and reinterpreted.
'Our proposals aim to become a strategic toolset to protect the industrial heritage of the city through land-use and occupation alternatives that allow to extend this typology's life and avoid its demolition,' says Martínez.
Photography by Eulalia Gil
Get a curated collection of design and architecture news in your inbox by signing up to our ICON Weekly newsletter
---