Delivered for the University of Central Lancashire (UCLan), the new project includes solar panels, a roof garden, and inclusive social spaces
Hawkins\Brown has completed the new student centre for the University of Central Lancashire (UCLan) in the northern British city of Preston, which includes a large-scale public square outside.
The 7,560 sq m building faces the new urban square with a curved, glazed elevation behind a slender colonnade. Inside, running continuously along the length of this transparent facade, is a grand, triple-height atrium which welcomes students into the centre. This atrium, which Hawkins\Brown describes as the 'social heart' of the centre, can be used for informal performances, talks or events.
The rest of the centre hosts social learning and study areas, seminar rooms, a drop-in advice centre, an information hub, a medical centre, staff offices, a cafe and a planted roof terrace (which will also be home to 150,000 honeybees). The full breadth of UCLan's student support services is hosted in the new building, from mental health provision and careers advice to course information and accommodation assistance.
Hawkins\Brown's building is a hybrid steel and CLT structure, with aluminium and glass facade elements, and is topped with an array of photovoltaic panels. Design details have been influenced by the history of Preston's textile industry, with the theme of 'threads' running through the project.
Inside, interior design detailing and patterns make visual references to threads, while outside, motion-sensitive lights arranged in thread-like patterns – designed by Jason Bruges Studio – are embedded in the public square, animating the space and drawing people into the building.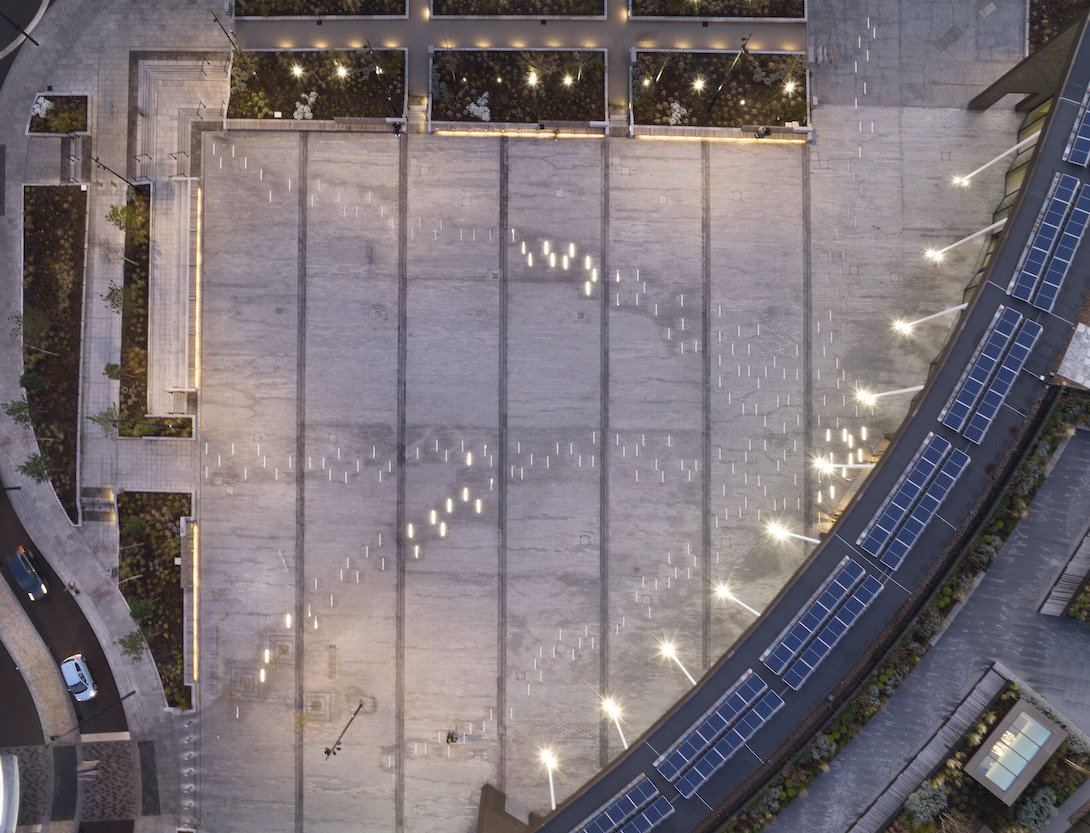 The large public square – complete with WiFi and seating – is designed to host large events, including the Lancashire Science Festival, as well as pop-up cinemas and farmers' markets. It is hoped the inclusive square will enhance connections between the University and its surroundings.
Photography by Jack Hobhouse
Get a curated collection of architecture and design news like this in your inbox by signing up to our ICON Weekly newsletter
---